Who Was Dennis Rowe and What Happened to Him?
Episode 7 of The Staircase is out now and once again, the name Dennis Rowe has surfaced. Rowe first appeared at the beginning of the series as a guest of Kathleen Peterson's at Michael Peterson's fundraiser.
He was later interviewed by police as a man Michael Peterson may have had a sexual relationship with. At the time, the prosecution are trying to figure out whether Michael's sexuality and Kathleen's discovery of his affairs with men, may have given him the motive to kill her on December 9, 2001.
In the seventh episode, titled "Seek and Ye Shall" it is revealed Dennis Rowe has been found dead in his home, with injuries similar to Kathleen Peterson, three years later.
So, who's Dennis Rowe? How does he know Michael Peterson and what happened to him? Newsweek has everything you need to know.
Who is Dennis Rowe?
Dennis Rowe — played by Morgan Henard in The Staircase—was a formal gown designer and luxury pillow maker under the name H. Coulston Designs.
Rowe was born in Lancaster, Pennsylvania and was a Duke University graduate with a degree in English.
He was a childhood friend of Kathleen Peterson's, both living on the same block in Lancaster, Pennsylvania.
Before his death in 2004 he was working in technical support for the US Postal Service and according to his obituary, he was an antique collector, enjoyed the arts and played music.
Rowe was connected to the Michael Peterson case as he was once believed to be one of his lovers. He had admitted to District Attorney Jim Hardin that he had once slept with Michael at a sex shop.
He was also able to provide a list of names of men Peterson had also been sexually involved with, including a man named Tyrone Lacour.
In The StaircaseRowe also provides a list of high-profile men who were donors to the District Attorney, Hardin, but it is unknown if this happened in real life.
At Peterson's trial in 2003, the prosecution argued that he had killed Kathleen Peterson after she found out about his bisexuality. However, Michael denied those claims, insisting Kathleen knew about his sexuality all along. Michael Peterson's version of events surrounding his sex life was supported by his brother and ex-wife Patricia, who also said they were aware of Michael's sexual relationships with men.
Speaking to Newsweek, Michael Peterson's lawyer, David Rudolf stated Michael Peterson always denied having sexual relations with Dennis Rowe.
Rudolf explained: "He [Dennis Rowe] was somebody who we had heard rumors that he was going around saying that he had had some sort of sexual relationship with Michael or events with Michael.
"Michael always absolutely denied that and we were never able to confirm it in any way. Now, Michael did tell us that he had those sorts of exchanges with other people but he always denied anything about Dennis Rowe."
He added: "I do not think Dennis Rowe really, really had much to do with the outcome of the trial or with how the case progressed."
In the end, Michael Peterson was found guilty of murdering his wife Kathleen and sentenced to life in prison without parole. He was released in 2011 on bail pending a retrial and entered an Alford plea in 2017.
As part of the plea, he maintained his innocence but admitted the evidence against him would likely result in a guilty verdict.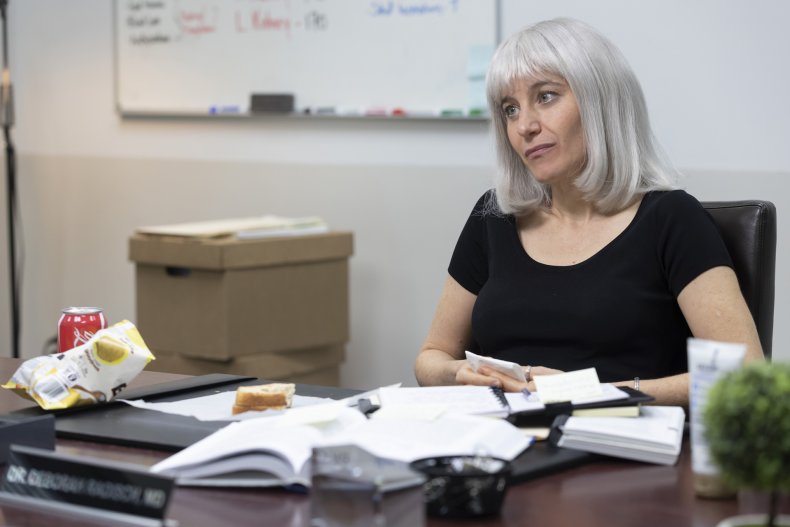 What Happened To Dennis Rowe?
Sadly, Dennis Rowe was killed on November 23, 2004, at his home. He was 42 years old at the time of his death.
According to the Durham Herald-Sun newspaper, Rowe had been beaten to death and stabbed. His body was found inside a trash can with his hands tied with duct tape.
As seen in The Staircase on HBO Max, Rowe's cause of death was blunt force trauma to the head. He was also found to have similar injuries to Kathleen Peterson. Most notably, Rowe had sustained head injuries but did not have any skull fractures, raising suspicions their murders may have been linked.
However, in the end, no link between the two deaths was ever established.
Rowe's roommate, Tyrone Joseph Lacour was a suspect in his murder. During Peterson's trial, Rowe had told investigators that Lacour was one of the men Michael Peterson may have had a sexual relationship with.
He was arrested in 2006 for Rowe's murder after spending two years on the run.
At the time of his arrest, Person County Sheriff Dennis Oakley said in a statement: "He [Lacour] does not appear to have any regard for anyone. He's a conniving type of person. "
In January 2009, he pleaded guilty to second-degree murder.
Lacour spent nearly 16 years in prison for Rowe's murder, reports The Cinemaholic.
Now in his 60s, Lacour was released in June 2020. According to reports, he was charged with two counts of second-degree forcible sexual offense in Orange County in December 2021.
The Staircase airs on Thursdays on HBO Max and Sky Atlantic.