NFL

"We've got two totally different style games, and I would say that's what makes the debate so great"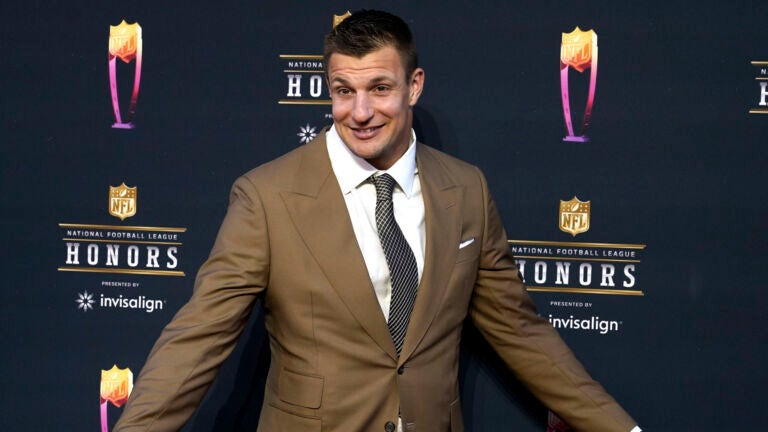 Kansas City Chiefs tight end Travis Kelce is set to play in his second Super Bowl in four years on Sunday, his third in his career, and is already considered among the best tight ends to ever play.
One player who also comes up often in such discussions is former Patriots tight end Rob Gronkowski, who discussed his opinion on the comparisons between him and Kelce during Super Bowl media availability on Tuesday.
"It's a great category to be in," Gronkowski told Phil Perry of NBC Sports Boston. "I would say he deserves it to be up there with the debate. I would say I deserve it, to be up in the debate. And we talked about it, and we said we don't know who's better, but we like to let everyone else decide and debate it."
Gronkowski said that Kelce is having a great career and that he respects Kelce's game "like no other."
Gronkowski and Kelce have each brought their own style to the position. The former is more known for his physicality and blocking ability, while the latter has the versatility to line up in a number of different slots.
"For myself and my scenario, if I'm lining up on the ball, being able to run the ball, have some play-action passes — I'm utilized totally differently," Gronkowski said. "If that's what's going to put the most points up for our offense, that's what I'm going to be doing. So we've got two totally different style games, and I would say that's what makes the debate so great is that we're two totally different players but at the same position, and we're both putting up a lot of points."
Tony Gonzalez remains the NFL's all-time leader for receiving yards and touchdowns among tight ends. He played in almost as many games [270] as Gronkowski [143] and Kelce put together. He also made 14 Pro Bowls, but never won a Super Bowl.
Kelce and Gronkowski are No. 1 and No. 2 respectively in terms of receiving yards per game among tight ends. Gronkowski has scored 23 more touchdowns despite more than 200 fewer targets than Kelce, according to StatMuse.
Gronkowski said he doesn't mind the comparisons between him and Kelce. He likes them.
"I think they're great," Gronkowski said. "We're both No. 87 as well. I love Travis. I know Travis, he's a lot of fun, he's got a great personality and he's always loose. What's so amazing about his game is that he's so loose. But the comparisons are great. He's doing such a great job. I have so much respect for him. So just to hear the comparisons all the time of everything that's being said, I think it's great for the game of football. I think it's great for the tight end position as well."
Get the latest Boston sports news
Receive updates on your favorite Boston teams, straight from our newsroom to your inbox.