Red Sox

"I couldn't be more excited to be playing with the Red Sox and to be a part of this ride."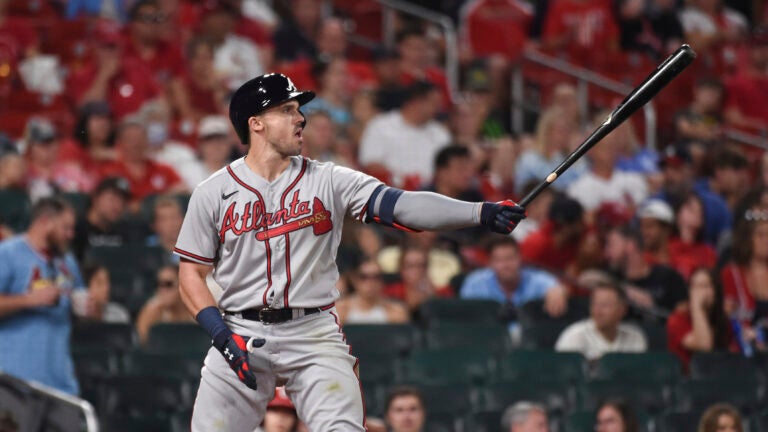 For Adam Duvall, there wasn't just one overarching factor that led him to ink a one-year contract with the Red Sox Tuesday.
Rather, there were several elements that convinced the outfielder to sign on the dotted line.
"There were actually several selling points," Duvall told reporters, via a video from CBS Boston. "One, obviously, the opportunity to play every day. The chance to be a part of an organization that has a lot of tradition, has had a lot of success, a lot of good players, good manager. So that was a huge selling point there.
"Another selling point was guys reaching out from the team and around the organization letting me know that they were looking forward to playing with me and things of those sorts. So, I think it all kind of came together. It was a culmination of different things, but I couldn't be more excited to be playing with the Red Sox and to be a part of this ride."
Duvall acknowledged multiple Red Sox players and coaches for leading the recruiting effort, including Kiké Hernandez, Justin Turner, and Alex Cora.
Regular playing time will be available for Duvall in Boston's center field, especially with Hernandez expected to slot over to shortstop.
Duvall won a Gold Glove in right field in 2021, with just 75 of his 722 career games spent at center. But during an injury-shortened 2022 season, 44 out of Duvall's 86 games were in the middle of the outfield.
For Duvall, the most daunting assignment defensively will come with the various quirks that present themselves at a ballpark like Fenway.
"I think the biggest challenge will be the dimensions," Duvall said. "I've even thought about going back and watching certain plays and how I can learn to play the ball off the wall and the ball in the gap and those things before I even step foot in the stadium.
"I'm thinking of ways I can try to familiarize myself with the park and the dimensions and how to play certain balls before I even get there. There will be a small learning curve there, because it's a very unique park."
Those dimensions stand to benefit Duvall at the plate. The 34-year-old forward has plenty of pop, clubbing 30-plus home runs in three seasons. And with the Green Monster just 310 feet from home plate, the right-handed slugger should do some damage.
Of the 163 home runs of Duvall's resume, 103 have sailed to the pull-side, as noted by The Boston Globe's Julian McWilliams. 
"It's definitely something I find intriguing and get a little bit excited about," Duvall said of batting at Fenway. "So I definitely think I can use that to my advantage. I've been working on my swing all offseason. I'm excited to take what I've got into that ballpark and into that league and try to put some barrels on the ball."
Newsletter Signup
Stay up to date on all the latest news from Boston.com