The Walt Disney Co. announced Sunday the unexpected reinstatement of Bob Iger as the entertainment giant's CEO, with his successor, Bob Chapek, stepping down.
Iger, 71, stepped down as CEO in February 2020 and was replaced by Chapek, 62, who previously ran Disney's theme parks and consumer products division. Iger remained in an executive chairman role at Disney until retiring in December 2021. Chapek signed a multiyear contract in June.
Susan Arnold, chairman of the board of directors, said in a statement, "We thank Bob Chapek for his service to Disney over his long career, including navigating the company through the unprecedented challenges of the pandemic," according to The Hollywood Reporter.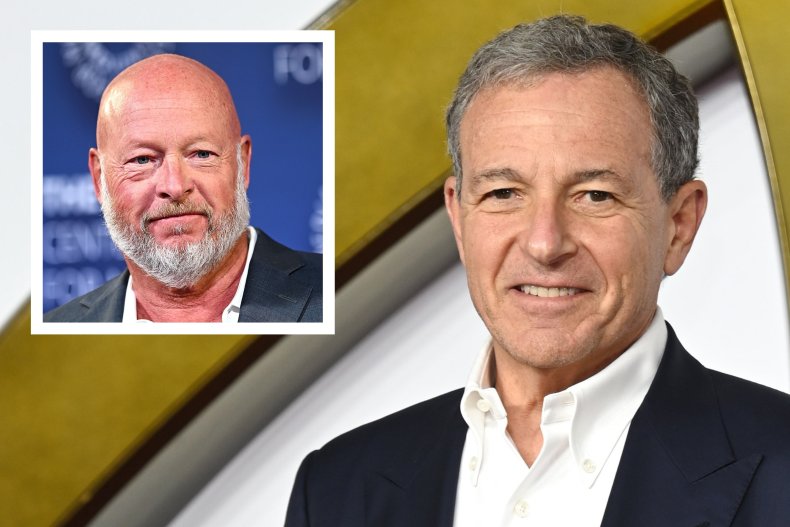 "The Board has concluded that as Disney embarks on an increasingly complex period of industry transformation, Bob Iger is uniquely situated to lead the Company through this pivotal period," Arnold said.
The board said that Iger "has agreed to serve as Disney's CEO for two years, with a mandate from the Board to set the strategic direction for renewed growth and to work closely with the Board in developing a successor to lead the Company at the completion of his term."
In an email sent to staff, addressed to his "fellow Employees and Cast members," Iger expressed his "deep gratitude" for the work that has been done to maintain Disney's success.
"It is with an incredible sense of gratitude and humility—and, I must admit, a bit of amazement—that I write to you this evening with the news that I am returned to The Walt Disney Company as Chief Executive Officer," Iger said.
He went on: "When I look at the creative success of our teams across our Studios, Disney General Entertainment, ESPN and International, the rapid growth of our streaming services, the phenomenal reimagining and rebound of our Parks, the continued great work of ABC News, and so many other achievements across our businesses, I am in awe of your accomplishments and I am excited to embark with you on many new endeavors.
Iger continued: "I know this company has asked so much of you during the past three years, and these times certainly remain quite challenging, but as you have heard me say before, I am an optimist, and if I learned one thing from my years at Disney, it is that even in the face of uncertainty—perhaps especially in the face of uncertainty—our employees and Cast members achieve the impossible."
Notably, Iger made no mention of Chapek in his statement, though he did assure employees that he would have more to share on Monday.
"You will be hearing more from me and your leaders tomorrow and in the weeks ahead," he said. "In the meantime, allow me to express my deep gratitude for all that you do. Disney holds a special place in the hearts of people around the globe thanks to you, and your dedication to this company and its mission to being joy to people through great storytelling is an inspiration to me every single day."
On November 11, days before his sudden departure was announced, Chapek said there would be a freeze on hiring, with layoffs likely to follow, amid a dip in revenue, according to The Hollywood Reporter.
Chapek's relatively brief tenure has brought controversy, most notably regarding his opposition to Florida's Parental Rights in Education Act. His stance was made known following criticism over Disney's initial silence on the matter. Florida Governor Ron DeSantis publicly criticized Disney over its stance against the law.
Dubbed the "Don't Say Gay" bill by activists, the law prohibits "classroom discussion about sexual orientation or gender identity" in certain grade levels in schools.
Disney owns several properties in Florida, such as Disney World in Orlando, and the company is a major political donor to the state's politicians.
The company has been criticized by staff, including employees of animation studio Pixar, who said that moments and stories that include same-sex affection have been consistently cut by Disney's corporate executives.
Disney's market cap was approximately $55 billion when Iger took over in 2005, according to The Hollywood Reporter. During his tenure, Disney acquired Pixar in 2006, Marvel in 2009 and Lucasfilm in 2012. In 2019, it acquired Fox, which includes 20th Century Fox, Fox Searchlight, FX Networks and National Geographic.
In 2019, Disney launched its streaming service, Disney+. The company's market cap rose to $260 billion in January 2020, but it dipped to $167 billion this past Friday.