Dana Bash took GOP presidential hopeful Vivek Ramaswamy to task for comparing Rep. Ayanna Pressley (D-Mass.) to one of the "modern grand wizards of the modern KKK" during an Iowa campaign event on Friday.
Bash provided a stern fact check for Ramaswamy on Sunday morning's "State of the Union," when she tried to get the political newcomer to defend his comments about the lawmaker, who became the first black woman to represent her state in Congress when she was elected in 2018.
"You know, I'm sure, the KKK was responsible for more than a century's worth of horrific lynchings, rapes, murders of Black people," she said. "How, in any way, are the views you're talking about comparable to the views and atrocities committed by the KKK?"
On Friday, Ramaswamy lashed out at Pressley over 2019 remarks in which she said the Democratic Party doesn't "need any more brown faces that don't want to be a brown voice."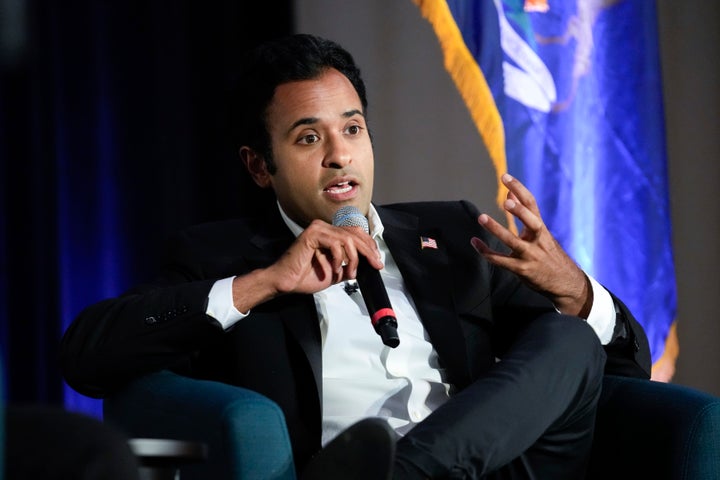 Ramaswamy tried to rewrite his comments, telling Bash he only said Ku Klux Klan leaders would be "proud" of Pressley.
After Bash reminded Ramaswamy he was misquoting himself, the former biotech businessman tried to link Pressley's words to the "spirit" of the white supremacist terrorist organization.
"I think it is the same spirit to say that I can look at you and based on just your skin color, that I know something about the content of your character, that I know something about the content of the viewpoints you're allowed to express," he said.
"For Ayanna Pressley to tell me that because of my skin color I can't express my views, that is wrong. It is divisive. It is driving hate in this country. This is dividing our country to the breaking point," he added.
While he eventually agreed that the KKK's reign of terror was "obviously wrong," Ramaswamy called for an "open and honest discussion" of race, claiming there is "a gap between what people will say in private today and what they will say in public."
"I think we need to have real, open, honest, raw conversation as Americans," he said. "That is our path to national unity. And there are many Americans today who are deeply frustrated by the new culture of anti-racism, that's really racism in new clothing, and we need to have that debate in the open."
Pressley's team responded to Ramaswamy in a fundraising email on Saturday, writing, "We typically don't engage in these bad-faith attacks but yesterday a line was crossed."
"A GOP candidate referred to Ayanna as 'a modern grand wizard of the KKK' because she speaks out against racial injustice," it went on. "This is backwards and harmful, but that is the point."