Videos shared to social media show protests in China that have broken out following the deaths of 10 people in an apartment fire, in the latest sign of unrest in the country.
Huge protests have taken place in the northwestern Xinjiang region of China following the deaths, with protesters directing their anger at the nation's strict COVID-19 policies.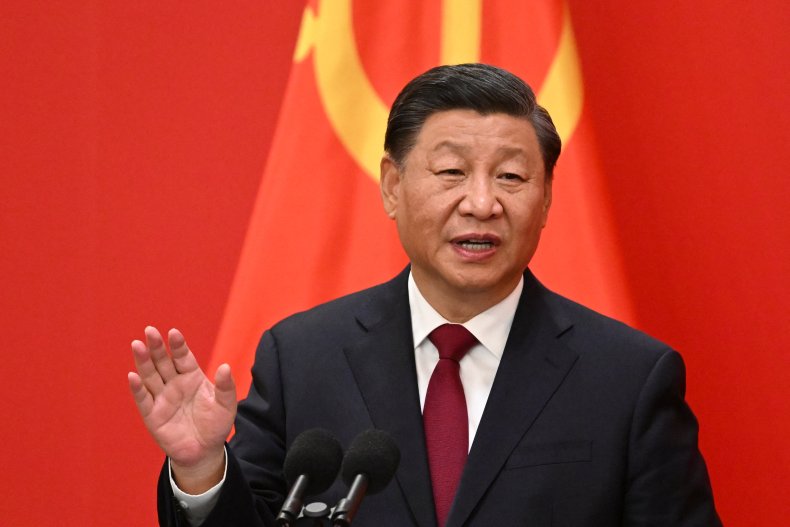 The crowds shouted "End the lockdown," in videos shared to social media on Friday evening as demonstrators appeared to link China's zero COVID-19 policy to the loss of life in the blaze.
While authorities said that those in the high-rise building were able to go downstairs, Reuters reported on Saturday that videos shared to Chinese social media showing rescue efforts led many to believe that residents were unable to get out because the building was partially locked down.
The new protests will add to pressure on Chinese President Xi Jinping following unrest among workers at Foxconn's flagship iPhone plant that has seen thousands of employees resign.
That protest was partly fueled by China's COVID-19 restrictions, and videos showing the Foxconn protests in Zhengzhou, the capital of Henan province, quickly spread online.
The plant had been placed under lockdown following a COVID-19 outbreak in October and was due to enter partial lockdown from midnight on Friday until midnight on November 29 to curb rising infections.
Footage posted to Twitter by Chinese political cartoonist Badiucao showed a large chanting crowd gathered in the Xinjiang capital Urumqi in far northwest China.
"People are chanting 'stop lockdown' 'we are human being,'" the cartoonist wrote.
Other videos posted by Badiucao showed protesters waving a flag and apparently singing the Chinese national anthem. Another showed what the artist tweeted as "massive policewoman force with '大白 big white' covid gear were sent for crackdown on the Urumuqi anti-zero-covid protest."
Protesters had shouted at guards wearing hazmat suits, according to Reuters.
Janis Mackey Frayer, NBC News correspondent in Asia, shared footage of protesters chanting "end lockdowns."
"Anger mounting against #China's zero #COVID lockdowns after a tragic fire in #Urumqi killed 10 people (incl kids) in an area where many are confined to home for past 3 months. Videos of protests (chanting 'end lockdowns') circulated before censors took them down," Frayer tweeted.
BBC China correspondent Stephen McDonell also shared video to Twitter showing the protests in Xinjiang on Saturday morning.
The footage showed a crowd of people, some wearing facemasks, and one man appearing to address the crowd using a megaphone.
"#Xinjiang is the latest region in #China for protests demanding an end to #ZeroCovid lockdowns," McDonell wrote. "There've been lockdowns there for months. After people died in a house fire, there are claims that residents weren't allowed out quickly enough + firefighters were delayed getting in."
McDonell shared another video from Deutsche Welle correspondent Mathias Boelinger that showed protesters marching through the streets.
Andy Sharp, politics and economics news editor at Nikkei Asia, pointed to the fact that Xi Jinping was elected in October to a third term as president. He will begin his new spell in March in a move that breaks with the country's political norms.
"Protests appear to spreading throughout China. Not the start Xi would wanted to his third term. Question is, how will the CCP now attempt to quash them?" Sharp tweeted.
Newsweek has asked the Chinese government for comment.
Do you have a tip on a world news story that Newsweek should be covering? Do you have a question about the Chinese protests? Let us know via worldnews@newsweek.com.