Parts of Massachusetts were devastated by flooding on Monday after hours of torrential downpours in the area triggered emergency evacuations and engulfed entire roadways.
The National Weather Service (NWS) issued a flash flood emergency for the cities of Leominster, Fitchburg and Lunenburg in northern Worcester County until 8 a.m. Tuesday, describing "a life-threatening situation" and urging residents to move to higher ground immediately.
According to a report from WBZ meteorologist Terry Eliasen, parts of Leominster—about 37 miles northwest of Boston—experienced over 9 1/4 inches of rain by 9 p.m. Monday. A flash flood warning was also issued for parts of eastern and southeastern Massachusetts, as well as the county surrounding Providence, Rhode Island, which experienced between two to four inches of rain as of 8:14 p.m. Monday.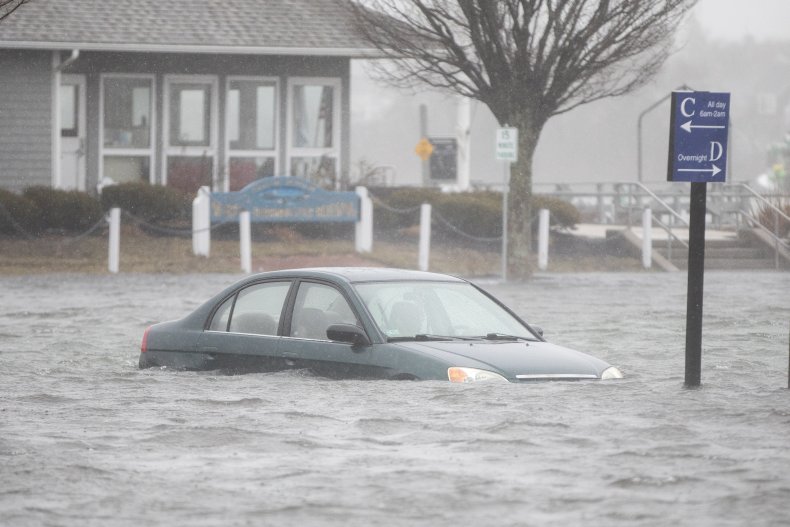 Leominster Mayor Dean Mazzarella posted a video to his Facebook page Monday evening urging residents to stay off the roads and stay inside, describing his city of roughly 43,600 people as "one big lake."
"Please, find a high spot somewhere," Mazzarella added. "Find a high spot and stay there until this is over. And looking at the radar, looks like it's going to keep up for quite a while."
Videos shared online showed drivers stranded on completely submerged roadways Monday evening. In a video shared to X, formerly Twitter, by WCVB in Boston, one person is shown sitting atop their vehicle while holding an umbrella in the middle of Highway Route 2, which is completely flooded.
The Massachusetts Department of Transportation reported on X that Route 2 was closed in both directions as of 7 p.m. Monday. According to the Worcester Telegram & Gazette, parts of the highway were covered by up to four feet of water.
Sinkholes also appeared along multiple roads in Leominster, and some residents were left stranded after bridges were completely washed away. Worcester Telegram & Gazette photojournalist Rick Cinclair shared a video to his X account of parts of Pleasant Street that had been swept away by rushing water and warned that foundations of some residences had been "completely undermined" from the flooding.
Cinclair also captured a video of Leominster Fire Department personnel evacuating residents via boat from a flooded mobile home. WBZ meteorologist Jacob Wycoff reported fire department officials also calling for an urgent evacuation of an entire building on Spruce Road near downtown Leominster. Wycoff noted on X that the Monoosnoc Brook runs underneath the building.
Newsweek reached out to the Leominster Fire Department via email Monday night for more information.
Mike Saccone, a Boston-based independent journalist, shared a video on his X account that shows floodwater barreling into a Leominster building after it broke through the glass of its outer door. At about the one-minute mark of the video, a second glass door inside the building can be heard shattering as water levels continue to rise.
Leominster Public Schools Superintendent Paula Deacon announced that schools will be closed Tuesday due to "extensive flooding" from the storm.
"There are catastrophic floods in the Leominster area and other communities across the state this evening," Massachusetts Governor Maura Healey said in a statement. "My heart goes out to the impacted communities and public safety personnel."
"I've spoken with Mayor Mazzarella and instructed state agencies to do all that they can to assist," Healey added. "The Massachusetts Emergency Management Agency (MEMA), Massachusetts State Police (MSP) and Department of Fire Services (DFS) are on the ground with boat rescue and emergency response teams to ensure the safety of our residents."