British police escorted a man off a plane headed for Turkey on Monday after he called them and claimed to have a potential explosive device aboard the vessel. 
"Officers worked with airport staff and with the aircraft crew to provide an immediate response to the report. In the interests of public and officer safety, armed officers were also deployed to the area of the aircraft," a Leicestershire police spokesperson told reporters. 
Police delayed the flight from East Midlands Airport to Antalya for three hours while they investigated the plane after receiving a call at 5:15 p.m. from a man who warned them he had an explosive device with him, local outlet Derbyshire Live reported. 
Video captured by a passenger aboard the flight showed the moment that armed police escorted the suspect off the plane, during which the man did not appear to resist. Two women follow him but remain on the plane talking with the police officers while the suspect gets into a police vehicle waiting on the tarmac. 
2 US SERVICE MEMBERS ARRESTED IN CONNECTION TO FATAL STABBING IN GERMANY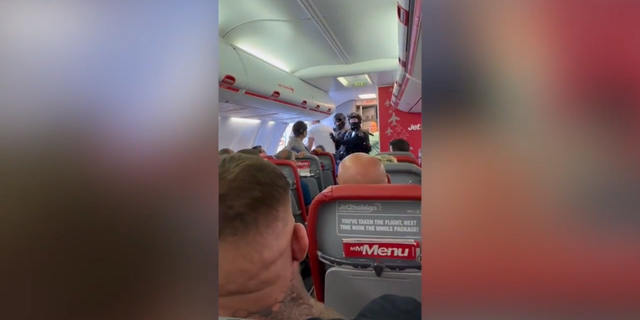 "The aircraft was on the ground at the time of the incident," the spokesperson said. "Officers worked with airport staff and with the aircraft crew to provide an immediate response to the report."
DOMINICAN GOVERNMENT OFFERS FINANCIAL AID TO FAMILIES AFFECTED BY DEADLY FACTORY EXPLOSION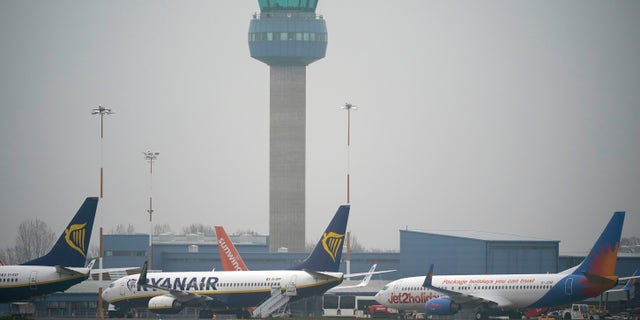 Police arrested the 49-year-old man and searched the plane, finding no such device and decided that they found "no suggestion that the threat made is viable." Police released him on bail while continuing to investigate the situation. 
SUSPECTED PALESTINIAN ASSAILANT KILLS ISRAELI WOMAN, SPARKS RENEWED VIOLENCE IN WEST BANK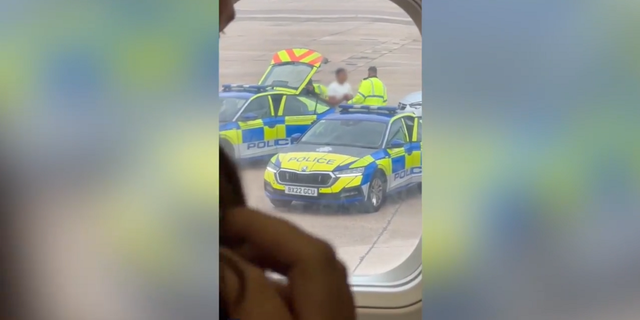 Officers "fully searched" the plane using bomb sniffer dogs, but determined that "it was not deemed that evacuation of the aircraft was required," the BBC reported. Police have not provided any motivation for the call or threat. 
CLICK HERE TO GET THE FOX NEWS APP
The flight departed after police felt confident that they had thoroughly searched it. The plane arrived "safely" according to airliner Jet2.
"We would like to apologize to everyone onboard for any inconvenience or upset caused by this unforeseen incident," a Jet2 spokesperson said.