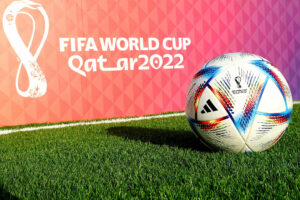 Filipino football fans are among the most invested in the 2022 FIFA World Cup in the region, according to a study conducted by video-sharing site Dailymotion. 
Two out of three core Filipino football fans believe that the World Cup in Qatar will spread positivity and unite the world. This, despite human rights issues and labor issues. 
Filipino fans also want exclusive content and merchandise "at a level of engagement that is higher than the rest of the Asia Pacific," found Dailymotion's 2022 World Cup study that surveyed 2,879 respondents from the Philippines, Indonesia, and South Korea. 
"Exclusive content in addition to highlights and post-match discussions — either in the form of engaging videos about their teams or articles going in-depth about teams or top players — is most important," said Bichoï Bastha, chief revenue and business officer at Dailymotion, in a Nov. 15 e-mail.  
"It is safe to say that Filipino consumers want the World Cup to be successful and see this as a positive turnaround for their lives," he added.  
Based on their level of interest in the 2022 FIFA World Cup, there are two sets of audiences: core audiences and observers.  
Core audiences in the Philippines, mostly young men, said they they would watch a few of the matches (43% compared to the rest of APAC's 46%); watch exclusive content (32% compared to APAC's 29%); live the experience by buying merchandise and goodies (21% compared to APAC's 15%); or go watch the matches in bars and/or fan zones (18% compared to APAC's 13%).  
Meanwhile, observers in the Philippines, mostly women, said they would follow matches via online scores (24%) and socialize at World Cup–related events (16%).
According to Dailymotion, 74% of views are generated on mobile based on the consumption patterns during a previous football event. 
The study found that football fans also have a strong interest in entertainment, as well as an affinity for travel- and technology-related content.   
"With these habits, it is clear that they want to broaden their understanding of the society by living experiences in the most advanced way possible," Mr. Bastha said. "The event could be a pivot, just like the pandemic was, towards a better direction this time."  
Pre-match, fans like to watch team build-ups as well as key moments from past matches. Post-match engagement, on the other hand, involves analytical content that dissects what went right and what didn't for teams.  
Out of the 2,879 respondents in from Southeast Asia, 69% said they would "participate in the 2022 World Cup" through at least one of these activities: watch and read exclusive content (26%); host a party at their place (16%); go watch the match in a bar or gathering (14%); live the experience by wearing merchandise (14%); and betting or participating in fantasy leagues (11%). — P. B. Mirasol