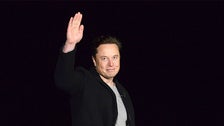 Twitter suddenly suspended a host of the nation's preeminent tech journalists on Thursday, many of whom have reported about billionaire Elon Musk's chaotic leadership at the social media giant in recent weeks.
The accounts for The New York Times' Ryan Mac, The Washington Post's Drew Harwell, CNN's Donie O'Sullivan, Mashable's Matt Binder and independent journalist Aaron Rupar all disappeared Thursday evening, as did several others. All of those reporters have reported deeply about Musk's $44 billion takeover of Twitter, the fallout after he laid off half of its employees and the company's decision to ban, then un-ban, then re-ban an account that tracked Musk's private plane flights.
Aaron Rupar told NBC's Ben Collins he had "no idea" why the suspension happened.
A message on the accounts simply says they have been suspended for violating Twitter's rules.
Twitter has already been drastically reshaped since Musk formally took ownership of the company in October. He has disbanded teams that address hate speech and civil rights abuses and demanded that the company update policies on the fly to target accounts and critics that irk him.
The New York Times reported this week that Musk and his advisers have been looking at stiffing former employees of severance pay in an effort to cut costs. Twitter also hasn't paid rent for its San Francisco headquarters, or for many of its other global offices, in weeks, hoping to renegotiate lease terms.