A Democratic lawmaker has introduced a House bill that would ban former President Donald Trump from ever holding federal office again due to his ill-fated attempt to overturn his loss to President Joe Biden on January 6, 2021.
Representative David Cicilline of Rhode Island on Thursday introduced a bill that would specifically block Trump from running for president ever again based on Section 3 of the U.S. Constitution's 14th Amendment, which bans those who have taken part in a "insurrection or rebellion" from any federal office.
Trump, who has recently struggled in polls against potential GOP challenger Ron DeSantis, announced his third campaign for the presidency last month.
"Donald Trump very clearly engaged in an insurrection on January 6, 2021, with the intention of overturning the lawful and fair results of the 2020 election," Cicilline said in a statement. "You don't get to lead a government you tried to destroy. Even Mitch McConnell admits that Trump bears responsibility."
"The 14th Amendment makes clear that based on his past behavior, Donald Trump is disqualified from ever holding federal office again and, under Section 5, Congress has the power to pass legislation to implement this prohibition," he added.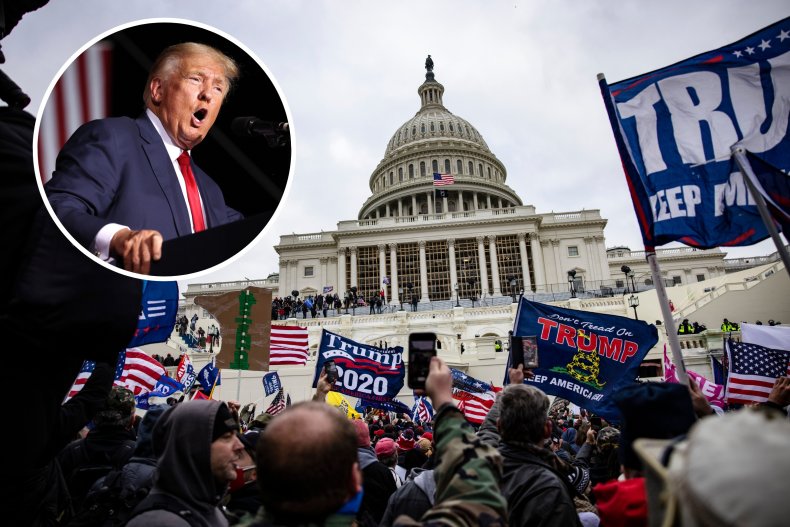 Cicilline, who served as an impeachment manager when the House impeached Trump for an unprecedented second time over his January 6 activities, first announced the bill on November 16, just one day after the former president announced his 2024 bid.
The bill is co-sponsored by 40 of Cicilline's Democratic colleagues, including Representatives Pramila Jayapal, Jamaal Bowman, Mondaire Jones, Rashida Tlaib and Ritchie Torres.
The chances of the bill actually passing in the House are unclear, although Democrats hoping to advance the legislation would likely need to move fast since the chamber will switch to Republican control on January 3.
Democratic lawmakers and left-leaning political activists have suggested using the 14th Amendment to bar Trump from office before. Earlier this year, some suggested that Trump's sharing of a Truth Social post calling for a new Civil War should disqualify him from seeking office in the future.
Eric J. Segall, professor of law at Georgia State University College of Law, told Newsweek at the time that the post paled in comparison to Trump's actions on January 6, which he said "do disqualify him" from office based on his taking part "in actual insurrection on that day."
Trump has steadfastly denied that he played any role in the Capitol riot, while citing related investigations conducted by the House January 6 committee and special counsel Jack Smith as evidence of a political "witch hunt" against him.
The former president has also said that the "real insurrection" happened during the 2020 election, which he continues to falsely claim was "stolen" from him due to massive voter fraud.
Cicilline's bill was introduced on the same day that Trump faced significant backlash, including from many of his supporters, after revealing that a "major announcement" he teased one day earlier was a promotion for a set of $99 digital trading cards that portray him as a superhero.
Newsweek has reached out to Trump's office for comment.