Former President Donald could face a logistical nightmare if charges are brought against him in multiple states.
Trump is currently facing multiple investigations and probes on both the state and federal level. All of these come as Trump announced his 2024 White House bid in November.
Nick Akerman, former Assistant Special Watergate prosecutor and former Assistant US Attorney for the Southern District of New York, told Newsweek that Trump has "already got himself spread pretty thin" with investigations from District Attorneys in New York, Georgia and federal prosecutors at the Department of Justice.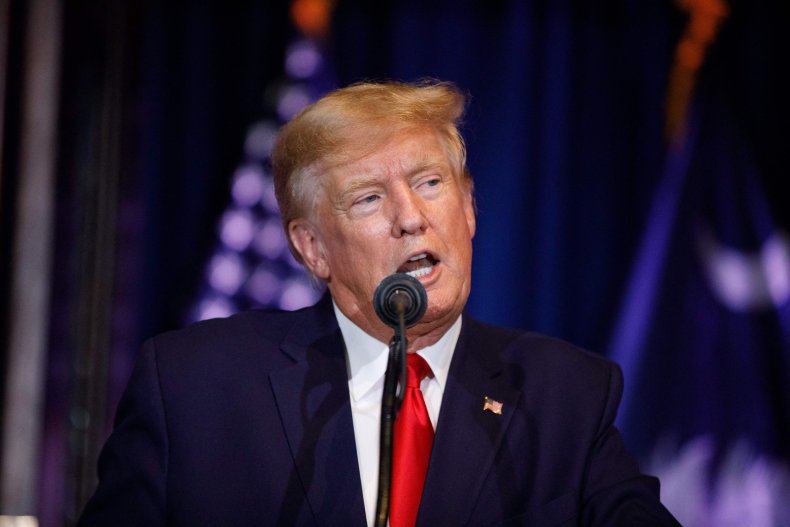 Akerman said it would be unusual, but not unprecedented, for Trump to face back-to-back indictments in different states.
"If he's indicted in all three places around the same time, you've got your work cut out for you," he said.
Where Is Trump In Legal Trouble?
New York
In New York, District Attorney Alvin Bragg may charge Trump in connection with a $130,000 payment made to adult film star Stormy Daniels before the 2016 presidential election. Trump's former attorney Michael Cohen claimed Trump ordered him to pay Daniels the hush money when he plead guilty to breaking campaign finance laws and other charges in 2018. Therefore, the DA could pursue a case based on whether those payments broke the law regarding the falsifying of business records.
Georgia
Fani Willis, the District Attorney in Fulton County, Georgia, has been working on a two-year-long investigation led by a special grand jury in Atlanta into whether Trump and his allies broke the law in their effort to overturn the 2020 presidential election, including pressuring state officials and launching a fake elector scheme.
The investigation began shortly after Trump called Georgia Secretary of State Brad Raffensperger, asking him to "find" 11,780 Trump votes to tip that state in his favor.
Willis said last month that decisions in the case were "imminent."
Justice Department
These state investigations come as the Justice Department has launched two separate probes investigating Trump.
The DOJ appointed special counsel Jack Smith last November to oversee two investigations. The first looks at the Jan. 6 Capitol riot and Trump's efforts to overturn the 2020 election. The House select committee investigating Jan. 6 recently recommended the DOJ bring criminal charges against Trump and his associates for their widespread pressure campaign to overturn the election results.
How Will Trump Manage All Cases At Once?
With all those various investigations going on, Akerman said Trump "should be geared up in each other those place."
He said a good defense attorney will keep in contact with prosecuting agency doing the investigation to "talk them down" from bringing the crimes.
"Normally, a good defense lawyer will call or pop his head into the prosecutor's office on a pretty regular basis to essentially find out or try to find out what's going on and make a pitch as to why his guy should not be indicted," Akerman said. "So Trump should have something set up for all of those offices right now."
While Akerman said Trump could have the same counsel for each jurisdiction to better coordinate the cases, he said the former president is probably better off having separate trial lawyers if charges are filed at the same time.
Akerman said Trump would want to have someone local who understands the court system, legal process and key personnel in each jurisdiction to handle the "extensive" pre-trial motions and discovery period.
Which Trial Will Go First (If There Is One)?
If both district attorneys in New York and Georgia decided to bring charges against Trump at or around the same time, the courts would be in charge of coordinating schedules.
"Once it gets into the courts, then it's up to the judge," Akerman said, adding that the courts would have to determine which trial begins first.
That may depend on who was the first to indict or on which on which case has a more complication discovery process.
Akerman said the discovery period for each case could occur in both states simultaneously without issue, meaning Trump would not have to fly back and forth to each court as evidence is presented to a judge. This process could take an extended period of time, depending on what prosecutors have to present.
The only point of conflict, he said, would be when the actual trial begins.
"You can't be in trial in two places at the same time," Akerman said.
Trump would have to be physically in the courtroom for arraignment, where he'd plead guilty or not guilty, and for the actual trial. His court appearances would have to be scheduled by the judges.
Will Trump Be Prosecuted?
On a federal level, prosecutors may choose not to prosecute if a state court is bringing up a similar case, the Jan. 6 investigation.
Sometimes, federal prosecutors may "decline prosecution in favor of the state as opposed to having the same facts being litigated in a criminal case in two jurisdictions," Akerman said. This would be up to DOJ to determine.
In the Jan. 6 investigation, there could be both a federal and state case if both jurisdictions had different, significant evidence to bring against a defendant.
Again, Akerman said it's "pretty unlikely" that all of these possible indictments would come at the same time, as they are all complicated, independent cases with different investigation timelines.
As these are all high-profile cases, Akerman said prosecutors are going to make sure they have a "strong case" with evidence that proves guilt beyond a reasonable doubt.
"The prosecutor is totally mindful of the importance of making sure that they've got a case that can convict beyond a reasonable doubt," he said. "There's never a guarantee…but you can tell whether you've got a case that meets that standard."
Politically, Akerman said multiple indictments would have an "adverse effect" on Trump's 2024 campaign.
"I can't imagine the Republican Party would want to nominate someone who was under indictment for criminal matters," he said.