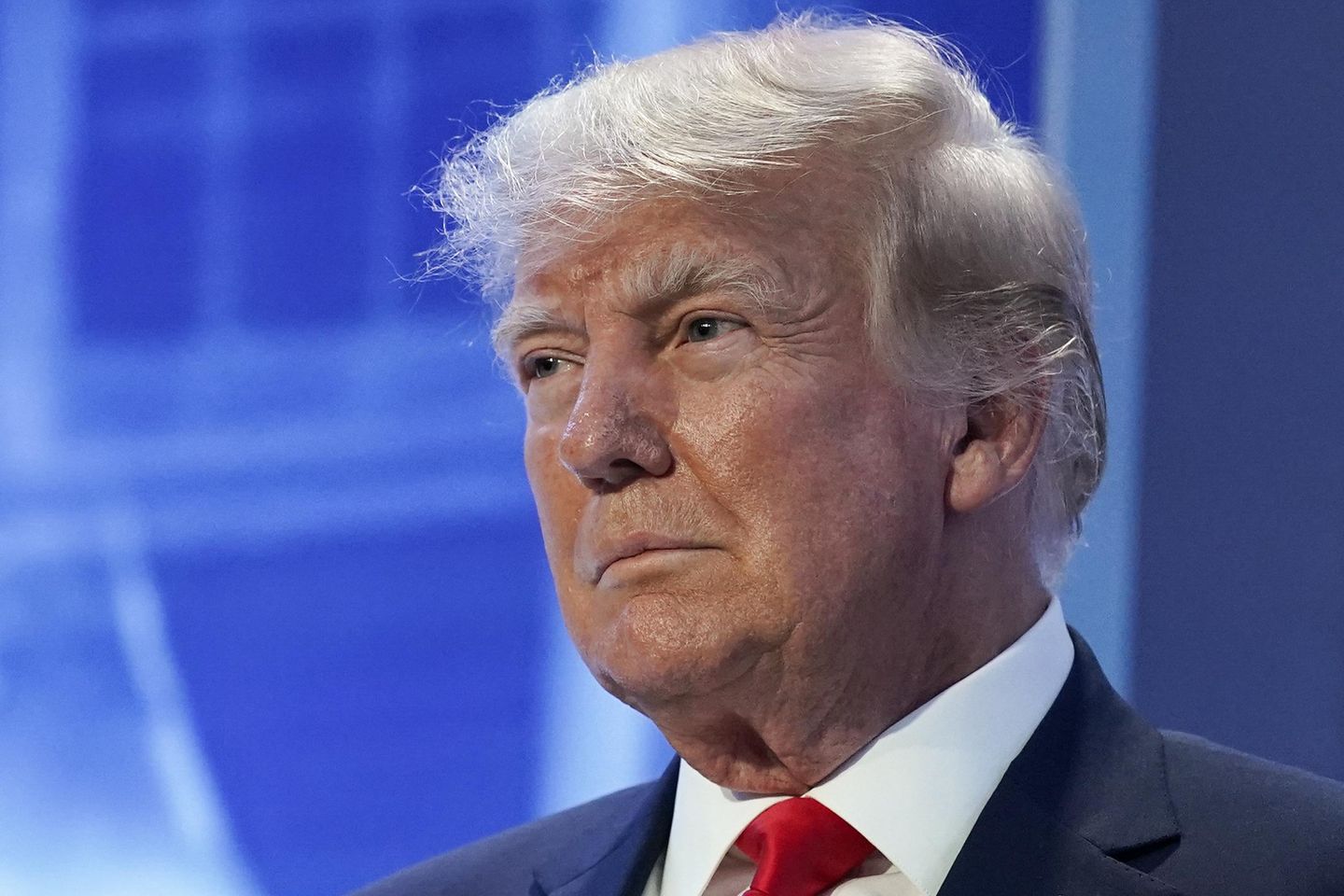 Follow along for live updates on the indictment of former President Donald Trump over his efforts to overturn the results of his 2020 presidential election loss in Georgia. The charges focus on alleged schemes by Trump and his allies to attempt illegally overturn his loss in the state. It's the fourth criminal case brought against the former president as he seeks to reclaim the White House, and the second to allege that he tried to subvert the results of the vote.
___
– Fulton County District Attorney Fani Willis has overseen the sprawling Georgia case against Trump
---
---
– More information on the law associated with mobsters that is central to the Georgia charges
– Trump was charged earlier this month by the Justice Department for his efforts to overturn the results of the 2020 presidential election
– A look at all of the investigations currently pending against Trump
– Trump also was indicted in June on charges that he illegally hoarded classified documents
___
Fulton County District Attorney Fani Willis says former President Donald Trump and 18 others charged alongside him have nearly two weeks to surrender.
"I am giving the defendants the opportunity to voluntarily surrender no later than noon on Friday, the 25th day of August, 2023," Willis said in a news conference shortly before midnight Monday.
Willis said she plans to try all 19 defendants together. She said she will ask for a trial to start within six months but added that scheduling decisions will be made by a judge.
She said the defendants are charged with conspiring to allow Trump "to seize the presidential term of office beginning on Jan. 20, 2021."
Several of the alleged conspirators, including attorney Sidney Powell, are charged for alleged crimes related to their actions in Coffee County, a south Georgia jurisdiction where prosecutors accuse Trump allies of commandeering voting information that was the property of Dominion Voting Systems.
Prosecutors said that Powell was among those who aided that strain of the broader conspiracy through her contract with and payments to a Georgia firm, SullivanStrickler LLC, that carried out the alleged acts as part of the Trump team's efforts to overturn Biden's victory in the state.
Others accused of the Coffee County acts include former elections supervisor Misty Hampton, former Coffee County GOP Chair Cathy Latham and Scott Hall, a bail bondsman.
They are charged related to the alleged Coffee County acts with conspiracy to commit election fraud, conspiracy to defraud the state and conspiracy to commit computer theft, among other charges.
Eighteen people were indicted alongside former President Donald Trump, including some of his closest advisers and lawyers, as well as Georgia-based attorneys and political operatives.
They include attorneys Rudy Giuliani, Jenna Ellis, Sidney Powell, John Eastman, Kenneth Chesebro and Jeffrey Clark, as well as Trump's White House chief of staff, Mark Meadows.
Ray Smith and Robert Cheeley, lawyers working for Trump in Georgia, also were indicted for allegedly lying – Smith to a Georgia Senate committee, and Cheeley to the Georgia Grand Jury.
Three of the 16 people who falsely claimed to be Georgia's electoral college voters were indicted: David Shafer, then the state GOP chairman; Shawn Still, who was GOP finance chairman; and Cathleen Alston Latham.
Trump campaign official Michael Roman, who was allegedly involved in the fake electors scheme, also was indicted.
Others who were charged include Stephen Lee, William Floyd, Trevian Kutti, Scott Hall and Misty Hampton.
In total, former President Donald Trump faces a total of 13 felony charges in the Georgia case, according to filings made available late Monday on the Fulton County Clerk's Office website.
The first among them is a violation of Georgia's Racketeer Influenced and Corrupt Organizations, or RICO, law, which is used to charge Trump and his associates for allegedly participating in a wide-ranging conspiracy to overturn the state's 2020 election result.
Fulton County District Attorney Fani Willis had been widely expected to use the law to charge Trump.
There are other charges related to allegedly trying to get a public official to violate an oath, conspiracy to impersonate a public officer, conspiracy to commit forgery, and conspiracy to commit false statements and file false documents.
Donald Trump has been indicted by a grand jury in Fulton County for meddling in the results of the 2020 election, which he lost in the state.
A grand jury voted Monday evening to bring a total of 13 felony charges against the former president, including violations of the Racketeer Influenced and Corrupt Organizations, or RICO, law, as well as violating his oath of office.
A slate of others were indicted along with Trump, including former New York City Mayor Rudy Giuliani – one of Trump's attorneys – as well as former White House Chief of Staff Mark Meadows.
The process played out live on national television, as cameras inside the courthouse staked out the clerk's office, where the indictment paperwork was signed and walked down to the courtroom, where it was presented to Fulton County Superior Court Judge Robert McBurney.
The criminal case comes as Trump leads the field of Republicans seeking their party's 2024 presidential nomination. It's his fourth indictment this year, following charges in two federal cases, as well as a hush-money case in New York.
Trump famously called Georgia Secretary of State Brad Raffensperger on Jan. 2, 2021, and suggested the state's top elections official could help "find" the votes Trump needed to beat Biden. It was the release of a recording of that phone call that prompted Fulton County District Attorney Fani Willis to open her investigation about a month later.
Trump has repeatedly accused Willis' team of haranguing him over what he has described as a "perfect phone call." In the day leading up to the indictment, Trump posted to his Truth Social site that Willis "is using a potential Indictment of me, and other innocent people, as a campaign and fundraising CON JOB," adding, , all based on a PERFECT PHONE CALL, AS PRESIDENT, CHALLENGING ELECTION FRAUD – MY DUTY & RIGHT!
Copyright © 2023 The Washington Times, LLC.