Former President Donald Trump officially kicked off his campaign for president Saturday with a pair of intimate rallies in the early voting states of New Hampshire and South Carolina, representing an early effort to coalesce support from key players he will need to secure his party's nomination in 2024.
Appearing at a meeting of the New Hampshire Republican Party Saturday, Trump announced he would be appointing outgoing New Hampshire Republican Party Chairman Stephen Stepanek to oversee his campaign in the Granite State, securing him a high-profile surrogate in the first-in-the-nation primary state he lost by 7 points just two years earlier.
Hours later in South Carolina, the former president unveiled a leadership team in the crucial primary state that included figures like current Gov. Henry McMaster, freshman Republican Congressman Russell Fry, former Lt. Gov. Andre Bauer, and U.S. Sen. Lindsey Graham; a show of force intended to hold other prospective candidates—including former South Carolina Gov. Nikki Haley and Florida Gov. Ron DeSantis—at-bay as they weigh their own White House bids.
"He did it once, he can do it again," Graham told attendees. "How many times have you heard we don't want Donald Trump but we like his policies? There are no Trump policies without Trump."
"You can talk about his policies," he added. "But you cannot do what he did."
Trump used the opportunity he had to remind the roughly 350 of his closest supporters assembled there exactly why they supported him in the first place.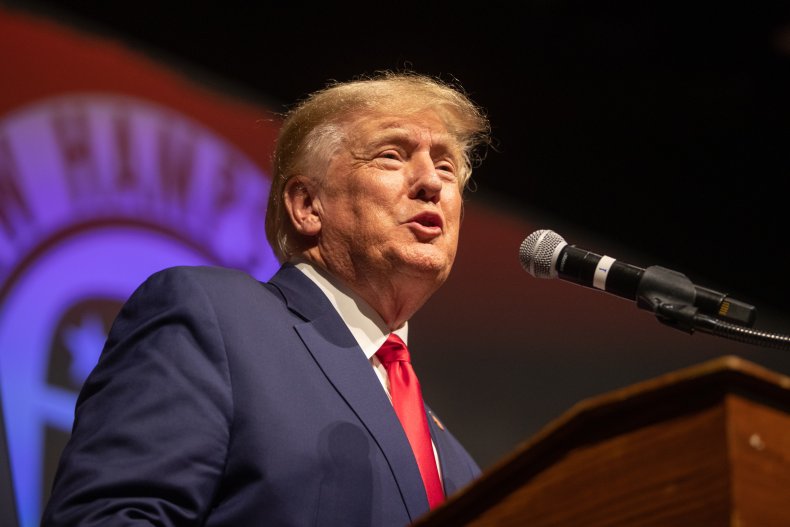 In roughly half-an-hour of remarks, Trump walked those gathered under the statehouse capitol dome through his greatest hits—riffs on the deep state and electric cars, anger over gas prices and jabs at the FBI and Hunter Biden's laptop, denigrations of polling and the "fake news media," even a reprise of his claim of "murderers and rapists" coming across the southern border—that elicited alternating laughs and cheers from the crowd.
He needed to win them over: "As the old saying goes, South Carolina picks presidents," Trump said.
The two events were both relatively intimate affairs, intended more as a means of connecting with key supporters in the state he will need to win a competitive primary.
Along with top state officials like McMaster and state treasurer Curt Loftis, the guestlist at Trump's South Carolina rally featured figures like former congressional candidates Katie Arrington and Ingrid Centurion alongside far-right figures like Mark Burns, a controversial character from Greenville once labeled by Time magazine as "Trump's top pastor."
But there were also local Republican Party officials, whom he sought to court with promises of undoing the work of Biden's administration, bolstering local manufacturing and delivering the "best infrastructure you've ever seen."
Saturday's event was also an attempt to share his latest vision for the country as well as the Republican platform at a time the GOP has been embroiled in constant internal conflict, both over the direction of the party and whether Trump should lead it.
In New Hampshire, Trump emphasized the strength of his persona compared to that of current President Joe Biden on the world stage, claiming "my personality kept us out of war" in reference to the conflict in Ukraine, and suggesting like he once did that he alone was the one who could fix the country's ills.
"We're on the brink of World War III," he said in South Carolina.
But other remarks in South Carolina railing against "perverts" who were "indoctrinating our children" in public schools and a desire to keep transgender athletes from competing in women's sports closely resembled many already in the Republican zeitgeist.
After a disappointing 2022 midterm election cycle, some critics have begun to argue the need for new leadership both at the top of the presidential ticket and the Republican National Committee.
Trump, meanwhile, has sought to calm tensions by throwing himself into the internal debates within the GOP to mixed results. Amid a contentious fight over Congressman Kevin McCarthy's bid for Speaker of the House, Trump's calls to back McCarthy went unheeded by some of Trump's closest allies in Congress, raising questions about his hold over the right flank of the party.
Though he never offered a public endorsement, multiple news reports claimed Trump was putting his weight behind sitting RNC chairwoman Ronna McDaniel for a fourth term leading the organization amid calls from grassroots activists—and DeSantis—for new leadership. Another Trump-endorsed candidate in the RNC race, Michael Whatley, ultimately finished third in the contest for party co-chair, finishing well-behind the eventual winner, South Carolina GOP chairman Drew McKissick.
And his nomination remains anything but a sure deal.
In a comment to a local reporter before the event, South Carolina House Speaker Murrell Smith stressed his attendance at Trump's rally should not be read as an endorsement.
In line for his South Carolina event, some attendees could be heard openly questioning whether everyone in attendance was firmly behind the former president for re-election. One group of people got in a verbal altercation with another man in line after he gave an interview to a national reporter expressing his willingness to potentially support someone else for president.
For most in the crowd, however, supporting another candidate for president wasn't merely the democratic process at work: it was an active move to divide a political movement that, at one point, had won them the White House.
"I'm excited about Ron DeSantis in 2028," Jeff Davis, chairman of the Greenville County Republican Party, told Newsweek. "Based on what Donald Trump has done in waking everybody up, opening everybody's eyes up to the uniparty and the globalism that's out there. I think he deserves another four years, certainly after what happened with the 2020 elections. I think he deserves another four years if that's what he wants to do."
They just hope Trump's heart is in it, particularly as rivals like DeSantis continue rising in the polls.
"There's such a huge MAGA base, that [someone else entering the race] would just divide us," Michael Skinner, a rally attendee, told Newsweek. "In a perfect world, Trump and DeSantis together? That would be unstoppable. But will their egos let them do it?"
"Trump has the momentum," he added. "Why ruin it? DeSantis getting in is going to hurt us."