China's military is probably popping "champagne corks" over Senator Tommy Tuberville's continued hold on U.S. military promotions, according to Arizona Senator Mark Kelly.
Tuberville, a Republican from Alabama who sits on the Senate Committee on Armed Services, has blocked hundreds of military promotions in protest of the Pentagon's policy relating to abortion access for service members. Lawmakers on both sides of the aisle, however, have condemned the senator's protest, and senior military officials warned last week that the holds could have a "corrosive effect" on the armed services over time.
"Among my Democrat and Republican colleagues, I mean, it's how do we get through this?" Kelly, a Democratic member of the committee, told MSNBC's Chris Hayes Tuesday night.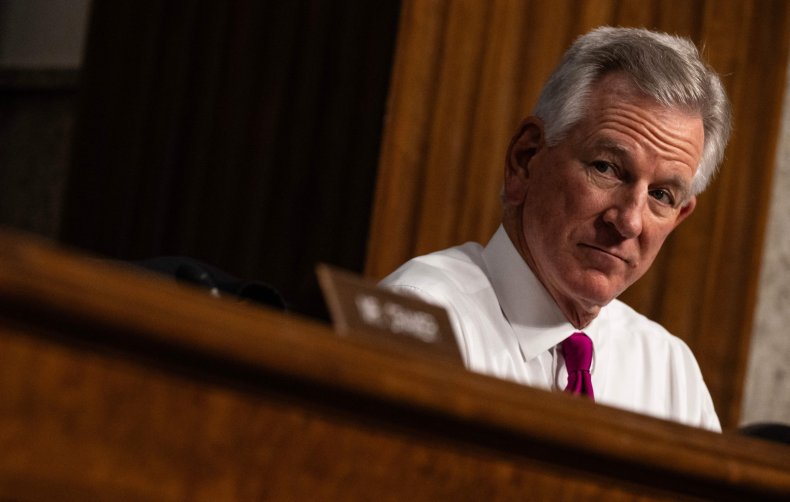 "You know, let me first point out, Chris, that this is unprecedented," Kelly continued. "This Senator Tuberville has done something that has not been done in U.S. history. I mean, [the] hold up [of] nominations and promotions of admirals and generals … it's now been over six months. And this has a serious negative effect on our national security."
Kelly's appearance on MSNBC arrived a few hours after the Armed Services committee hosted Air Force General David Allvin for his nomination hearing. Roll Call reported that Allvin, who was nominated by President Joe Biden to be the next Air Force chief of staff, "breezed through" his hearing, although some lawmakers on the panel acknowledged that his confirmation couldn't happen anytime soon in light of Tuberville's protest.
The Arizona senator noted that lawmakers from both parties need to "pressure" Tuberville to stop the blockade and said that he's had "multiple conversations" with Republican lawmakers on how the Senate can move past the holdup. GOP Texas Congressman Michael McCaul, chair of the House Foreign Affairs Committee, publicly condemned Tuberville during an appearance on CNN Monday, accusing the senator of "paralyzing" the Pentagon.
"Do you know who is celebrating this right now?" Kelly continued while speaking with Hayes. "You know, the Chinese government and the Chinese military …There's probably, in the Chinese Embassy here, there's probably champagne corks popping over this."
"This is very good for them," he added. "This is very good for [Russian President] Vladimir Putin. This is very bad for the U.S. military. We've got to find a way forward."
Newsweek reached out to Tuberville's office via email Tuesday night for comment.
After facing backlash from Navy Secretary Carlos Del Toro, Air Force Secretary Frank Kendall and Army Secretary Christine Wormuth last week, Tuberville released a video on X, formerly Twitter, dismissing the attacks from the senior military officials as "another example of woke propaganda."
"I'm not holding up any nominations from being approved," Tuberville said during his video message. "They can bring them one at a time to the floor, they have chosen not to do that."
"There's no threat to readiness," he continued. "The people that we need to be really worried about are colonels and majors and sergeants and privates, they're the people that get ready to fight wars. The people up here in the Pentagon, I don't know what they do every day but they're more of giving advice."
Military promotions require a unanimous vote from members of the Armed Services committee. Lawmakers could instead choose to bring a vote on nominees to the entire Senate floor, but Democrats warn that the process could take several months.