By sharing Yusra and Sara Mardini's dramatic story with a wider audience, director Sally El Hosaini hopes to bring the refugee crisis to the forefront of viewers' minds and show them the "need to engage" with the issue, she told Newsweek.
The Swimmers is based on the real-life experiences of the Mardini sisters, who were forced to leave their home in Syria in 2015 because of the civil war. They traveled to Germany via Lebanon, Turkey and Greece in a bid to get safe passage for the rest of their family.
Yusra and Sara Mardini's journey was treacherous, but it is one that countless refugees have been forced to make over the years.
'The Swimmers' Director Hopes Film 'Humanizes Refugees': 'We Need to Engage'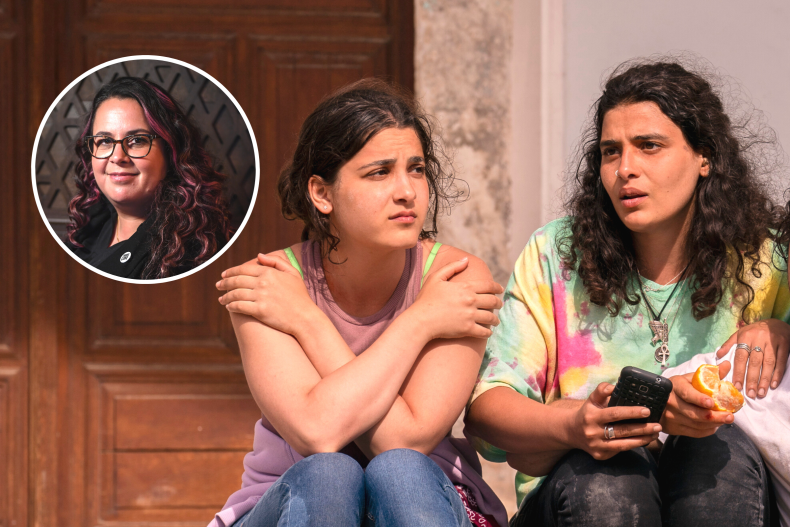 The refugee crisis is often the topic of political debate, with some even going so far as to condemn refugees and asylum seekers, or using negative language to describe them. On November 1, U.K. Home Secretary Suella Braverman referred to the arrival of refugees and the overcrowding of a migration center in southern England as an "invasion," for example.
By telling their story in the Netflix film, and Yusra's dream of reaching the 2016 Rio Olympics, El Hosaini hopes to show the plight of refugees, that it is something that could happen to anyone and that desperate people shouldn't be condemned for their efforts to reach a safer place.
"I'm hoping that it humanizes refugees," El Hosaini said. "Refugees are often seen as other and a lot of people can sympathize but I really wanted the movie to allow people to empathize, because empathy is more powerful than sympathy.
"It's very easy to see the news images [of refugees] and turn the channel and carry on with your life, but the creative intent of the movie was to place the audience with Yusra and Sara on the journey, so that they could perhaps feel what it's like to be in their shoes making those decisions."
The director went on: "Also, I think the film explores what it means to be a refugee. This is a label that's put on you, in terms of Yusra and Sara when did they actually become one? Was it at a certain point in the airspace when they took that first flight from Syria to Turkey? What is that line?
"And in the world today there's a lot of reasons for displacement, [like] climate change, it's not just wars. And as we've seen in Ukraine, this is something that, as a world, we need to engage with."
Yusra Mardini also spoke to Newsweek about her hope of changing minds about the refugee crisis, adding to director El Hosaini's remarks by saying: "We have to understand that there's a place for everyone and we can we can help rather than push away, we can try to understand what happened to them, to refugees all around the world.
"We really come to Europe, or to any other country, just because we want peace. It's not about the luxury life or whatever, and I always say [that] even if a refugee wants the luxury life, and they're working hard for it, so what?"
The Olympic swimmer added: "And one more thing, a lot of people are always scared of refugees, saying refugees are taking their jobs or whatever, money and all of that, and I'm like, if you're good at your job no one [will] steal it from you, it has nothing to do with refugees."
On Filming the Crossing of the Aegean Sea for Real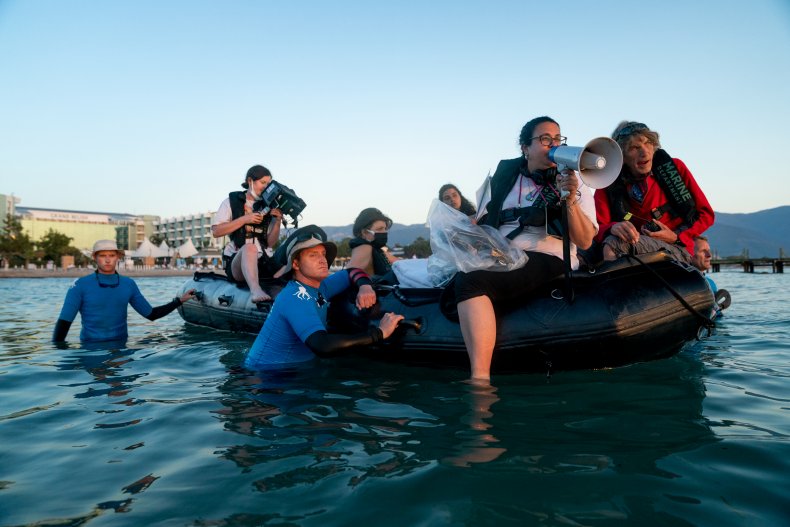 During Yusra and Sara's journey from Syria to Germany they crossed the Aegean Sea alongside other refugees on an overcrowded dingy. The vessel was so heavy with the amount of people in it that the motor broke and it began to sink.
It was thanks to the Mardini sisters and two others that they were able to survive the journey, as they jumped off the boat and the siblings used their swimming skills to get it to the island of Lesbos. They swam for hours, and perhaps saved the lives of 18 people.
This scene is recreated in The Swimmers, with El Hosaini explaining that they filmed the scene in the actual location, and the actors who were cast alongside stars Nathalie and Manal Issa (who play Yusra and Sara, respectively) were also refugees.
"It was very important for me that this film was told in an authentic way, so we actually cast a lot of refugees in the film and on the crew behind the scenes as well," El Hosaini said. "And we did the dinghy the crossing in the Aegean in the same place that those crossings occur, and we did it for real.
"So we really did put a dinghy in the water with 25 people in it, and filmed all the daytime things for real, for safety we had to do the night-time portions in a water tank in Belgium but the rest was in the open water."
"Once you're out at sea you're really at the mercy of the sea and the elements, and we were filming in another little dinghy attached by a rope and sometimes not, [we were] just following them around drifting in the sea," the director went on.
"And there's no way that you could stop or have a break or have a snack, or take five minutes, you really are at the mercy of the waves, and when you see the actors vomiting in the film, they're really vomiting."
"It was very moving to see 25 individuals get on the dinghy and then a family of people get off."
Mardini added: "That's really actually how it was as well, it was real. That was a family that [got off that boat]."
The Swimmers is out on Netflix on Wednesday, November 23.