From Harry and Meghan's tell-all TV interview to the Beckhams' "family feud", children who grew up in the spotlight are starting to speak out. As they destroy reputations and shatter "perfect family" portraits that took years to build, you can't miss all the famous kids calling out mom and dad right now.
Although exposés are nothing new, why does there seem to be an increase in celebrity children blasting their parents publicly?
Hannah Yelin—senior lecturer in media and culture at Oxford Brookes University in the U.K. and author of the upcoming book Celebrity Memoir: From Ghostwriting to Gender Politics—said that social media has helped to fuel the rise.
"In the social media age, there are blurred lines around who is a celebrity and who isn't," Yelin told Newsweek.
"Not that there has ever been a clear and definitive way to ascertain the parameters of celebrity, but now you have celebrity-adjacent people, who don't have careers or roles in the spotlight in their own right, who have enormous followings."
Social media has given celebrity children a platform to share their gripes, but why the urge to air their private lives publicly? Is it as simple as getting back at their parents? And how does revealing every skeleton in their family's closet affect such famous offspring?
Instagram Is Not Real, Families Are Not Picture Perfect
A recent study found that images of picture-perfect families on social media were bad for moms' mental health, but while social media can craft the "ideal family" image, it can also break it.
"A huge part of the labor of celebrity is image management," said Yelin.
"This includes the roles they play in film and TV shows, the things they say in interviews, but also many narratives that lie outside of the celebrity's control—from paparazzi to kiss and tells, exposés and gossip have always contributed to the star image."
A recent example of a public figure being admonished by their own child is US Senate hopeful Herschel Walker. His 23-year-old son Christian Walker went viral last month, after calling his father a "liar and a hypocrite" on Twitter.
According to a Daily Beast report, Walker—the Republican candidate for Georgia—allegedly paid for an ex-girlfriend to have an abortion in 2009, despite opposing abortion rights. Shortly after the report went live on October 4, Christian—a conservative social media personality with his own following—took to Twitter to blast his father and his "upright" image.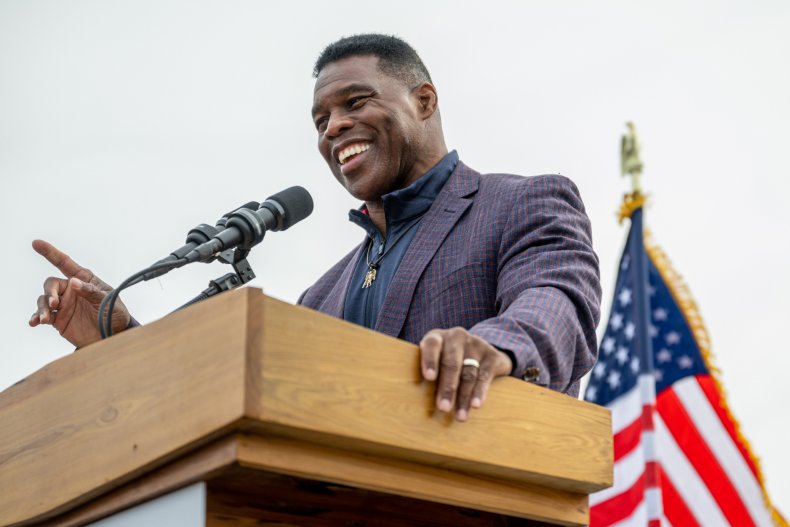 "I don't care about someone who has a bad past and takes accountability," he wrote. "But how DARE YOU LIE and act as though you're some 'moral, Christian, upright man.'
"You've lived a life of DESTROYING other people's lives. How dare you."
Walker has denied the abortion allegation, but Christian shared more claims from his father's "past" on social media. In one video, Christian said that Walker was absent for most of his childhood.
"You know my favorite issue to talk about is father's absence. Surprise! Because it affected me," he said in the clip.
"He has four kids, four different women. Wasn't in the house raising one of them."
Celebrities Who Grew Up In The Spotlight May Have Lacked Emotional Support In Childhood
Taneisha Johnson is a clinical social worker, self-care coach, and the author of When Depression And Anxiety Have A Voice. She helps people to advocate for themselves and their needs, and believes the surge in famous children publicly shaming their parents is a way to get things off their chest.
"Social media has created a platform for celebrities to be able to vent and express themselves," Johnson told Newsweek.
"There is an assumption that children of celebrities have an 'easy life' because they are not lacking financially.
"Many fail to realize that their childhood may be lacking in other ways, such as emotional support, nurturance and guidance."
In a previous article, Newsweek explored why more and more adult children are cutting off their parents. Along with physical and sexual abuse, emotional abuse can have a life-long impact on a child's mental health. Whether parents are highly critical, fail to empathize, or exhibit toxic behavior such as gaslighting, cutting contact can be what's best for an adult child's mental health.
Posting In The Moment, When Angry, Will Lead To Regret
However, the ability to upload painful memories or lurid confessions at the drop of a hat can lead to regret later. Putting mom or dad on blast might feel good in the moment, but celebrity children are also opening themselves up to ridicule. If the poster is in a vulnerable state, sharing their personal life with the world and getting a negative reaction can further damage their mental health.
"These platforms are good for publicity, they can also create a space for people to share a lot of information about themselves that can be harmful for them and their families," Johnson said.
"Many who struggle with their mental health will continue to use social media to seek out support, attention, and feel seen by others. They are doing it to feel important and valued in the world."
Nevertheless, "outing" their terrible family lives on social media can also be a way for the children of celebrities to assert their own identity, particularly if they were exploited for fame, such as Michael Jackson or Jennette McCurdy.
"Visibility isn't neutral and navigating a high profile can bring all kinds of challenges and even harms," said Yelin.
"At some point children grow up and have to wrench control and live on their own terms, claim agency over their own narrative."
The Most Scandalous Celebrity Childhood Exposé Of Them All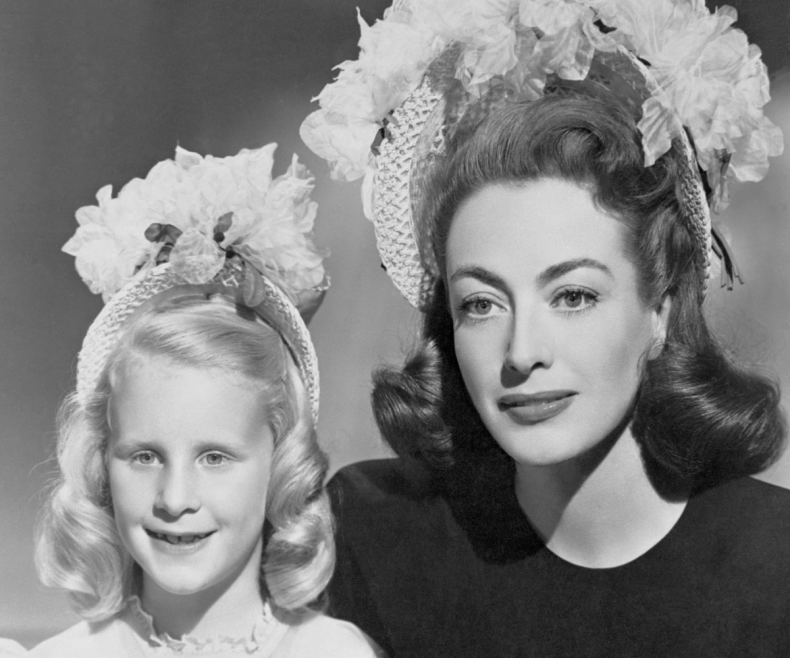 Although the method may have changed, tell-alls about celebrity parents are nothing new. It's been over four decades since Christina Crawford's Mommie Dearest was published, perhaps the most famous celebrity exposé of all.
Released in 1978, the memoir documented the abuse Christina suffered at the hands of her adopted mother, Hollywood icon Joan Crawford. In the book, Christina alleged that Crawford only adopted her five children as a publicity stunt after a career downturn, and had no interest in being a mother.
Describing Crawford as an unbalanced alcoholic, Christina wrote that her mother was both physically and mentally abusive, regularly beating her and limiting her contact with the outside world.
Mommie Dearest was a bestseller, and was made into a film in 1981 starring Faye Dunaway as Crawford and Mara Hobel as Christina. Although the movie was panned upon release, the book is still considered a game-changer for its portrayal of abuse.
In an interview with the HuffPost in 2018, Christina said the memoir was the first to "unmask an unspoken set of secrets."
"It shattered the taboo of silence that existed," she said of its enduring legacy.
"More importantly, the truth was told through the voice of a child coming from a home of perceived wealth and power.
"It turned the fantasy world of fame and celebrity upside down and shocked a lot of people."
Blasting Your Parents On Social Media Can Impact Their Career Forever
Despite the sensation they cause, do these confessions have a lasting impact on their A-list parents' reputations? Chet Hanks' public digs at his father don't seem to have dented Tom Hanks' wholesome image, and the royal family has weathered greater scandals in recent years than Harry and Meghan's revelations.
While Victoria Beckham's alleged feud with daughter-in-law Nicola Peltz—which supposedly began with an argument over who would design the actress's wedding dress—hasn't stopped the family from putting on a united front in public, with the couple joining Victoria and David for Paris Fashion week in September.
However, Christian Walker's social media takedown may have had an impact on his father's campaign. The abortion scandal and the surrounding fallout was blamed for Walker losing his lead over Democratic rival Raphael Warnock in early October. At the time of writing, the pair were in a run-off for the senate seat, with neither reaching the 50 percent support needed to win.
"As a witness there's no question that they know the star intimately," Yelin said.
"As children they are read as the innocent party. As they give an emotional account they are persuasive. And as someone revealingly the secrets from behind closed doors about what a star is 'really' like in private, they have our full attention."
Have you ever dealt with a toxic family member? Let us know via [email protected] We can ask experts for advice, and your story could be featured on Newsweek.