Upgrading your polycarbonate or softsided luggage to aluminum might seem like an unnecessary indulgence. But investing in one of these sleek, durable and stylish suitcases will keep your cargo well protected in the long haul.
Why invest in aluminum luggage? In addition to the sleek and luxurious look of metal, aluminum is less likely to crack compared to polycarbonate luggage, making it a more long-term option.
The biggest downside? Aluminum luggage often weighs more than plastic or fabric suitcases. Carry-on suitcases generally weigh in the 10-pound range, while checked luggage bags may get up to 16 pounds.
In terms of price, expect to pay more for aluminum, as the cost of materials and production is higher. Keep in mind that high-end luggage brands like Rimowa offer complimentary maintenance and warranty specific parts that might break over the years.
The best aluminum luggage you can buy
We rounded up some of the best check-in luggage and carry-on luggage in 2023 from brands like Rimowa, Away, Tumi, Zero Halliburton and Level8. Check out the top rated picks below or view our top picks for the best luggage of 2023.   
Rimowa Classic aluminum luggage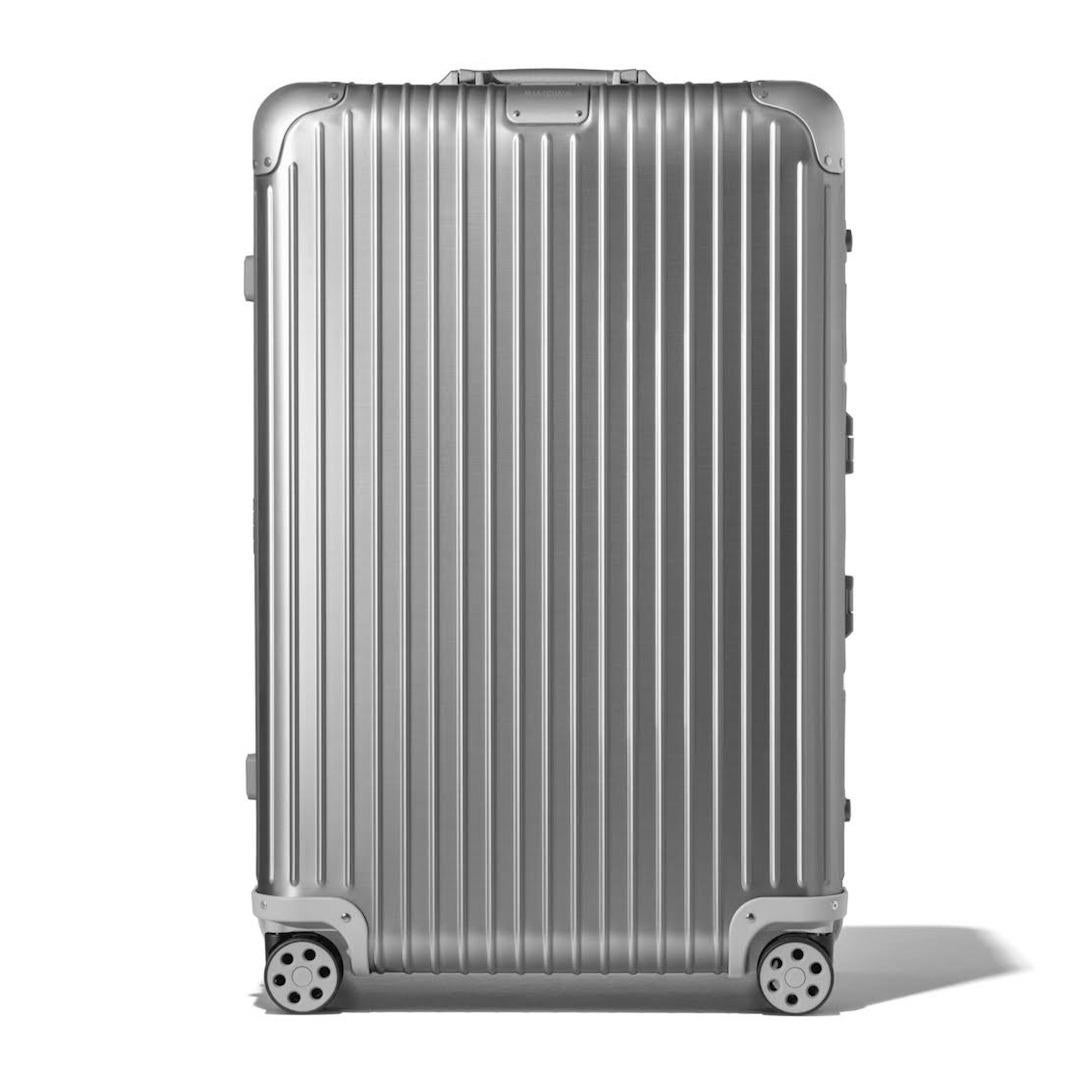 Rimowa pioneered the aluminum luggage trend, introducing them to the market in the 1930s. The high-end, celeb-favorite Rimowa Classic Cabin S suitcase features TSA-approved locks, a height-adjustable flex divider and a telescopic handle. And like all of Rimowa's designs, it has grooves inspired by the first all-metal airplane.
Aside from its quality materials and construction, one of the greatest benefits of buying a piece of Rimowa luggage is peace of mind. The brand includes a lifetime guarantee on all new suitcases, covering all functional aspects (but excluding wear and tear). Rimowa also offers in-store repairs and even in-hotel repairs at participating international locations.   
Pros: Its aluminum construction protects your belongings much better than soft-sided or polycarbonate luggage. This suitcase comes with a lifetime warranty,
Cons: Rimowa suitcases are much more expensive than the average travel suitcase. 
Rimowa suitcases come in a lot of shapes and sizes, materials and colors. Size and color combinations vary per collection, but most come in a few cabin (carry-on) and checked luggage options. There is also a trunk, an extra large piece of luggage designed for trips two weeks or more. Some of our favorite aluminum pieces from the brand include: 
---
Away The Aluminum collection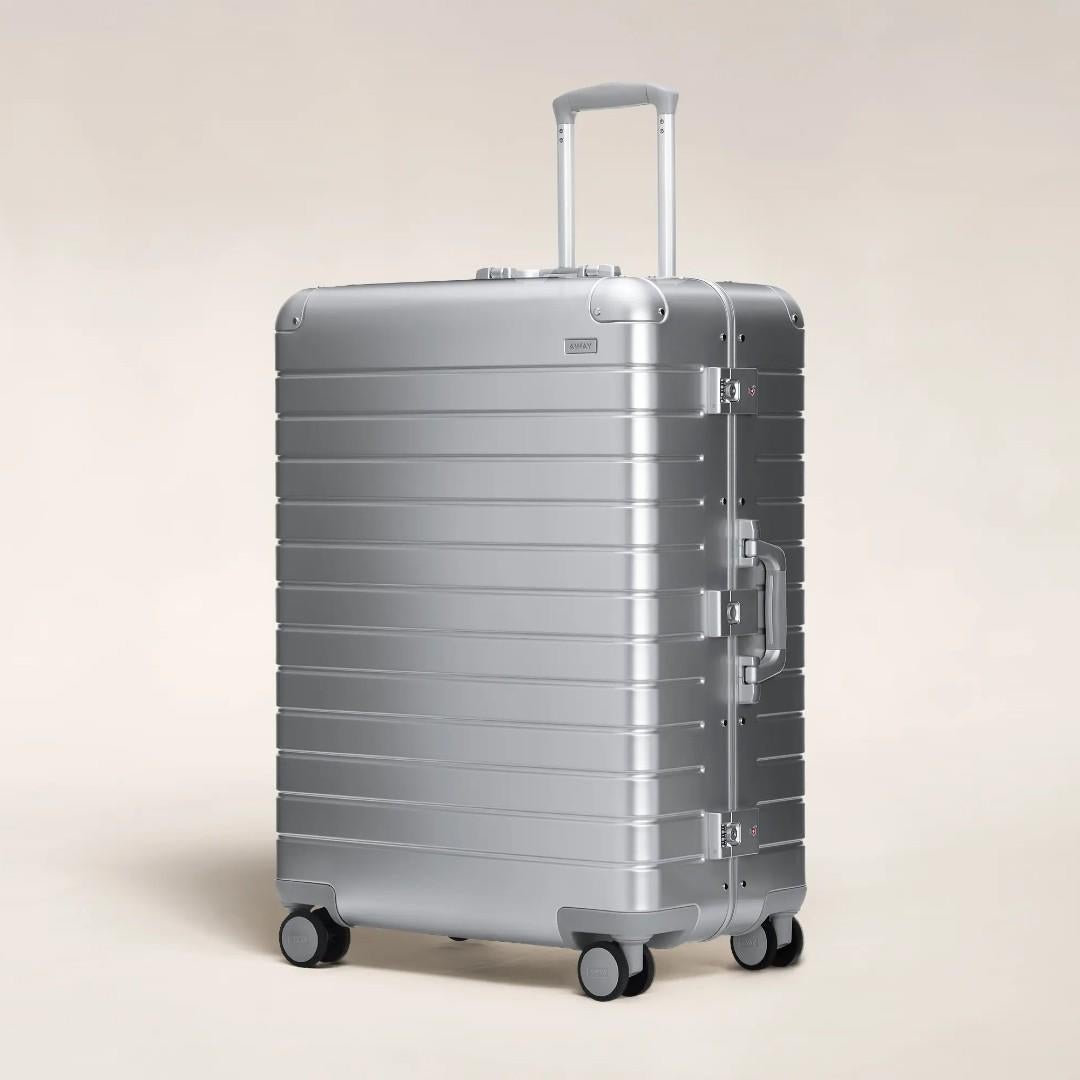 Away Travel offers sleek, functional suitcases at a reasonable price point. Jet setters will appreciate the removable, rechargeable battery for on-the-go phone charging, the easy-to-set TSA-approved lock and smooth-rolling spinner wheels. Away's upgraded aluminum edition offers a more wallet-friendly alternative to Rimowa with the same features as the durable polycarbonate bags that put the brand on the map. Away also offers a warranty that covers damage to the shell, wheels, handles, zippers and other functional elements of the suitcases. This provides added peace of mind when splurging on pricier suitcases.
The aluminum version of Away luggage comes in four sizes: two carry-ons and two check-in. It's available in three metal tones: silver, onyx black and rose gold. The smaller carry-on weighs 10.1 pounds, the medium-sized one weighs 10.6 pounds, the smaller check-in is 13.3 pounds and the larger version is16 pounds.
Pros: Away's 360-degree spinner wheels make these bags easy to roll through the airport. The suitcases feature a dual-lock for added security. The carry-on fits in most airlines' overhead bins.
Cons: Somewhat limited color options. Aluminum construction is more expensive than other options at Away.
---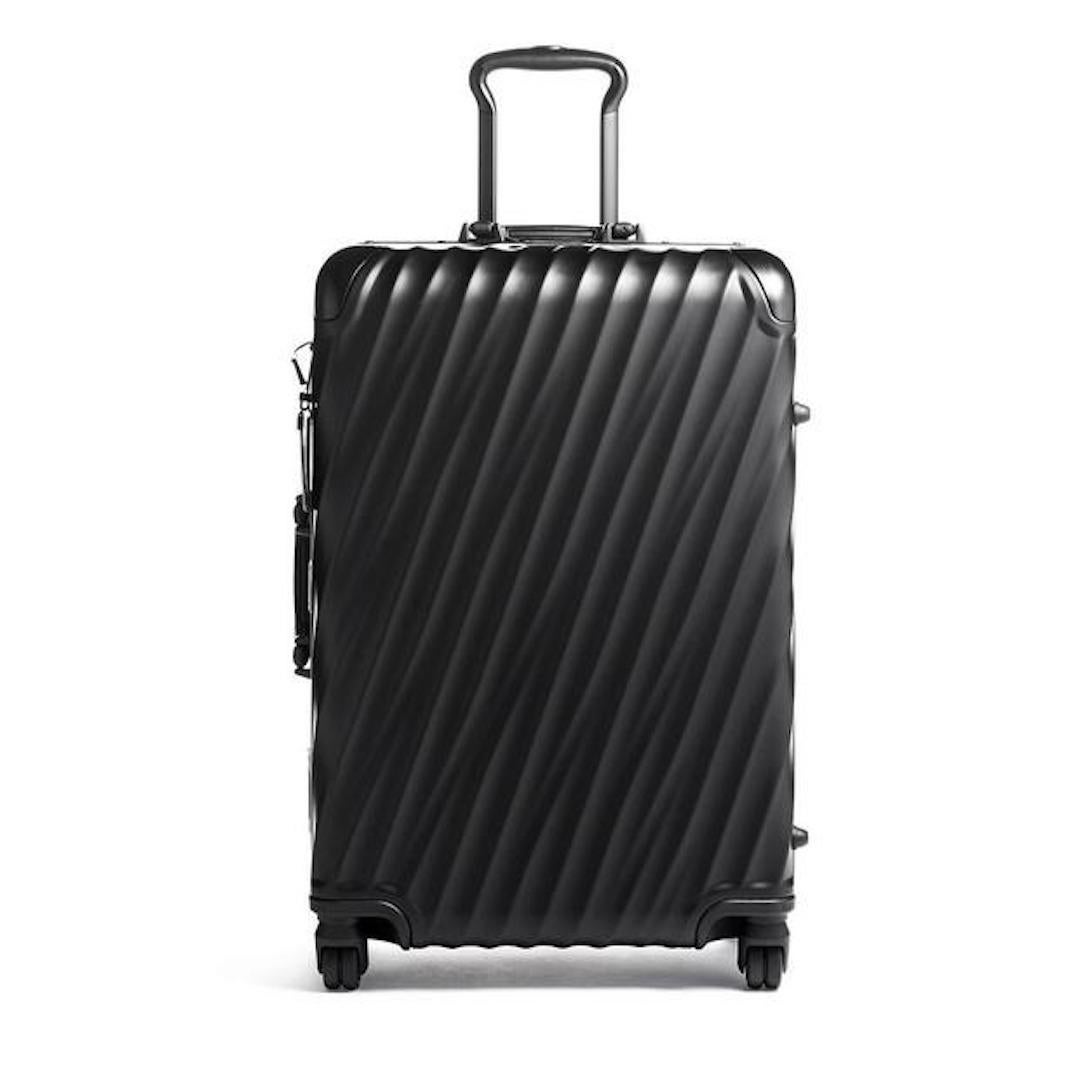 Tumi crafted this sleek suitcase out of lightweight aluminum. Features include TSA-approved locks, smooth swivel wheels and an impact-resistant telescoping handle for all-around easy maneuverability. Interior highlights include compression straps, a removable garment sleeve and lots of zipper compartments for organization. Worried about losing your luggage? As part of the Tumi Tracer program, the bag includes a 20-digit number for easy identification. Plus its two TSA-integrated combination locks will keep your belonging safe and secure.
"The 19 Degree Aluminum series is very classy," says one reviewer. "It looks great when checking in and just sets you apart from the rest. I use my 19 degree Aluminum Extended Packing Case and my 19 Degree Carryon as a pair every time I travel internationally. I have peace of mind because this luggage series is very tough and protects my precious belongings."
Pros: Features durable aluminum exterior and sturdy extension handles, plus retractable side and top carry handles for easy loading and carrying. Available in four colors: silver, matte back, dark denim and textured blush.
Cons: It has a high price point, even compared to most other aluminum luggage options.
---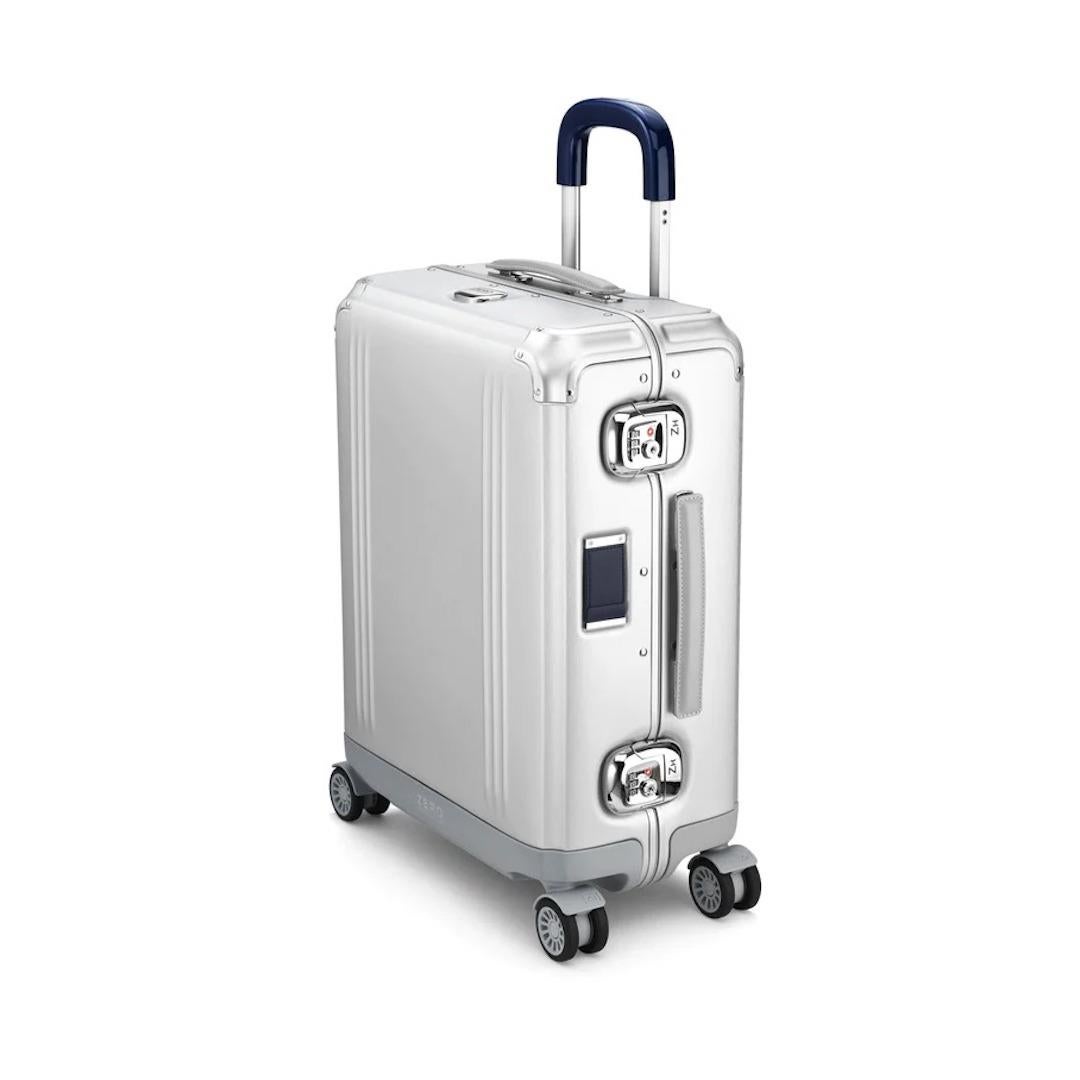 The luxurious 22-inch, 12.5-pound Zero Halliburton Continental suitcase fits overhead on most domestic flights. It boasts a smooth moving wheel system trademarked by the brand. A three-stage telescopic handle, TSA-compliant lock system, leather accents and a roomy interior with lots of organizational round out the features that make the brushed metal suitcase a keeper. Its smaller size also makes it a great choice for road trips. 
The suitcase also offers plenty of storage and internal compartments to keep all of your belongings organized. The Zero Halliburton Continental aluminum carry-on features a zip separator, wide-panel-tie down straps with a mesh separator to hold clothes in place and a closure compression panel with an extra mesh pocket to hold smaller items. Available in silver, black and bronze.
Pros: The suitcase features rubber-lined 360-degree wheels for improved ease of use, traction and shock absorption. A built-in TSA-approved combination lock keeps your belongings secure. Also comes with a magnetic leather ID tag and free monogramming.
Cons: Zero Haliburton does not offer a lifetime warranty like Rimowa or Away.
---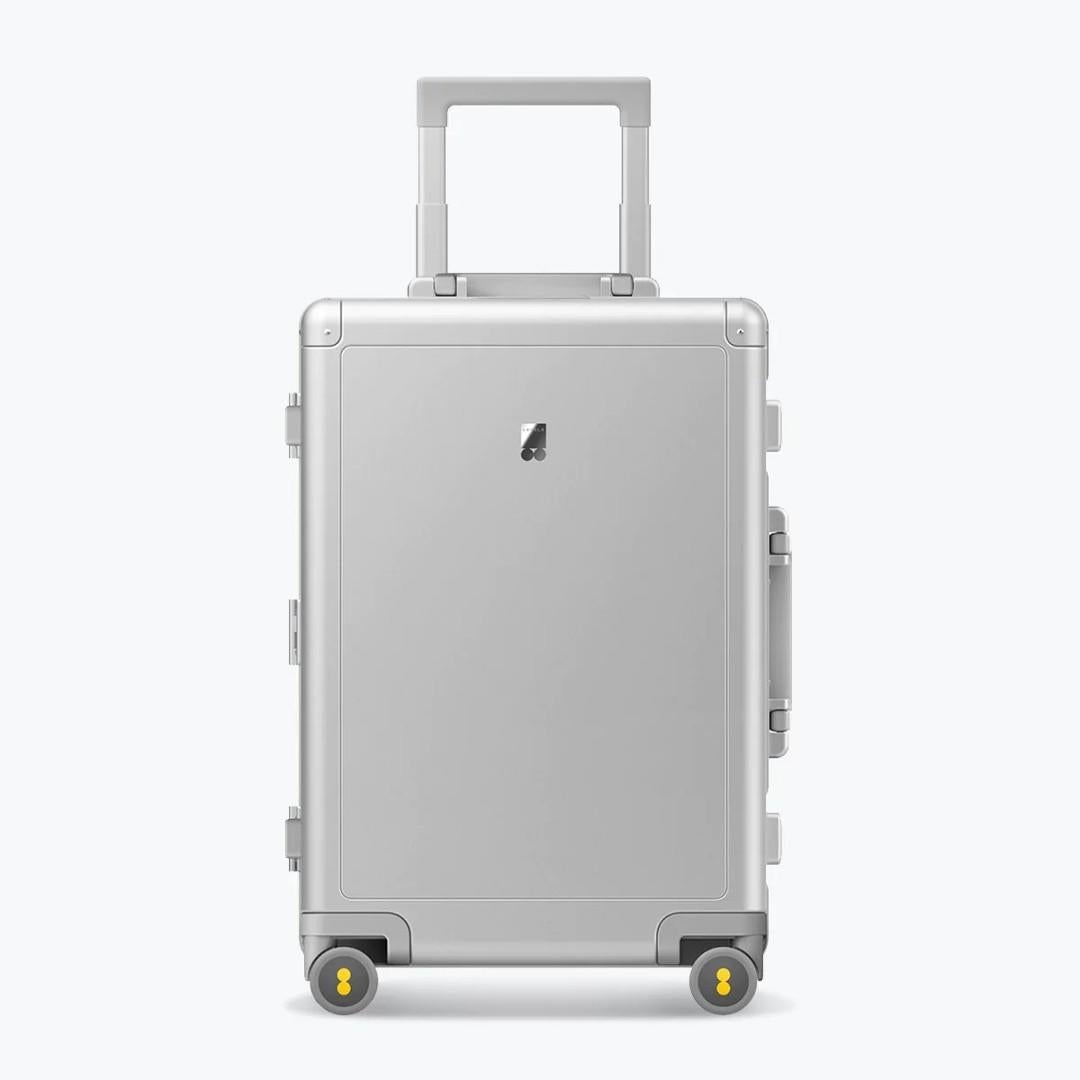 Crafted out of aerospace-grade aluminum magnesium alloy, the Gibraltar aluminum carry-on, available in silver and gray, weighs 10 pounds and fits neatly in the overhead bin of an airplane or the trunk of a car. Keyless and zipper-less, the sleek suitcase boasts TSA-approved locks, 360-degree durable spinner wheels and comes with a four-piece organizer bag set.
"The suitcase feels and looks high quality. It is heavier than your typical suitcase at 10 pounds, but on par with other metal suitcases," says one verified buyer. "I love the storage dividers, interior fabric, rubber gasket and pull-out handle."
Pros: Made with scratch-resistant material and reinforce with meta corner protectors for long-lasting durability. Includese removable dividers for flexible packing. Comes with a lifetime warranty. Relatively inexpensive for aluminum luggage.
Cons: Fewer sizing options than competitors.
---
More top-rated luggage options
Are the above aluminum suitcases not quite right for you? No worries — your friends at CBS Essentials have compiled a number of luggage roundups designed to help you shop for your next bag or suitcase in 2023. Check out our luggage coverage here: