Cuba on Thursday announced the arrest of 17 people on charges related to a network recruiting Cuban citizens to fight in Russia's war in Ukraine, according to a Cuban government official.
In a rare rebuke to Russia—a close ally of communist Havana—the Cuban government also stated Cuba has no role in the war in Ukraine and rejects the use of its citizens as fighters for Moscow.
The arrests, which reportedly included one of the recruiting network's organizers, were announced on the state-run news channel Canal Caribe by César Rodriguez, who heads Cuba's criminal investigation department. His announcement came days after a statement from Cuba's Foreign Ministry about how the government had detected a "a human trafficking network" in Russia that was recruiting Cubans for the war. The statement said authorities were already working to "neutralize and dismantle" the ring.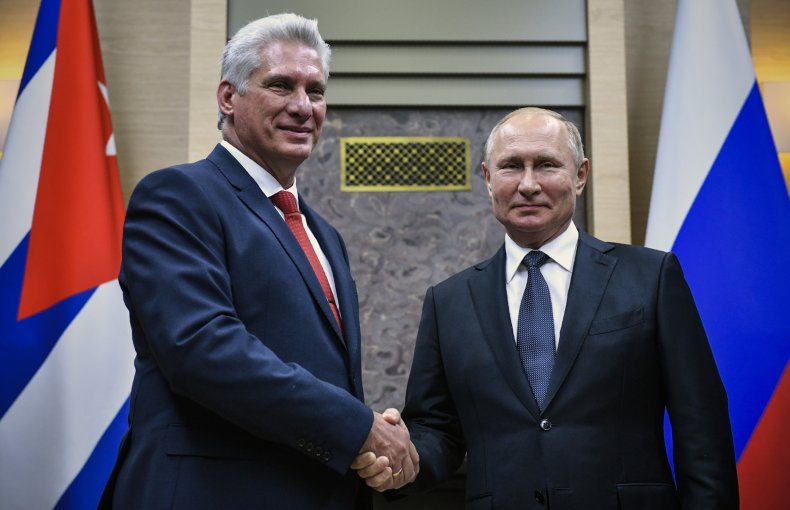 What To Know About Cuba-Russia Relations
Cuba and Russia have maintained strong ties since 1959's Cuban Revolution, and the Caribbean nation's current president, Miguel Díaz-Canel, enjoys a good relationship with Russian President Vladimir Putin.
Last November, Díaz-Canel visited Moscow and publicly praised Putin's justification for invading Ukraine. He also blamed the United States for the war, claiming it had provoked Putin by trying to expand NATO membership along Russia's borders.
Dr. Luis Fleischman, a professor of sociology at Palm Beach State College and co-president of the Palm Beach Center for Democracy and Policy Research, told Newsweek that Russia continues to get involved in Cuba and other Latin American countries "to counterbalance NATO's expansion in Eastern Europe, particularly as the U.S. and allies are politically and militarily supporting Ukraine."
As for the recruitment arrests, Fleischman said he believes the Cuban government could have actually been "directly involved" in a recruiting deal with Russia, despite what Cuban officials have said.
"In Cuba, there is no freedom of movement. People cannot leave Cuban territory unless they do it illegally or with permission from the government. Why would Russians recruit soldiers in Cuba under these conditions?" he said.
Fleischman further detailed the Cuban government hiring out the services of its doctors to the world, which could lead them to do the same with its soldiers. He cited "a historical precedent where the Cuban government 'volunteered' soldiers to fight for Russia's interests in Angola, Mozambique, Syria, Congo and Algeria."
Fleischman, who authored the 2013 book Latin America in the Post-Chávez Era, referenced how Prisoners Defenders—a Madrid-based NGO focused on Cuban human rights—reported earlier this summer that the Cuban and Russian governments had allegedly signed an agreement in which Cuba would be paid to send fighters to Ukraine.
"Now that this deal has been discovered, the Cuban government claims such recruitment exists," Fleischman said. "However, it is conducted by an illegal human trafficking network, which the Cuban government did not identify."
But even if a disagreement has occurred between Cuba and Russia regarding the recruitment of Cuban citizens, Fleischman said Cuba stands to benefit too much from keeping close ties with Russia to allow a rift to grow.
"Cuba's economy is in dire straits, mainly because Venezuela's oil bonanza is over," he said. "Russia could help Cuba improve its economy through investments, wheat and food supplies, and infrastructure."
Fleischman also noted the relationship is mutually beneficial.
"Remember, both countries are under sanctions," he said. "In other words, there is no reason for both countries to break such a convenient relationship."