The brain imaging modalities market will register significant growth during 2022-2031. The high prevalence and growing incidences of brain diseases and neurogenerative disorders, coupled with the technological advancements in brain imaging modalities, are expected to boost the market growth during this time span.
Neurological illnesses and mental disorders have emerged as serious public health concerns and substantial challenges for medical systems around the world.
Genetic disorders, congenital anomalies or disorders, infections, lifestyle, environmental, or physical problems such as malnutrition, brain injury, spinal cord injury, and nerve injury are some of the causes of neurological illnesses.
Specifically, diseases like Alzheimer's and Dementia are on the rise due to the fast-paced lifestyles of people in modern times.
5 Modalities of Brain Imaging
Neuroimaging tools have become increasingly more advanced, making them valuable for neurology and mental health specialists. Imaging techniques allow one to check on how their brain is functioning and help determine if there are any issues in processing activity.
Following are some common brain imaging modalities:
1. Computed Tomography (CT)
A computerized tomography (CT) scan is similar to an X-Ray but with a higher level of precision. CT scan is a series of X-Ray images converted into cross-sectional images of brain that allows doctors and medical staff to visualize the tissues and help determine what's causing problems.
A CT scan can help diagnose tumors, strokes, and bleeding in the brain, which is usually challenging to detect with traditional scans.
2. Magnetic Resonance Imaging (MRI)
Magnetic resonance imaging (MRI) is a medical diagnostic procedure that uses strong magnetic fields and radiofrequency waves to image the body and its various organs.
Most MRI-based diagnostic procedures involve placing the patient inside a large, doughnut-shaped magnet, free from interference by outside sources of magnetism like heart pacemakers.
Radio waves cause these aligned atoms to produce faint signals captured by sensors surrounding the outside of the machine. These collected data are used to construct minutely detailed MRI images – such as bread slices in a loaf.
3. Positron Emission Tomography (PET)
Positron emission tomography (PET) is the combination of medical imaging with nuclear medicine. The images of blood flow, cellular metabolism, and neural activity created by a PET scan can be used to diagnose disease.
For example, a person's brain glucose metabolism rate may be compared to an average healthy level, which may help doctors detect mild cognitive impairment perhaps caused by Alzheimer's disease or other types of dementia.
4. PET-CT
A PET-CT scan combines a PET scan and a CT scan. It gives detailed information about cancer. The CT scan takes X-Ray images from different angles to make a 3-dimensional (3D) picture of part or all of the body.
PET scan, short for positron emission tomography, uses a mildly radioactive drug to show up areas of the body where cells are more active than usual.
5. PET MRI
In the medical field, doctors may use PET MRI scans for various reasons. For example, PET MRI scans of the brain help diagnose Alzheimer's disease, epilepsy, and brain tumors.
This type of scan is a two-in-one test that combines images from a positron emission tomography (PET) scan and a magnetic resonance imaging (MRI) scan. PET and MRI scans are conducted separately, with the individual image data in each scan later being put together and merged.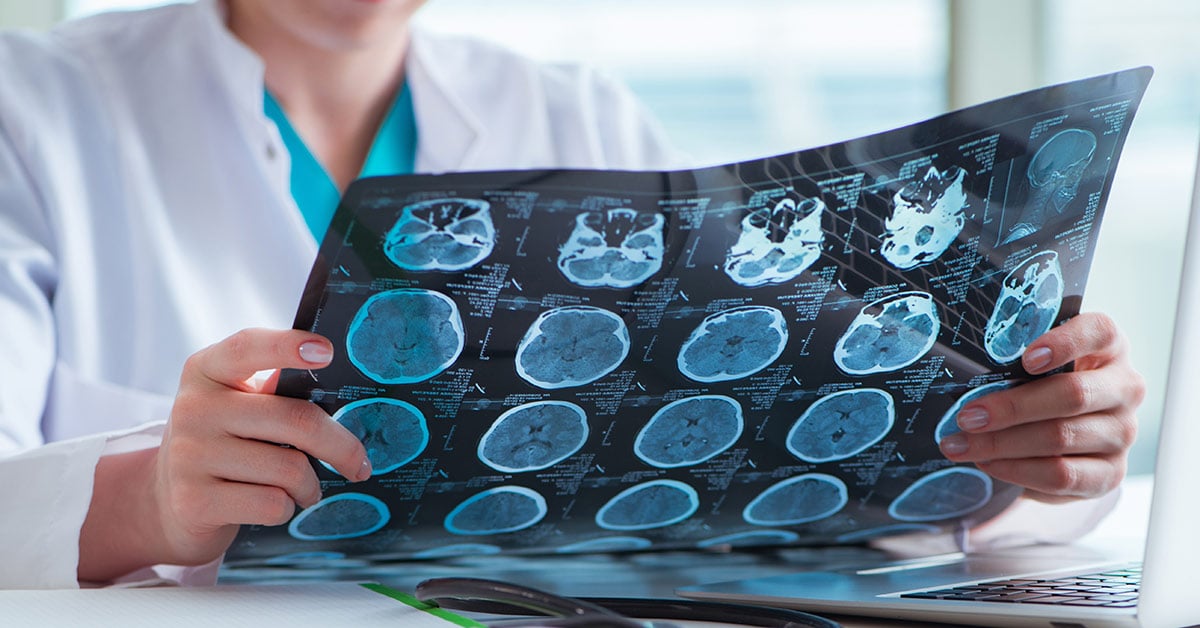 Conventional modalities in brain imaging include the technologies such as MRI and CT scans. With recent advancements, there has been a push toward more advanced technologies such as PET, which enables the use of combined functionalities of PET with MRI or CT.
While conventional MRI is a well-known technology because it's been widely used for a long time, advanced imaging techniques such as diffusion-weighted imaging (DWI), diffusion tensor imaging (DTI), susceptibility-weighted imaging (SWI), and dynamic susceptibility contrast (DSC) are becoming more widely available in regions like Europe and North America.
Brain imaging software is a valuable addition to the field of medicine to provide highly accurate ways of diagnosing illnesses and other disorders through quantitative analysis.
The global brain disease modalities and software market was valued at $13,055.7 million in 2021 and is expected to reach $21,867.6 million by the end of 2031. The market is anticipated to grow at a CAGR of 5.31% during the forecast period from 2022 to 2031.
Global Brain Imaging Modalities Market Industry
The global market for brain imaging modalities is expected to see a lot of growth during the next few years, from 2022 to 2031. The chief reason for this is that many people are suffering globally from neurodegenerative disorders.
The global brain imaging modalities market report highlights that the market was valued at $12,334.2 million in 2021 and is expected to reach $20,209.2 million by the end of 2031. The entire market is expected to grow at a CAGR of 5.06% during the forecast period 2022-2031.
Market Growth Drivers
1. Rising prevalence of traumatic brain injuries (TBI) and neurological disorders
2. Technological advancements in the brain imaging modalities and systems
3. The growing popularity of molecular imaging in brain imaging
Market Challenges
1. Declining helium availability
2. Hospital budget cuts and high upfront cost
Personalized treatment plans that take into account and respect pre-injury comorbidities and the effectiveness of treatments for related illnesses are required for various reasons. More importantly, as the prevalence and incidence of neurological illnesses continue to rise, so will technological adoption.
The governments in several countries have invested in healthcare so its overall healthcare costs can be reduced and the quality of life for people improves.
The restraining factors that significantly influence the growth of the global brain imaging devices market are risks associated with radiation exposure and delay in regulatory approvals for products due to strict government regulations. Moreover, another factor that significantly influences the growth of the global brain imaging devices market is the high cost associated with medical imaging.
Growth opportunities are abundant for emerging economies, and local companies in the global brain imaging modalities market as newer technologies like machine learning and artificial intelligence give rise to a new era of advancement.
High growth opportunities in emerging economies and the emergence of local companies in Asia-Pacific and the Middle East and Africa regions hold immense potential for the overall market growth.
North America is expected to be the most lucrative region for the global brain imaging modalities market. North America's high focus on research and development activities, as well as its advanced healthcare infrastructure, makes it an ideal target for many of the larger players who specialize in this sector.
The Asia-Pacific brain imaging market has immense potential for development within this segment and numerous areas with high geriatric populations. This is due to the massive population base and ongoing effects across emerging markets to aid research and innovation efforts.
BIS Research Healthcare Team
BIS Research's healthcare team provides valuable and actionable information to its clients on trends and technologies disrupting the different segments of the healthcare industry.
One of the key highlights of our market intelligence solution is the Deep Tech M-A-P™ approach. M-A-P™ includes Market, Application, and Product.
Clients at BIS Research can choose from various services, including syndicated research reports, custom research, expert consultations, individually or in any combination of the three based on their requirements.
Interested to know which new technology is emerging in your industry vertical? Get the latest market insights and studies from BIS Research. Connect with us at [email protected] to learn more.