Russia has reportedly reinforced its "over-stretched" infantry troops on the frontline in the Zaporizhzhia region with units from its VDV Airborne Forces, according to a Monday intelligence update from the United Kingdom's Ministry of Defense (MOD).
The deployment for ground fighting on the frontline is perceived to be a step down for the Airborne Forces, which is considered to be among Russian President Vladimir Putin's most elite warriors. The move is the latest in a series of what analysts have described as setbacks for the paratrooper division.
Late last month, the Institute for the Study of War (ISW), a Washington, D.C.-based think tank, wrote in an analysis about how Russia had increasingly began turning to the airborne branch for use in several locations in Ukraine in an attempt to defend Russian positions from Kyiv's ongoing counteroffensive. As a result of such deployments, Russia's Airborne Forces have suffered heavy casualties throughout the war that Putin launched in February 2022, including the loss of a senior commander earlier this month.
The British defense ministry said Russia is continuing to lean on the elite force as its ground troops continue to struggle against Ukraine's forces in Zaporizhzhia.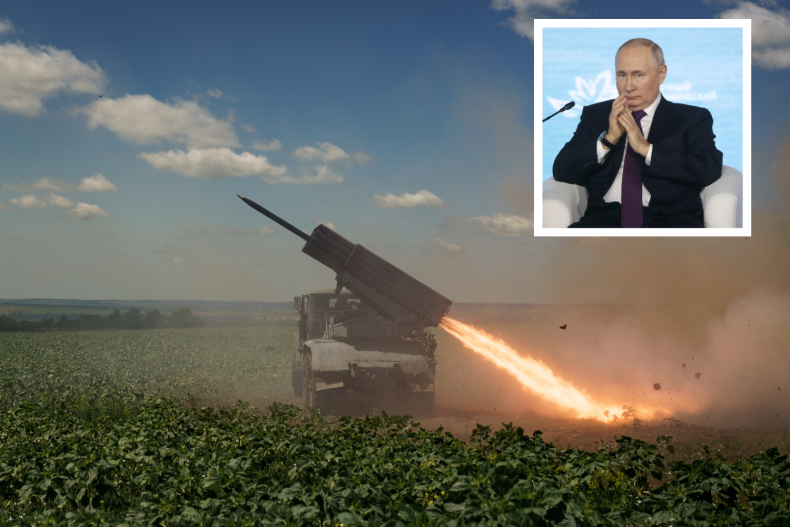 "Over the last two weeks, Russia has likely further reinforced the hard-pressed 58th Combined Arms Army [of the Russian Ground Forces] with additional VDV airborne units on the Orikhiv axis in Zaporizhzhia Oblast," the U.K.'s MOD wrote.
The MOD's intelligence update, which was posted on X (formerly Twitter), said at least five airborne regiments "are likely now concentrated within several kilometers of the frontline village of Robotyne."
Newsweek reached out to Russia's Ministry of Defense via email for comment.
The intelligence report also noted that such deployment is taking a toll on the Airborne Forces, and officials from the branch are likely not pleased as a result.
"At full strength, such a force should constitute around 10,000 elite paratroopers. However, almost all units are highly likely dramatically under strength," the MOD wrote. "The current situation is likely to be seen as highly unsatisfactory by the VDV hierarchy."
The MOD's update concluded by saying that Russian commanders "have attempted to regenerate the airborne forces as a highly mobile, striking force for offensive operations," but the paratroopers are instead being used "once again" as "line infantry to augment over-stretched ground forces."
In its assessment last month, the ISW wrote that the use of VDV formations for both offensive and defensive missions has "likely degraded from their high operational tempo."
"The degradation of these forces will likely weaken Russia's ability to sustain complex defensive operations and almost certainly disrupt any Russian intent to resume offensive operations at scale, which have predominantly relied on relatively elite infantry that Russia now lacks," the ISW wrote at the time.