Brandon Wolf, a survivor of the 2016 Pulse nightclub shooting in Orlando, Florida, said he was "transported right back" following the news of the deadly Colorado Springs shooting at an LGBTQ+ nightclub.
A gunman opened fire at Colorado Springs' Club Q on Saturday, leaving five people dead and another 18 injured, local police said. The shooting is the latest violent attack against the LGBTQ+ community, reminding many people of the Pulse shooting, which saw a gunman open fire inside and kill 49 people.
Wolf, a Pulse survivor who serves as the press secretary for the organization Equality Florida, mourned the shooting victims in a tweet on Sunday morning.
"Oh god. My heart is broken and I'm transported right back," Wolf wrote.
In a follow-up tweet, Wolf condemned anti-LGBTQ+ rhetoric deployed by some right-wingers. Many in the LGBTQ+ community have sounded the alarm about rising homophobia and transphobia in recent months, including the reemergence of baseless "groomer" allegations lobbed against LGBTQ+ people. Many have warned this rhetoric could lead to an attack, though police have not confirmed the shooting was a hate crime.
"We don't know the motive yet. But let's be honest—the anti-LGBTQ hysteria being whipped up in this country has had me checking over my shoulder more than I have in 6 years," he tweeted. "My heart aches for a community waking up to the hate-fueled hell we went through. Orlando is with you."
Wolf also appeared on MSNBC on Sunday morning, where he said he learned about the shooting from "panicked texts" from his friends, noting it felt "eerily similar" to how people reacted to the Pulse shooting.
"I am furious that we are in a position where this is a community that's been traumatized. We've been demeaned. We've been dehumanized," he said.
The onePULSE Foundation, founded to "create a sanctuary of hope" surrounding the "tragic" 2016 mass shooting, also released a statement about the shooting. The organization will lead a "moment of prayer and reflection" at the Pulse Interim Memorial at 5 p.m. Sunday.
"We are deeply saddened and concerned to hear about the mass shooting at the gay nightclub Club Q in Colorado Springs, Colorado. As of now, at least five people were killed and 18 others were injured," the organization wrote in a Facebook post.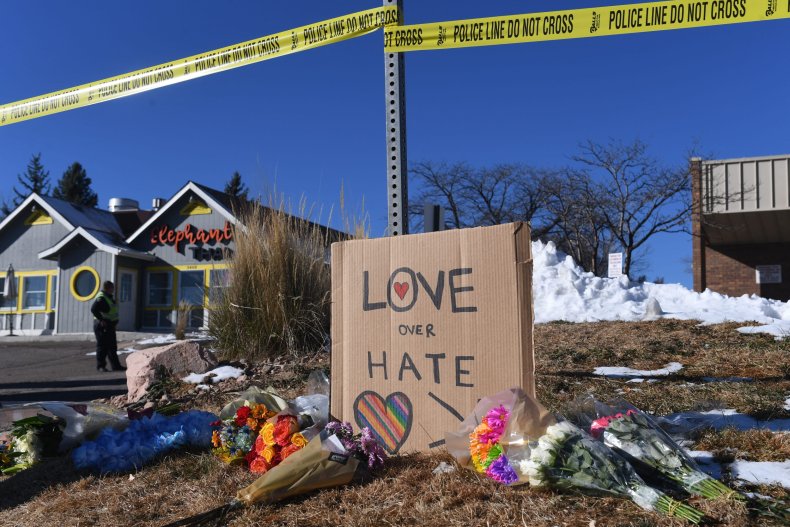 Colorado Police Identify Suspect
The Colorado Springs Police Department (CSPD) identified the suspected shooter as 22-year-old Anderson Lee Aldridge and confirmed two firearms were found at the scene.
"Club Q is a safe haven for our LGBT citizens. Every citizen has the right to feel safe and secure in our beautiful city. The suspect entered Club Q and then immediately began shooting at people inside as he moved further into the club," CSPD Chief Adrian Vasquez said during a press conference.
He also praised two "heroic" people inside the club who confronted Aldridge and stopped him "from continuing to kill or harm others." The shooting remained under investigation, and police were working to determine whether the shooting was a hate crime.
The shooting came on Transgender Day of Remembrance, which "honors the memory of the transgender people whose lives were lost in acts of anti-transgender violence," according to GLAAD.
Meanwhile, President Joe Biden released a statement on the shooting.
"Places that are supposed to be safe spaces of acceptance and celebration should never be turned into places of terror and violence. Yet it happens far too often. We must drive out the inequities that contribute to violence against LGBTQI+ people. We cannot and must not tolerate hate," he wrote.
Newsweek reached out to Equality Florida for comment.