Prince Harry has described a "red mist" that came over his brother, Prince William, during an alleged violent outburst in 2019 that left him with "scrapes and bruises," in a new clip from a soon-to-be-released interview promoting his memoir.
Speaking to ITV's Tom Bradby in an interview due to air on Sunday, Harry discussed the fight with William, telling the broadcaster: "I saw this red mist in him. He wanted me to hit him back, but I chose not to."
The revelation comes as Harry's description of the altercation was published by the U.K.'s The Guardian newspaper on Thursday, after they obtained a copy of Spare, the prince's memoir due for global release on January 10.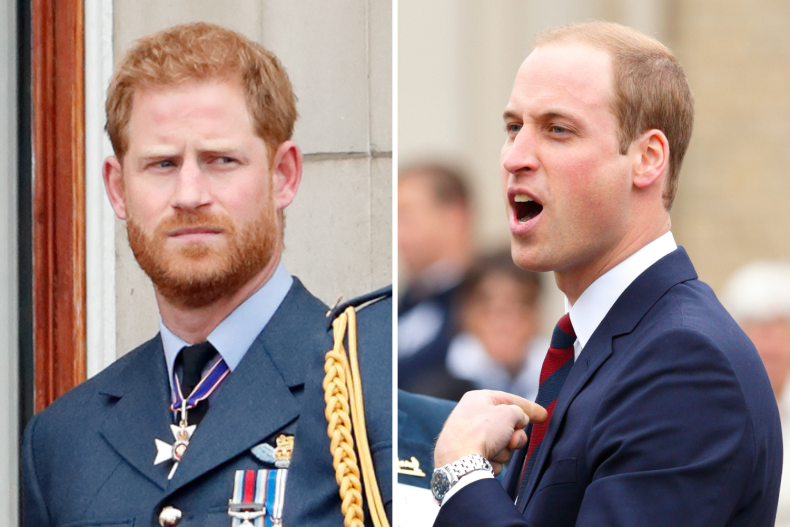 In the published extract, Harry claims that William described Meghan Markle as "difficult," "rude," and "abrasive" before the alleged violent outburst which was prompted by Harry's insistence that his brother's actions were not "helping" him.
"Willy, I can't speak to you when you're like this," Harry recounted himself saying.
"He [William] set down the water, called me another name, then came at me.
"It all happened so fast. So very fast. He grabbed me by the collar, ripping my necklace, and he knocked me to the floor. I landed on the dog's bowl, which cracked under my back, the pieces cutting into me. I lay there for a moment, dazed, then got to my feet and told him to get out."
Following the attack, according to the extract, Harry called his therapist but did not disclose what had happened to his wife Meghan until she spotted his physical injuries.
The prince said that his wife "wasn't that surprised, and wasn't all that angry," but added that she was "terribly sad."
Kensington Palace and Buckingham Palace have so far refused to comment on the incident or any wider claims made in Spare.
The clip released by ITV ahead of their interview with Harry to be broadcast in Britain comes as the prince has confirmed three U.S.-based TV appearances in a media blitz promoting his book.
The royal will appear on 60 Minutes with Anderson Cooper on Sunday, Good Morning America with Michael Strahan on Monday, and on The Late Show with Stephen Colbert on Tuesday.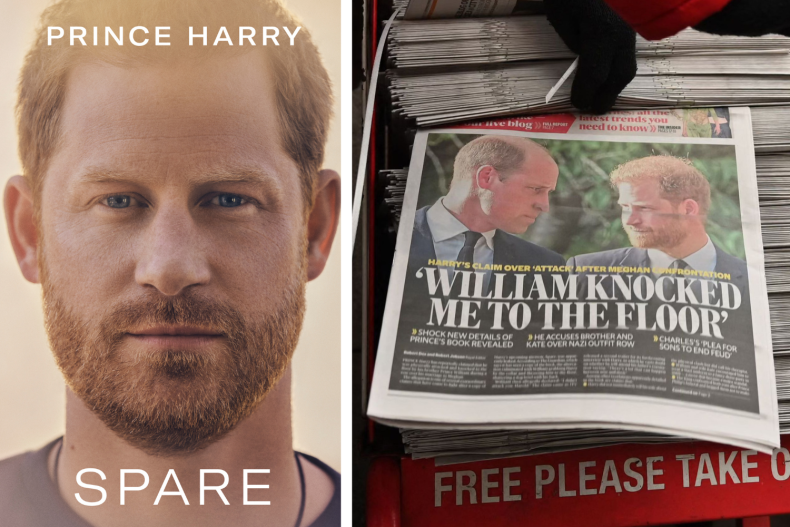 The prince has a developed relationship with ITV's Tom Bradby, which has lasted many years. Notably, in 2019, he opened up to the journalist about his relationship with William as part of a documentary following his and Meghan's tour of South Africa. In it, he famously said the pair were on "different paths."
Speaking in the clip of Sunday's interview, Harry reiterated his previous call for reconciliation with his family but added that this cannot happen before efforts have been made by the royals to take accountability for their actions.
"I want reconciliation," he said. "But first there needs to be some accountability. The truth supposedly at the moment has been there's only one side to this story, right? But there's two sides to every story."
Security around the release of the Spare memoir was reported to have been heightened to ensure no leaks would occur. However, copies were obtained by Page Six in the U.S. and The Guardian in the U.K. before media outlets were able to translate a small number of Spanish copies which were put on sale in the country on Thursday, ahead of the official January 10 release.
A number of other bombshell revelations from the book have made headlines so far including Harry's account of drug taking during his teenage years, his plea to King Charles not to marry Camilla Parker Bowles, and Meghan offending Kate Middleton by claiming the latter had "baby brain" after giving birth to Prince Louis.
James Crawford-Smith is Newsweek's royal reporter based in London. You can find him on Twitter at @jrcrawfordsmith and read his stories on Newsweek's The Royals Facebook page.
Do you have a question about King Charles III, William and Kate, Meghan and Harry or their family that you would like our experienced royal correspondents to answer? Email royals@newsweek.com. We'd love to hear from you.