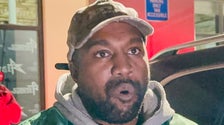 An irritated Ye — formerly known as Kanye West — was caught on video when he apparently snatched a woman's cell phone from her hands as she photographed him from inside her car and hurled it into the street.
The Ventura County Sheriff's Department confirmed to a number of publications that Ye was under investigation for alleged battery after the office received a complaint about the confrontation on Friday.
Ye left the area before sheriff's deputies arrived on the scene, TMZ reported.
The unidentified woman and West, who had been traveling in his car, were both stopped at a stoplight in Newbury Park in southern California when the rapper approached the woman's vehicle.
"I wasn't running," she answers.
She continued to hold her phone up and photographed West as he demanded, "Stop with your cameras."
"I know, but, Kanye, you're a celebrity," she said. Before she could finish her sentence, West yanked the phone from her hands and hurled it into the street.
He then returned to his SUV and drove off, TMZ reported.
No one was injured in the confrontation, and there were no arrests as of late Friday, reported The Ventura County Star.
Responses from Twitter followers were split, with some saying fans should leave him alone, and others saying people are free to photograph whom they please.