A Christian pastor who hosted former President Donald Trump during a disastrous radio call-in interview is convinced that "trolls" are to blame for the technical difficulties that hampered the broadcast.
Jackson Lahmeyer, founder of the group Pastors for Trump, said during a Tuesday interview on ex-Trump adviser Roger Stone's podcast The Stone Zone that trolls had infiltrated "the backstage" of the call-in platform when Trump phoned in to an episode of Thrivetime Show: The ReAwakening versus The Great Reset on Monday.
Audio glitches began while Stone, who was also a guest on Lahmeyer's show on Monday, was being interviewed alongside Michael Flynn, Trump's former national security adviser. A short time later, Trump joined the show with his voice besieged by a heavy echo.
The audio quality remained poor for much of Trump's roughly six-minute appearance. Lahmeyer said that a link to the back end of the call-in software was somehow leaked and exploited by trolls, who then allegedly sabotaged the show.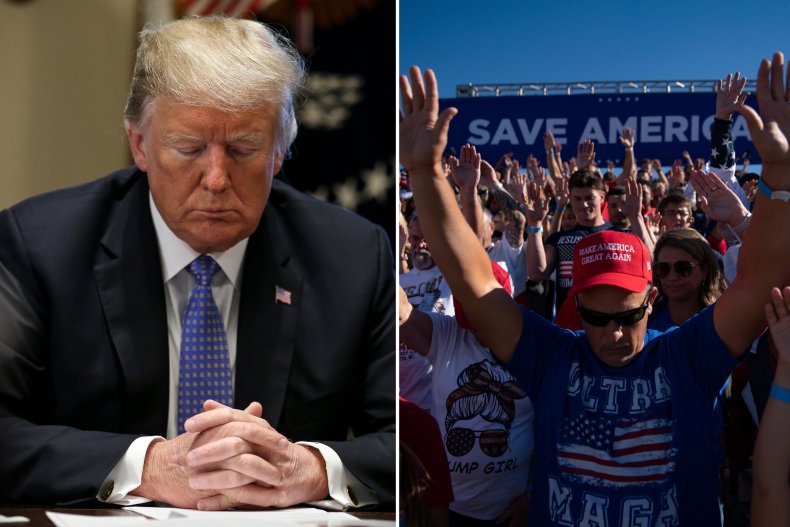 "Here's where the problem came," Lahmeyer told Stone. "Through the platform we were streaming through, there's a backstage for the speakers. Well, that link somehow got out. And trolls infiltrated the backstage and literally kicked us out of our own broadcast."
"We got kicked out, froze out, removed. And that's where we went offline," he continued. "Unfortunately, the trolls—like I said, they got into the back end. And, you know, they do what they do. They bring about disharmony and destruction."
Lahmeyer said that it was "an incredible thing to have 115,000 people join live to pray for [former] President Trump" and "the honor of a lifetime." He went on to tell Stone's audience that he and other pro-Trump pastors would continue to "pray for the [former] president" due to his potentially impending criminal indictment in New York.
Trump himself repeatedly suggested that "the radical left" was to blame for the technical difficulties during his appearance with Lahmeyer, although he said at one point that he was only "kiddingly convinced."
"I know the phones weren't working too well just a while ago … I think probably it was the radical left that did something with them," Trump said. "And that's OK, because we are going to beat them and we are going to beat them all of the time. We have to pray, and we have to do all of the things that we … just have to get it going."
"I've had tremendous support from the pastors and from people of faith," he continued. "I hope you can hear me clearly now … I'm only kiddingly convinced that the radical left did it. But they are doing great damage, they are doing tremendous damage to our country."
Newsweek has reached out via email to Lahmeyer and the office of Trump for comment.