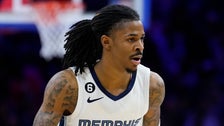 Ja Morant was not charged with a crime after an investigation into a gun-related incident, the Glendale Police Department (GPD) in Colorado announced Wednesday.
The Memphis Grizzlies point guard was investigated last weekend after he livestreamed himself holding what appeared to be a gun at a nightclub in Glendale, Colorado.
"Through investigation, the GPD was able to determine the incident took place at Shotgun Willies, located in the city of Glendale, during the club's lawful operating hours," the police statement read. "GPD was not able to determine that probable cause existed for the filing of any charges."
The department later noted that no disturbances or complaints had been reported and that no one was "threatened or menaced the firearm."
Authorities stated: "Although the video was concerning enough to prompt an investigation, there was not enough available evidence to charge anyone with a crime."
Morant had appeared in the livestream on his Instagram account early Saturday morning, hours after the Grizzlies played the Denver Nuggets in Denver, Colorado, the Associated Press reported.
The Grizzlies released a statement about the incident later in the day, announcing that Morant had been suspended for two games.
Morant apologized via his agency, saying he took full responsibility for his actions.
"I'm going to take some time away to get help and work on learning better methods of dealing with stress and my overall well-being," the statement read, in part, according to the AP.
The team announced on Wednesday that it had extended Morant's suspension for at least the next four games.
Last month, Morant spoke out about a friend who was banned from games at the FedExForum arena in Memphis for a year. The ban came after the NBA investigated a postgame confrontation in January between Morant's associates and members of the Indiana Pacers organization.
Morant said in a since-deleted tweet per the AP that reports of the incident painted "this negative image on me and my fam. & banned my brother from home games for a year. unbelievable."