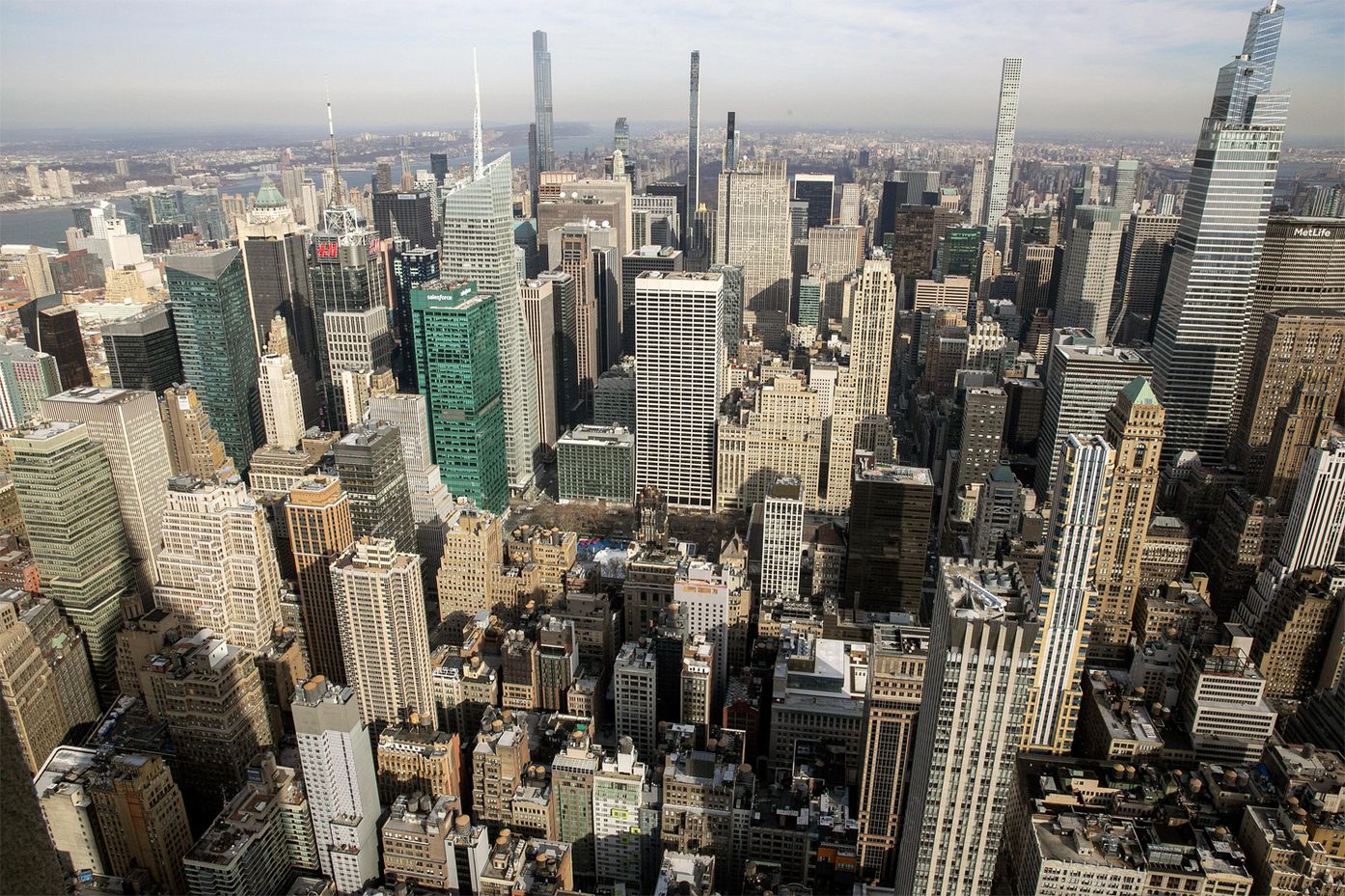 NEWS AND OPINION:
So the only way to go is up? Yes, both in height and price.
Migrants continue to arrive in the Big Apple, prompting New York City Mayor Eric Adams to make a command decision. He vows to convert the 50-story Holiday Inn Manhattan hotel into a large-scale shelter for new arrivals. It has 492 rooms that are now intended for families and single women, according to the mayor's office.
"With more than 44,000 asylum seekers arriving in the last 10 months alone, we have helped provide shelter and support to nearly as many asylum seekers as the number of New Yorkers we already had in our shelter system when we first came into office," Mr. Adams said in a written statement.
"We continue to meet all our moral obligations, serving those arriving with dignity and care, but we remain in serious need of additional support from our federal partners, including a real decompression strategy to slow this influx," he said.
The city has already opened 83 hotels to serve as emergency shelters, along with five relief centers, according to the mayor's office.
"Our federal partners need to act now before we reach a breaking point," said Deputy Mayor for Public Safety Philip Banks III, also in a statement.
So how much will the new hotel designation cost the city? The New York Post offers a handy overview.
The news organization reported last month that the hotel in question had previously agreed to charge the city $190 per room.
"At full capacity, that would amount to $93,500 a day, or an estimated $10.5 billion through May 1, 2024," the Post analysis advised.
'NORMAL OR CRAZY'
Arkansas Gov. Sarah Huckabee Sanders offered a compelling Republican response to President Biden's State of the Union Address on Tuesday night, and of course the press weighed in. Let's start with one sentiment which many Republicans might agree on:
"She killed it," wrote David Strom, associate editor of HotAir.com in a review published Wednesday.
"It was a revelation to me when she gave the first watchable response to the State of the Union address that I have ever seen. I have no idea how many people watched it, but I am pretty sure that clips from the speech will run for days in the media and on Twitter," he said.
Here's a telling — and likely predictive — headline which emerged: "Sarah Huckabee Sanders road-tested the DeSantis 2024 playbook. Let's see how it works out for her," noted the Bulwark.
And of course, they're referring to Florida Gov. Ron DeSantis – a likely contender in the 2024 presidential race.
Meanwhile, one phrase in particular was a favorite among news organizations. Here's additional headlines that also arrived following Mrs. Sanders's response:
"Between normal or crazy: Sanders delivers scorching GOP rebuttal to Biden's address" (Fox News); "GOP should avoid Sarah Sanders' 'normal or crazy' challenge" (MSNBC); "Sanders says the choice in the U.S. is 'normal or crazy' in GOP response to Biden" (National Public Radio); "Sarah Huckabee Sanders says the dividing line in America is between normal and crazy" (Market Watch); "Sanders says 'choice is between normal or crazy' in GOP response" (The Hill); and "Sarah Huckabee Sanders' 'normal or crazy' challenge backfires spectacularly" (Huffington Post).
A BREAM BOOK
The Fox News foray into the world of books continues to flourish.
Fox News Books — the cable news network's publishing imprint — will release its sixth title: "The Love Stories of the Bible Speak," penned by "Fox News Sunday" anchor Shannon Bream. It follows her two previous books — "The Women of the Bible Speak," published in March 2021, and "The Mothers and Daughters of the Bible Speak," published in March 2022.
Both of them were ranked No. 1 on The New York Times bestseller lists. In addition, the combined sales of the two books totaled nearly one million copies, and broke sales records among religious titles as well, according to the network.
"There are so many inspirational and informative stories from the Bible that are relatable today and I am beyond grateful for the opportunity to share these meaningful works with our readers," Ms. Bream said in a written statement shared with Inside the Beltway.
"The past two books explored the strength of women, and now I am thrilled to share this new volume where we focus on relationships, redefining the way we look at love, loss and hardships," she said.
The book will be released March 28.
'HIT THE BRAKES'
The United States borrowed $459 billion in the first four months of fiscal 2023, according to the newly released Monthly Budget Review from the Congressional Budget Office.
No, really.
"That works out to be $3.7 billion per day," said Maya MacGuineas, president of the nonpartisan Committee for a Responsible Federal Budget.
This pricey phenomenon is taking place amid high inflation and a national debt that is approaching record levels.
"As policymakers take stock of how our country is faring and begin the important task of preventing us from defaulting on our obligations, they should take note of the rapid pace of borrowing we are engaging in. Even as we have recovered from the pandemic and recession, our structural borrowing is indefensibly high," Ms. MacGuineas cautioned in a statement.
"In 2022, Congress and the President approved legislation providing for nearly $2 trillion in new borrowing on a bipartisan basis. In 2023, they should hit the brakes, turn around, and put our nation's finances back onto the road towards fiscal sustainability," she said.
"Grappling with our fiscal challenges is a tremendous task, even in the best of times. To make any meaningful progress, Congress and the President should work together to pivot toward a stronger, more responsible federal budget," she advised.
POLL DU JOUR
• 41% of U.S. adults say the U.S. economy is now "shrinking"; 59% of Republicans, 43% of independents and 24% of Democrats agree.
• 24% overall say the economy is "staying about the same"; 23% of Republicans, 23% of independents and 27% of Democrats agree.
• 19% overall say the economy is "growing"; 8% of Republicans, 13% of independents and 35% of Democrats agree.
• 16% overall are not sure about the issue; 10% of Republicans, 22% of independents and 14% of Democrats agree.
SOURCE: An Economist/YouGov poll of 1,500 U.S. adults conducted Jan, 29-31.
• Contact Jennifer Harper at [email protected]