This article is part of Spring Fashion Month, where we're breaking down your must-have fashion pieces for the next few months. From denim jackets to comfy sandals, we're asking editors, influencers and experts about the go-to pieces they wear through spring and beyond.
Easy, breezy and totally comfortable. The Nap Dress, trademarked by lifestyle brand Hill House, is just one of the latest iterations of house dresses. And while house dresses have been around for decades and potentially even centuries (the style is said to have originated from a Victorian gown), the romantic garment is experiencing quite the renaissance.
Nap dresses are "loose-fitting, flowy and feminine" says Amanda Sanders, a lifestyle expert and stylist to celebs like Gwyneth Paltrow, Chris Rock and Jennifer Coolidge. Often the only fitted part of the dress is around the bust, and other key features include "heavy smocking, over-exaggerated puff sleeves and a typically long, slightly pleated skirt." While nap dresses may be comfortable enough to sleep in, their purpose goes far beyond that of a nightgown. The brilliance of the nap dress and similar house dresses is that they're generally dressy enough to wear to the office, comfortable enough for running errands and romantic enough for a weekend date.
Ahead, we've not only tried but napped in our favorite nap dresses we own and love. They check all our boxes when it comes to comfort, versatility and — of course — style.
When I think of nap dresses, my mind immediately goes to Hill House, the brand that undoubtedly started the viral trend. Everyone wants to get their hands on the Ellie Nap Dress and I was lucky enough to try it for a size-inclusive test I'm a part of for our social channels (coming soon!). As expected, the fabric is absolutely top-notch and the French-inspired 'Pink Stripe Vine' pattern is both dainty and feminine. It truly is comfy enough to nap in but the ruffled shoulders, elasticated smocking and tiered midi skirt is elevated and sophisticated enough to wear to fancy drinks or dinner this spring and summer. It's also important to note that after hours of sleeping or general movement in the dress, it never once wrinkled! One word: obsessed. — Stephanie Griffin, social lead
I love how flattering the Daphne is and the fact that it has pockets that are deep enough to hold my phone, which is always a plus in my books. While this dress does feature a structured bodice that makes it more restrictive up top than the Ellie, it is still just as comfortable to wear (and yes, to nap in)! Basically, I love everything about this dress from the cute, whimsical print to the elegant, ruffled shoulders to the flowy bottom. — Rachel Dennis, editorial coordinator
This dress lives up to the name! The fabric feels cooling and soft like my sheets so I didn't really notice it while sleeping. It feels like the perfect dress to wear while laying in the park or on the beach. Definitely recommend! — Hannah Lauson, senior digital content strategist
Behold, a puff-sleeve dress that doesn't overwhelm you! I'm just 5-feet-tall, and puff sleeves can often make me look like I'm about to fly away. These on the Louisa Nap dress fit my proportions exactly, and it really is so comfy. I got it in the Black Cotton and while it feels stiff at first, it just gets softer and softer with each wash. It's so stretchy that I'd definitely recommend ordering your regular size or actually one size down, especially if you have narrow soldiers since the neckline is so wide. Speaking of neckline, it hits perfectly so I can actually wear a bra with it, and it can easily be dressed up with heels and jewelry or truly be the perfect nap dress. — Rachel Lubitz, senior lifestyle editor
It's a classic for a reason. The Ellie Nap Dress from Hill House Home is so light and floaty, that's really not hard to actually nap in it. This gingham print reminds me of picnics in the parks and is perfect for summer, and the ruffled sleeve is a fun touch that makes this dress both cute and comfy. — Chelsea Stone, senior editor
The vividly colored material is actually a rayon/cotton blend (not solely cotton), which makes it super lightweight and almost silky against the skin. My fear that the fabric would overwhelm my 5-foot-4 stature was put at bay as soon as I put it on. While it's certainly loose, the dress is definitely not huge. The midi length is my favorite detail, as it hits a flattering point between my knees and ankles.The dress — that others are paying more than $300 for from high-end designers — easily transitions from drab to fab, letting you live out your cottagecore fashion fantasies. — Courtney Thompson, Underscored contributor
I'm calling it right now: This is going to be the dress I wear (or sleep in!) the most this year. Not only does it have the key features of a nap dress — a heavily smocked bodice, over-exaggerated puff sleeves and a long, loose-fitting skirt — but it's quite literally the cutest, comfiest and most-flattering dress I've ever worn. The 3D embroidered flowers are a unique, spring-y touch and the sleeves aren't too billowy, which I love. Since I'm on the shorter side, I often get swallowed in maxis, but the fit is just perfection and fits every body to a tee. It needs no explanation that the other seven colors are sitting in my Free People cart right now! — Stephanie Griffin, social lead
OK, yes, this dress looks dark and heavy but listen — this is truly the easiest, breeziest dress I own. I first wore this to an absolutely sweltering wedding last summer and since then it's been in my work-from-home wardrobe because it feels like wearing the lightest cotton imaginable. The two slits on either add some sex appeal and also make it cool to walk in, and it's got a ton of elastic so it really hugs your curves in a beautiful way. I've worn it with a (faux) diamond necklace as much as I've worn it barefoot around the house. And yup, you can wear a regular bra! — Rachel Lubitz, senior lifestyle editor
Any time I slip this dress on, I never want to take it off which is ideal, because it can also double as a nightgown! Cut from super soft, lightweight materials, this happy orange and pink dress is perfectly oversized and features a shirred bust and elasticated cuffs that can be worn up or down. The keyhole back is the perfect feminine touch and overall, it's incredibly versatile and can be worn on all occasions. — Stephanie Griffin, social lead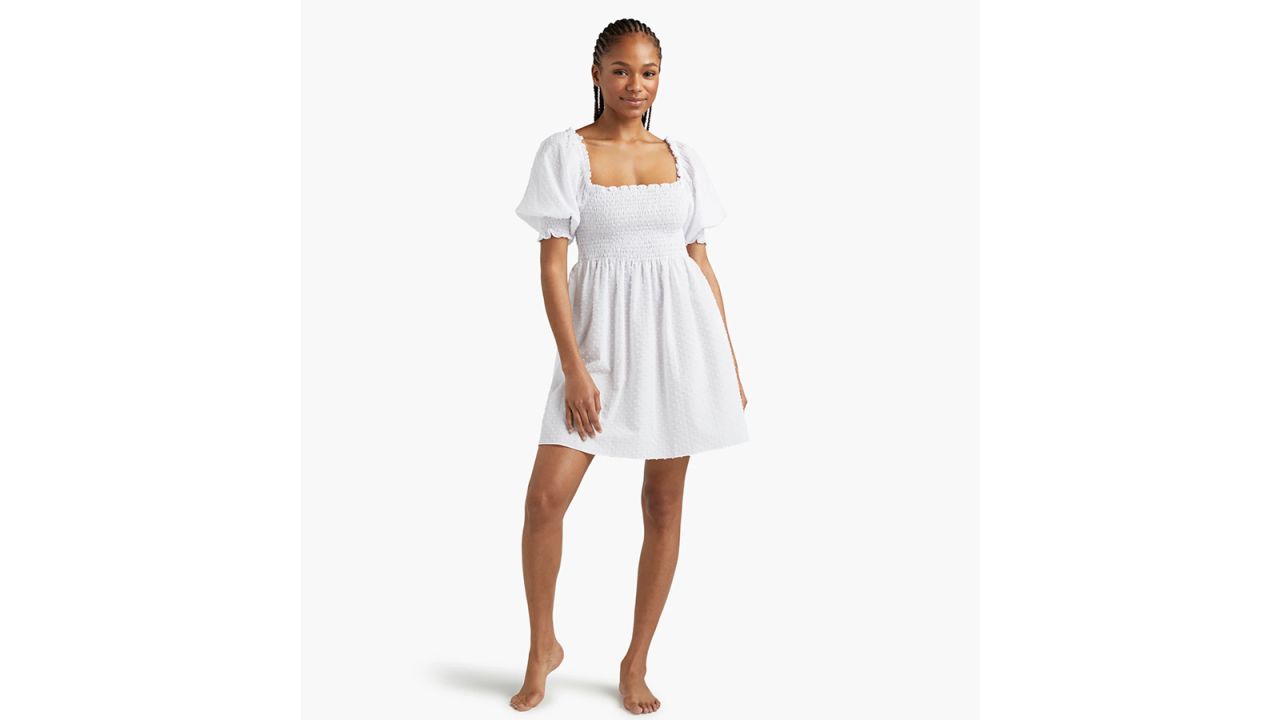 If you're looking for a shorter and less expensive version of the ultra-comfy nap dress, snag The Athena.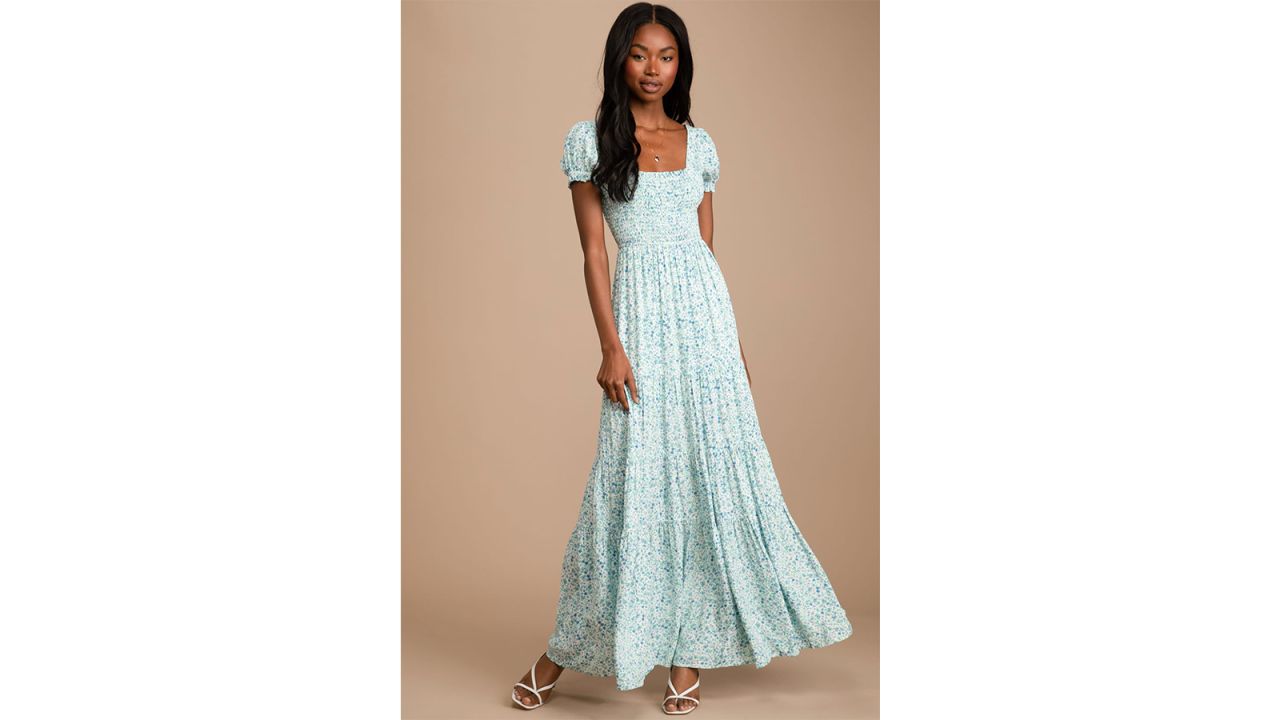 Ready to work some more cottagecore vibes into your summer wardrobe? With a dainty floral print, this maxi dress from Lulus is perfect for all your get-togethers, daily errands or sun-soaked relaxing.
With a sweet tie back, square neckline and ruffled hem, this maxi from Free People has us completely obsessed. Perfect for those days when you want to feel a tad more feminine but also want that breezy, all-day comfort.
Sanders suggests larger patterns, as opposed to small floral prints, when it comes to looking more in fashion and less like you're wearing a nightgown you'd actually sleep in. This embroidered dress is one take on that bolder pattern, which reviewers say garners tons of compliments.
This option from Lulus, one of our favorite places to shop for affordable yet high-quality dresses, features the nap dress's signature smocked bodice and flowy skirt, but swaps big sleeves for short off-the-shoulder ones. With thigh-high slits, the whole dress is sleek, and just a little sexier than your typical nap dress.
Sanders explains that many maxi-length nap dresses can be "overwhelming to most women who are under 5'7"." Short nap dresses feature everything we love about their maxi-length counterparts, but are friendlier to petites. This option from Free People comes in seven stunning colors, and features a cute tie in the back so you don't have to fret about buttons or zippers.