House Speaker Kevin McCarthy, R-Calif., addressed reporters on Thursday after the House voted to remove Rep. Ilhan Omar, D-Minn., from the Foreign Affairs Committee and called for a new "code of conduct" to be added to the House rules. 
McCarthy said he spoke with Democratic Minority Leader Hakeem Jeffries, D-N.Y., and asked that Jeffries select a number of Democrats to work with Republican lawmakers to develop a code of conduct for the House. 
"I think what we should do is put into the rules that there is a code of conduct here, but I don't know the definition, exactly what all that's going to mean. I think that should be clear," McCarthy told reporters. 
The House voted 218-211 on Thursday to kick Omar off the Foreign Affairs Committee because of antisemitic and anti-American statements she made in the past. Democrats expressed outrage over the GOP's actions in heated debate before the vote, accusing Republicans of racism and hypocrisy. 
ILHAN OMAR GETS THE BOOT: HOUSE VOTES HER OFF FOREIGN AFFAIRS COMMITTEE AS DEMOCRATS CITE 'RACISM'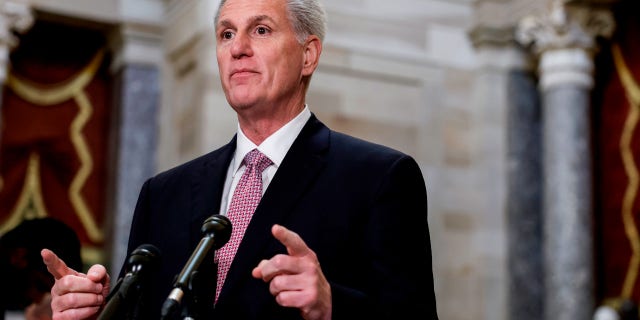 "I am Muslim, I am an immigrant, and interestingly, from Africa," Omar said. "Is anyone surprised that I am being targeted? Is anyone surprised that I am somehow deemed unworthy to speak about American foreign policy, or that they see me as a powerful voice that needs to be silenced?"
But Republicans justified their vote to remove Omar from the committee, pointing to statements she made equating Israel and the U.S. to Hamas and the Taliban, as well as a 2019 comment from Omar that suggested Jewish people were buying U.S. political support — "it's all about the Benjamins, baby" — which even some Democrats at the time acknowledged was an antisemitic trope.
ILHAN OMAR CLAIMS HOUSE REPUBLICANS ARE EXACTING 'VENGEANCE' FOR 'THEIR MASTER' TRUMP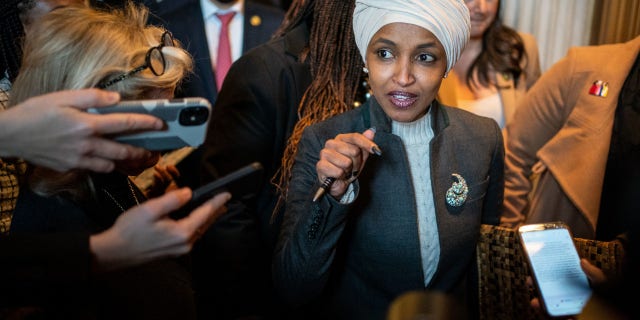 Omar has also accused some Jewish Americans of having "allegiance to a foreign country" and described the 9/11 terrorist attacks in the U.S. that killed nearly 3,000 people as "some people did something." 
McCarthy brought up each of these controversial statements to reporters, denying that Republicans gave Omar the boot in "tit-for-tat retribution" for GOP members who were removed from their committee assignments by former House Speaker Nancy Pelosi, D-Calif., in the last Congress.
HOUSE GOP DEMANDS PROBE INTO 'ANTISEMITIC' NEW YORK EXAM QUESTION'S 'REVISION' OF HISTORY ON ISRAEL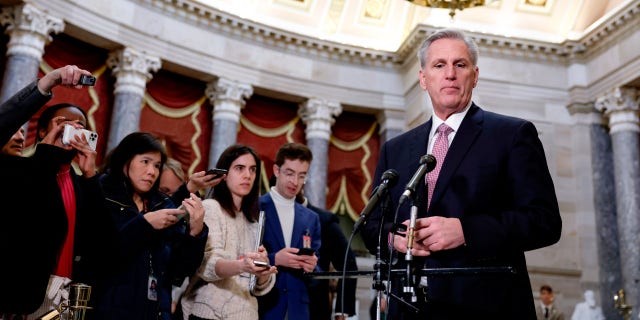 "Let's just put it in perspective of what the Democrats did and what Republicans are doing. So, the Democrats in the last Congress removed Republican members from all committees. They even judged one Republican member not based upon what she had said as a member of Congress, but what she said prior to ever getting here," McCarthy said, referring to Rep. Marjorie Taylor Greene, R-Ga. 
Greene was ousted from her committees in an unprecedented vote for espousing violence and conspiracy theories on social media before being seated in Congress. She has since apologized and recanted some of her prior views. 
CLICK HERE TO GET THE FOX NEWS APP
"I'm not removing people from all committees, and I'm not judging something that someone said when they're not a member of Congress," McCarthy said. 
Fox News' Peter Kasperowicz and Marisa Schultz contributed to this report.