Congresswoman Marjorie Taylor Greene assured people that "good things are coming" after members of Congress failed to elect a new speaker of the U.S. House of Representatives in a ninth vote held Thursday afternoon.
Thursday marked the third day members of Congress voted on speaker nominations. Republican Representative Kevin McCarthy of California, who served as minority leader in the 117th Congress, fell several votes shy of the required 218 to secure the speakership in the first 10 rounds of voting. Greene has backed McCarthy in his bid for speaker and continued supporting him as elected officials cast ballots in the 10th round Thursday evening.
"Good things are coming," the Georgia Republican tweeted around 4:30 p.m. ET. She posted the tweet shortly after the ninth vote ended. "Hold a little longer."
Voting began on Tuesday as the 118th Congress convened for the first time in Washington, D.C. The newly elected representatives had yet to be sworn into office by Thursday evening because a speaker had not yet been elected.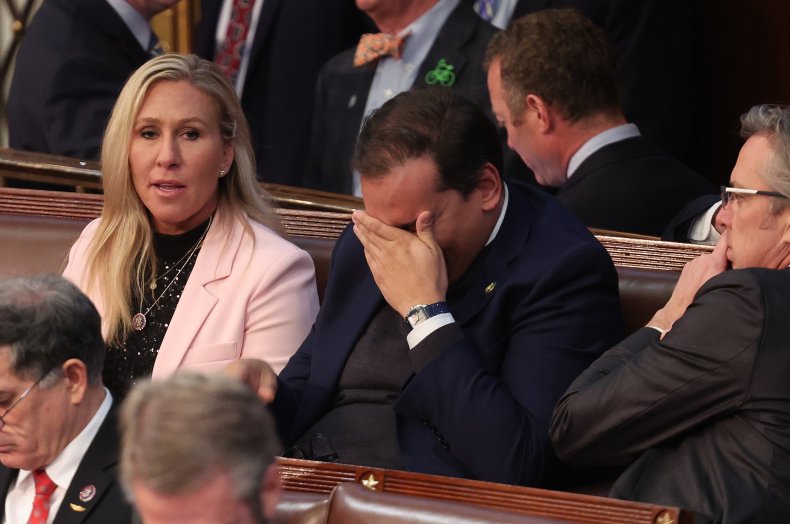 In the first speaker vote held on Tuesday, Democratic Representative Hakeem Jeffries of New York received 212 votes, the most among nominees. Jeffries continued leading in votes through Wednesday and Thursday.
While McCarthy received 203 votes in the House's first speaker vote, his support was down three by the 10th round, leaving him with 200. While needing to reach 218 for victory, he can only afford to lose four Republican votes due to the GOP's narrow House majority.
Among the McCarthy dissenters during the first three days of voting was Representative Lauren Boebert of Colorado, who nominated Representatives Byron Donalds of Florida on Wednesday and Kevin Hern of Oklahoma on Thursday. Also dissenting from McCarthy was Congressman Matt Gaetz of Florida, who on Thursday nominated former President Donald Trump for the role.
Like Greene, Trump has continued supporting McCarthy for speaker, urging fellow Republicans to back the Californian in Wednesday posts on his Truth Social account. Trump also discouraged support for Donalds, saying he "will have his day, and it will be a big one … but not now!"
Republicans who do not support McCarthy's bid nominated Republican challengers who have thus far drawn enough votes away from McCarthy to keep the speakership out of his reach. These efforts have been criticized by Greene, who tweeted Wednesday that the "Never Kevin group" had "no plan."
Greene described the ongoing speaker debate as "drama" on Thursday, telling CNN that the American people "are sick and tired of drama." She then addressed Boebert's nomination efforts.
"I'm not sure how Lauren Boebert on one hand can demand so much out of Kevin McCarthy, but then demand nothing out of someone else and be willing to vote for them to be speaker," Greene said, adding that she views those actions "as more obstruction than progress."
Newsweek has reached out to Greene's office for further comment.