Republican Representative Marjorie Taylor Greene's grasp of the U.S. Constitution has been questioned by a GOP colleague who is mocking her past as a former CrossFit gym owner.
Representative Ken Buck, a member of the right-wing Freedom Caucus, was blasted by Greene earlier this week for defending the treatment of January 6 defendants after a Republican official in his home state of Colorado claimed that the constitutional rights of defendants were being violated.
Greene, a loyalist to former President Donald Trump and supporter of his false election fraud conspiracy theories, also lashed out at Buck for opposing impeachment proceedings against President Joe Biden and for voting to certify Biden's win in the 2020 presidential election.
Buck fired back at the congresswoman in a Thursday interview on conservative talk radio, tying Greene's past involvement with CrossFit to her alleged ignorance of the Constitution. The congressman formerly served as a federal prosecutor and law professor.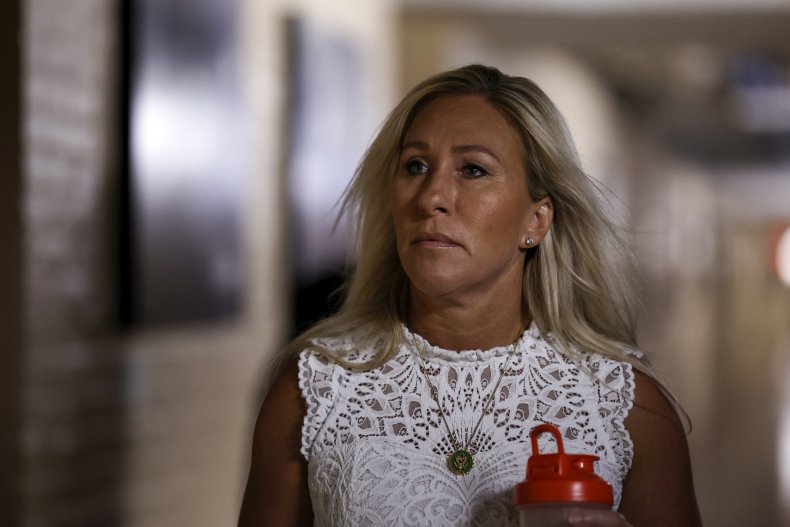 "When I was teaching law school, I learned and taught certain constitutional principles," Buck told host George Brauchler of The George Show. "When Marjorie Taylor Greene was teaching CrossFit, she learned a whole different set of values, evidently. Because my idea of what this country should be like is based on the Constitution. And she sees the world differently."
"She's criticized me for, you know, voting to certify the election in 2020," he continued. "The Constitution says Congress shall count the votes. Doesn't say Congress may overturn an election result. It doesn't say Congress can do whatever the heck it wants … In her CrossFit class, maybe they didn't cover that."
Buck went on to say that the Constitution also dictates that "the impeachment of a president shall be based on treason, high crimes and misdemeanors," rather than being used as "a political exercise."
Newsweek reached out for comment to Greene's office via email on Thursday night.
While a Republican push to impeach Biden has been ramping up amid mounting legal troubles for Trump, Greene was a pioneer—calling for Biden's impeachment even before he took office in 2021. She recently vowed to "not vote to fund the government unless we have passed an impeachment inquiry on Joe Biden."
Buck has offered a rare House GOP voice in opposition to launching an inquiry, explaining during a CNN interview on Wednesday that he is opposed to an inquiry because he is "not convinced that evidence exists" of Biden committing any impeachable crime.
Greene was a member of the Freedom Caucus alongside Buck until June, when members of the group voted to remove her, possibly due to Greene allegedly calling fellow GOP Congresswoman Lauren Boebert a "little b****" on the House floor.
Although Greene co-founded an Alpharetta, Georgia, CrossFit affiliate gym in 2013, she left the business in 2017. The congresswoman continued to promote the brand after launching her political career. CrossFit publicly denounced her for spreading "loathsome and dangerous lies" in 2021.