Emergency crews are on the scene of a large fire in Chicago Heights that is sending giant plumes of smoke visible for miles.
According to preliminary reports, a heavy fire has damaged multiple buildings and is currently burning a structure at East 11th Avenue and Washington Streets.
Photos and video show a massive cloud of smoke billowing into the air as flames shoot out underneath.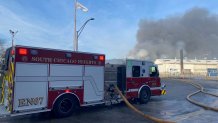 Officials have not provided further details.
This is a developing story and will be updated as more information becomes available.