Two of the greatest basketball players of all-time shared the court Tuesday night in Los Angeles as LeBron James surpassed Kareem Abdul-Jabbar as the NBA's all-time leading scorer. 
Abdul-Jabbar, who has held the record for more than 38 years, was in attendance and took part in the on-court ceremony after James became the new scoring leader.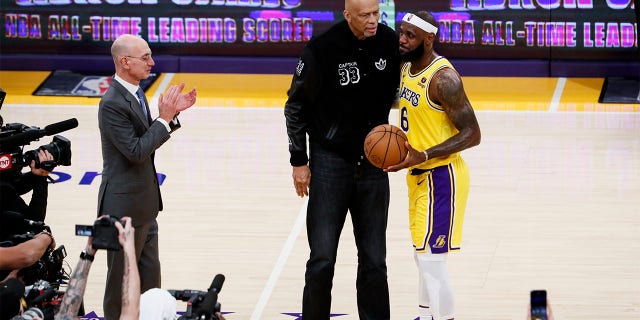 While the two greats shared a moment Tuesday night, their relationship through the years has been rocky. 
KAREEM ABDUL-JABBAR: MAGIC JOHNSON'S PREDICTION WAS WRONG ON REACTION TO LEBRON JAMES BREAKING RECORD
In October, James was asked about his relationship with Abdul-Jabbar as he approached his record, and the four-time NBA champion did not mince his words. 
"No thoughts and no relationship," James said. 
On Wednesday, Abdul-Jabbar addressed James' comments, placing the blame on himself.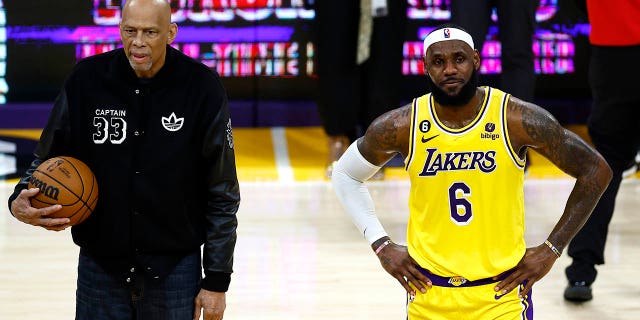 "LeBron said we don't have a relationship. He's right — and for that I blame myself," Abdul-Jabbar wrote Wednesday in a Substack article. "Not for anything I did, but perhaps for not making more of an effort to reach out to him. By nature, I have never been a chummy, reaching-out kind of guy (as the media was always quick to point out). I'm quiet, shy and am such a devoted homebody that you'd think I have agoraphobia. 
NETS' CAM THOMAS MAKES NBA HISTORY WITH THIRD STRAIGHT 40-POINT PERFORMANCE 
"I like to read, watch TV, listen to jazz. That's pretty much it. For the past 15 years my focus has been less on forming new relationships than on nurturing my old friendships with people like Magic, Michael Cooper, Jerry West and so on."
Kareem, 75, pointed to the age gap between the two, saying he was already "pretty removed" from the NBA world when James, now 38, came onto the scene. 
CLICK HERE FOR MORE SPORTS COVERAGE ON FOXNEWS.COM
"That disconnect is on me. I knew the pressures he was under, and maybe I could have helped ease them a bit," Abdul-Jabbar continued. "But I saw that LeBron had a friend and mentor in Kobe Bryant, and I was just an empty jersey in the rafters. I couldn't imagine why he'd want to hang with someone twice his age. How many do?"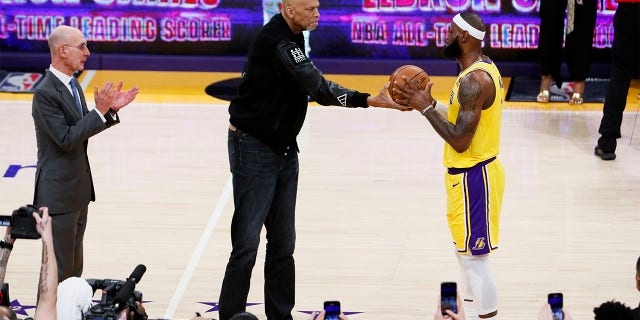 CLICK HERE TO GET THE FOX NEWS APP
Abdul-Jabbar was critical of James during the COVID-19 pandemic, saying James "encouraged vaccine hesitancy" after sharing a meme on Instagram questioning the difference between COVID, the flu and the common cold. 
But Abdul-Jabbar was complimentary of James Wednesday, saying in the Substack article he was "thrilled" James broke his record.
James became the all-time scoring leader late in the third quarter against the Oklahoma City Thunder Tuesday, knocking down a fadeaway jumper for his 36th point of the night.