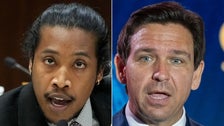 Tennessee State Rep. Justin Jones (D) declared that Americans "don't have to live this way" and slammed "asinine" Florida Gov. Ron DeSantis on Saturday following a deadly Jacksonville store shooting that a local sheriff described as a "racially motivated" attack.
The comments from Jones, one of the two Black members of the "Tennessee Three," arrive after a white man shot and killed three Black people at a Dollar General store in a predominantly Black neighborhood on Saturday before killing himself.
"To see three precious Black lives taken in a state where you have an asinine governor attacking Black people, attacking Black history and you have people making excuses saying it's not a gun issue when he had an AR-15. I mean other nations have hate but we're the only nation that keeps having mass shootings because of policy decisions," Jones declared to CNN's Jim Acosta.
"And we don't have to live this way, we don't have to live this way anymore."
Jones' remarks went after the GOP presidential candidate, who has backed permitless concealed carry legislation criticized by Democrats and gun safety advocates.
The Democrat was expelled from Tennessee's GOP-led state legislature in April for joining protesters' chants in support of gun control efforts after six people were killed at a Nashville school shooting.
Jones, on Saturday, went on to call for a country free of "anxiety," "terror and trauma."
"Whether it's a school – a Nashville private school – or whether it's a Dollar General in Jacksonville, Florida, this terrorism that we're living under is a policy choice we made to appease extremists, gun extremists in the gun lobby and we need to call it out for what it is," he said.
Jones, who recently won back his Tennessee House seat along with state Rep. Justin Pearson (D), also called on Americans to not accept "thoughts and prayers" from Florida politicians in the wake of the shooting.
"I want to say to the people of America, do not accept thoughts and prayers from one of these politicians in Florida who have passed this proliferation of guns in their community," he said.
"That is unacceptable. We need to hold them accountable."
He noted that thousands have showed up to his state's capital this week to demand "action on common sense gun laws" in what he called "a moral issue of right and wrong."