Music

The energy in the arena reached its peak as the band wrapped up their 2008 album, "A Little Bit Longer."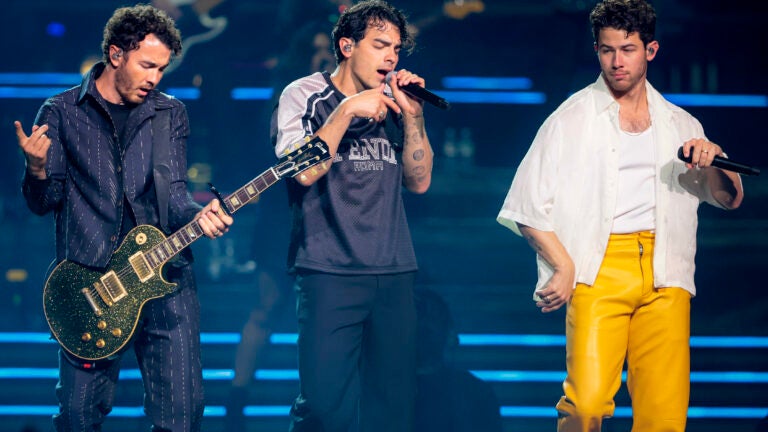 Joe, Nick, Kevin — we're "still catchin' feelings for you."
This late 20-something reporter grew up watching the Jonas Brothers on Disney Channel, much like many of the thousands of fans that filled TD Garden for the band's first night in Boston. And Tuesday night felt like taking a time capsule back to middle school.
The New Jersey brothers certainly knew that, feeding into the nostalgia as they covered five studio albums over the course of a just-under-three-hour set that showcased their own 'Eras.'
Throughout the night, video montages of Jonas Brothers' past played out on the screen, from those early-days 2000s-era music videos and flashes of "Camp Rock" to clips of more recent days — "Happiness Begins" and beyond.
Five albums every night is no easy feat — though some sections were medleys, rather than full songs — but the Jonas Brothers delivered, smoothly transitioning between tender moments in songs like "When You Look Me in the Eyes" and "Love Her" to high energy hits like "S.O.S." and "BB Good."
It's worth noting that the camera panned to Priyanka Chopra Jonas, the very successful Indian actress who also happens to be Nick's wife, for "Love Her" as she proudly supported her man from the crowd.
And yes, the audience melted.
Throughout the night, all three brothers worked the full stage, or rather, stages. Joe, Nick, and Kevin bounced around the arena all night, from the main stage — which branched out like a 'V' into two runways — to the other side of the arena at a secondary stage with a grand piano setup.
Nick did have a quick fall at one point, which social media and tabloids will surely not let him forget.
Fans were even seated behind the main stage, which was open and had a catwalk. All three brothers made sure to run by every so often — belting or jamming out to a few verses to keep spirits high.
Mirroring their infectious energy was the brothers' impressive backing band — featuring instruments including the saxophone, cello, trumpet, trombone and more — with members who also made full use of the main stage as they encouraged the crowd to clap their hands and sing along to every word.
A night to remember
Ten years after their breakup, the Jonas Brothers appear back and happier than ever to be on the stage together. They also have no problem poking fun at the decisions they've made in the past, proving they are "Only Human."
After kicking off the show with a couple more recent songs — "Celebrate!" and "What a Man Gotta Do" — the brothers went right into their 2007 self-titled album chronologically with "S.O.S.," "Hold On," "Goodnight and Goodbye," and "That's Just the Way We Roll."
"What's special for us about walking on this journey with you here tonight, walking through the past, is that it's all because we're celebrating this moment we're in right now and the mere 20 years it took to get to this moment right here," Nick told the audience. "So, while these songs are all songs we wrote about our experiences, our heartbreaks, our moments of falling in love, family; we know that we share all these experiences with each and every one of you.
"So, these are your songs and your albums just as much as they are our songs and our albums," Nick continued before the band kicked off a medley beginning with the timely, "Still in Love With You."
Leading the audience into "Take a Breath," Nick recalled how the band dove into songwriting for their self-titled album after Columbia Records dropped them in 2007. He noted that the brothers find songs like "Take a Breath" to be "even more meaningful than it's ever been for all of us, as we get older and go through life experiences. So, thank you to every person who has ever told us that this song has helped them get through a tough time."
The band wrapped up their self-titled album with "When You Look Me in the Eyes," which they dedicated to a woman in the audience after learning that she was moving back to Brazil the next day to finally reunite with her fiancé, with whom she had shared a long-distance relationship for the past two years due to work. Safe to say there were at least a few tears in the audience after Joe handed the woman a microphone to share that.
She wasn't the only Brazilian fan at the first show in Boston, though.
Later in the evening, Joe handed the microphone to a fan, who shared that he, too, was from Brazil.
"So we don't go to you guys, you come to us, is that how it is?" Joe then asked the audience, before noting that the band will just have to go to Brazil now.
The crowd cheered the fan on, as he revealed that this was his first Jonas Brothers show and he was there alone.
"But he came with 15,000 friends, am I right?" Joe responded as fans provided their loud support.
Unfortunately, the Jonas Brothers are Yankees fans
In another moment later in the show, Nick may have gotten himself in a bit of hot water with Boston when he threw out this quip to the audience: "We won't hold that whole Red Sox thing against you."
Boos, of course, ensued.
"It's all love, but we did just come from Yankee Stadium," he added, much to the crowd's chagrin.
The energy in the arena perhaps reached its peak as the band wrapped up their 2008 album, "A Little Bit Longer," with the sweet "Love Bug" into the fiery "Burnin' Up" — featuring Nick's infamous "red dress" line.
The show then went to a roughly 15-minute intermission, wrapping up with an interesting musical surprise. See below:
Happy Birthday, Joe
Following the intermission, the brothers continued with more songs off "The Album," moved into songs on "Lines, Vines and Trying Times," and then transitioned into Nick's "Jealous" and DNCE's "Cake by the Ocean."
Tuesday's show also served as a celebration of Joe's birthday, which included cake on stage as they wrapped up the DNCE cover. This led into an arena-wide rendition of "Happy Birthday to You."
After one more from "The Album," "Walls," the Jonas Brothers took fans through their 2019 project, "Happiness Begins."
They wrapped up with "Leave Before You Love Me," their song with Marshmello.
Joe, Nick, Kevin — it's too late. The fans already love you.
Setlist for the Jonas Brothers at TD Garden, Boston, Aug. 15, 2023
"Celebrate!"
"What A Man Gotta Do"
"SOS"
"Hold On"
"Goodnight And Goodbye"
"That's Just The Way We Roll"
MEDLEY: "Still In Love With You" / "Australia" / "Hollywood" / "Just Friends" / "Games"
"Hello Beautiful"
"Inseparable"
"Take A Breath"
"When You Look Me In The Eyes"
"Year 3000"
"Summer Baby"
"Vacation Eyes"
"Sail Away"
"Little Bird"
"A Little Bit Longer"
"Can't Have You"
"Sorry"
"BB Good"
"Shelf"
MEDLEY: "Got Me Going Crazy" / "Video Girl" / "One Man Show"
"Pushin Me Away"
"Tonight"
"Lovebug"
"Burnin Up"
"Americana"
"Summer In The Hamptons"
"Waffle House"
"Montana Sky"
"Miracle"
"Fly With Me"
"Hey Baby"
"Poison Ivy"
"Don't Speak"
"Much Better"
"World War III"
"What Did I Do To Your Heart"
"Paranoid"
"Turn Right"
"Before The Storm"
"Black Keys"
"Jealous"
"Cake By The Ocean"
"Walls"
"Comeback"
"Rollercoaster"
"Strangers"
"Used To Be"
"Cool"
"Trust"
"Every Single Time"
"Happy When I'm Sad"
"Don't Throw It Away"
"Love Her"
"Hesitate"
"I Believe"
"Only Human"
"Sucker"
"Leave Before You Love Me"
Note: Medleys are approximated.
Newsletter Signup
Stay up to date on all the latest news from Boston.com