President Joe Biden's approval rating surged after the Democrats' stronger-than-expected showing in the midterm elections last month, according to a new poll.
Biden's approval rating plummeted in the months leading up to the midterms as economic woes, including inflation and high gas prices, struck the country—fueling concerns that Democrats could be wiped out during the midterms.
However, Biden led the Democratic Party into a surprisingly strong election. Democrats held Senate control and lost only a handful of House seats, delivering Republicans a small majority that is already facing turmoil as Representative Kevin McCarthy struggles to unite the conference behind his speakership bid. The midterm also largely bucked historic trends, as the president's party typically suffers significant defeat in the midterms.
Some Democrats have questioned if Biden would be a viable 2024 presidential candidate due to his low poll numbers, but the midterms resulted in the party largely celebrating and coalescing around the president.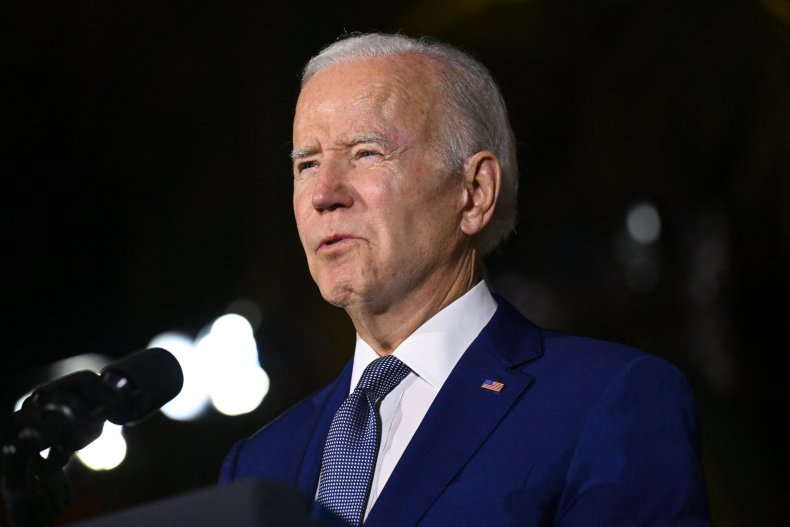 Biden's renewed popularity among Democratic voters was reflected in a new CNN poll released this week.
While more voters still disapprove than approve of Biden's job performance, the poll found that Biden has narrowed that gap significantly. Forty-six percent of respondents said they approved of Biden while only 54 percent said they disapprove, according to the poll.
In October's CNN poll, 59 percent of voters disapproved of Biden while 41 percent approved. In the June-July poll, which saw Biden's unpopularity peak, 62 percent of respondents said they disapproved of the president's job performance.
The new poll found Biden's approval rating surge across the board, regardless of voters' political affiliation. Among Democrats, his approval increased from 80 percent in October to 84 percent in December. Among independent voters, his approval increased form 38 to 43 percent.
Biden even saw a notable increase in his approval among Republicans.
During his 2020 presidential campaign, Biden ran on a platform of bipartisanship and uniting the country. However, he has since faced a chilled relationship with GOP lawmakers, who have pledged to investigate him when Congress reconvenes early next year. He has seen dismal poll numbers with GOP voters throughout his administration.
Only 5 percent approved of his job performance in October, according to the poll. However, the number of Republicans who approve of his job performance doubled in the December poll, with 10 percent saying they approved of the president.
The poll surveyed 1,208 adults from December 1 to 7 and has a margin of error of 3.6 percentage points.
Biden Approval Surges as Trump Campaign Flounders
The uptick in Biden's approval rating also comes after former President Donald Trump announced his 2024 presidential bid last month, likely setting up a rematch of the 2020 presidential race, which Trump has falsely claimed was stolen by widespread voter fraud.
The first weeks of the Trump 2024 campaign have been marred by controversy. Trump has faced backlash for calling to "terminate" the U.S. Constitution and for dining with white nationalist Nick Fuentes and rapper Kanye West, who has made a series of antisemitic remarks.
Republicans have also sought to distance themselves from Trump, as some of his endorsed candidates—such as Kari Lake in Arizona's gubernatorial race or Herschel Walker in Georgia's Senate election—lost key races to their Democratic opponents after Trump boosted their campaigns in the primary elections.
Newsweek reached out to the White House for comment.