In the fight against climate change, there are individuals who stand out as true heroes, dedicating their lives to making a difference. One such hero is Jamyang Wangchuk, a grassroots climate warrior from Bhutan.
Inspired by his deep love for nature and a profound realization of the disastrous effects of climate change, Wangchuk has embarked on a mission to inspire action and protect the melting glaciers in the Himalayas. Wangchuk's current project, dubbed "The Messenger: Ride for Action," is a bicycling campaign that aims to raise awareness and demand immediate climate action from world leaders and businesses. The initiative involves Wangchuk biking throughout the Himalayan region, carrying a plastic bottle filled with glacial water.
"It stands for plastic pollution that's plaguing the world," Wangchuk explained to Newsweek. "The meltwater represents disappearing glaciers of the Himalayas."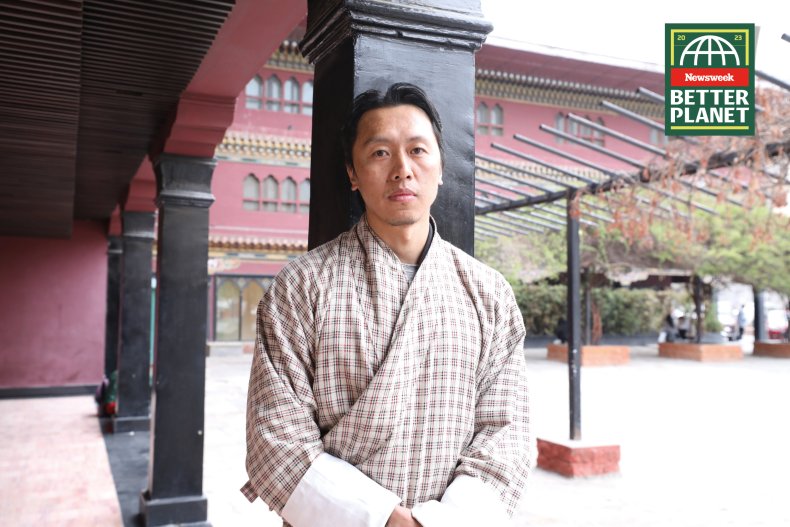 The campaign first began in Bhutan in 2022 and this year, it has expanded to cover other parts of Asia. Wangchuk's itinerary includes a ride to Dubai in time for the upcoming United Nations Climate Change Conference (a.k.a. the COP 28 summit), which runs from November 30 to December 12. Looking even further ahead, Wangchuk's journey is set to continue across different continents until 2030.
"We have three key messages that we are advocating for," Wangchuk told Newsweek. "Stop deforestation, immediate transition to renewable energy and include climate crisis studies in school curriculum."
Newsweek spoke with Wangchuk in his native Bhutan, for a discussion that touched upon his journey, his motivations, the impact that he aims to make and the challenges that we are all facing together. Learn more about Wangchuk—who is the latest individual to be recognized as a Newsweek Planet Hero—by watching the video profile up above.
Other Newsweek Planet Heroes include fashion designer Conner Ives, a leader of the slow fashion movement who produces high-quality, small-batch collections largely sourced from recycled materials; Sophia Kianni, the founder of a nonprofit organization which works to make information about climate change more accessible to people who don't speak English; and Gaurab Chakrabarti and Sean Hunt, of the startup company Solugen, which has developed an environmentally friendly way to create everyday industrial chemicals. We'll be profiling a new Planet Hero every week for the next several months.
Supporting Wangchuk's Cause
To support Wangchuk's mission and track the progress of "The Messenger: Ride for Action" campaign, visit his website. Even if he can't reach your location by bicycle, he can still spread the word.