The F-16 fourth-generation fighter jet that Ukraine has called for is not the aircraft Kyiv's forces need most, Newsweek has been told, as attention turns to how NATO could equip Ukraine in the skies.
Following announcements that the U.S. and Germany would send 31 M1 Abrams tanks and 14 Leopard 2 main battle tanks, an advisor to Ukraine's defense minister, Oleksiy Reznikov, said that securing the fighter jets would be the "next big hurdle" for Kyiv.
Yuriy Sak emphasized that Ukraine was hoping next for the fourth generation of military jets, which includes the F-16 multirole fighter jet.
"If we get them, the advantages on the battlefield will be just immense," he told Reuters. "It's not just F-16s," he added. "Fourth-generation aircraft, this is what we want."
Sak pointed to the reluctance to provide heavy artillery, HIMARS, and main battle tanks from the U.S., U.K. and Germany, before Ukraine's allies announced they would agree to Kyiv's requests.
"Apart from nuclear weapons, there is nothing left that we will not get," Yak said.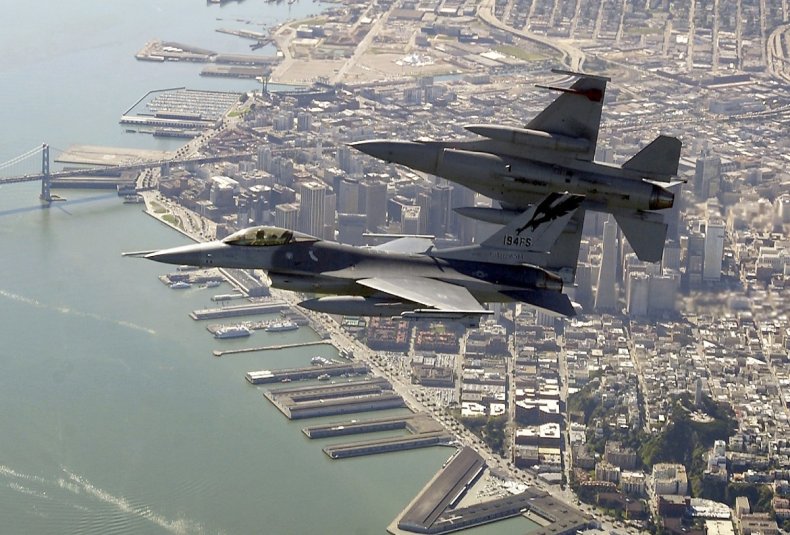 Dutch Foreign Minister Wopke Hoekstra suggested last week that the Netherlands would mull over requests for F-16 fighters with "an open mind."
On Wednesday, Lockheed Martin's chief operating officer, Frank St. John, said there were discussions happening about a third-party transfer of F-16 jets to Ukraine.
Although the U.S. defense manufacturer was not "directly involved in talks," St. John told the Financial Times that Lockheed Martin was "going to be ramping production on F-16s" at its South Carolina facility.
This would allow the manufacturer to "be able to backfill pretty capably any countries that choose to do third-party transfers to help with the current conflict."
But a U.S. defense official told the newspaper that they currently had "nothing to announce regarding F-16s." Germany Chancellor Olaf Scholz confirmed on Wednesday that Berlin would not send F-16s, and Germany does not fly the fourth-generation jets.
The F-16V is hailed by Lockheed Martin as the "latest and most advanced F-16 on the market today." According to U.S. Air Force records, the all-weather F-16 jet can fly more than 500 miles and withstand up to nine Gs, or nine times the force of gravity.
The F-16 has a wingspan of just under 10 meters (33 feet), with a length just shy of 15 meters, and has a ceiling of more than 50,000 feet.
Yet the F-16 is not what Ukraine's air force most needs, experts believe.

"Ukraine needs fighter jets," military analyst Harry Kazianis told Newsweek. "But the F-16 is the wrong fighter jet for the moment."
Frank Ledwidge, a barrister and former military officer who served in the Middle East and the Balkans, told Newsweek that "there are certain technical problems with F-16s," despite them being abundant and available.
Ledwidge said the F-16s would be very difficult to operate in Ukraine, because the fourth-generation aircraft require very smooth runways and are more complex to operate than the aircraft Ukraine's air force is used to.
A better alternative would be the Swedish Saab Gripen, he suggested, although they are fewer Gripens to go around compared to the F-16s.
Kazianis, however, argued Soviet-era fighter jets such as the Su-27, MiG-29, or other aircraft Ukraine's that air force has prior experience with would be of greater benefit.
With no exposure to flying a Western fourth-generation fighter jet, Ukrainian pilots would take months to become comfortable in the cockpit, Kazianis added.
"I appreciate that Ukraine needs every piece of military hardware it can get its hands on to fight Russia. However, I think there are better fighter and aviation platforms that would be more helpful than the F-16," he said.