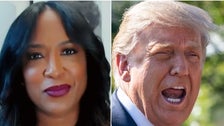 A state lawmaker in Georgia delivered a blunt warning to Donald Trump about his criminal case in the state.
"I think that of all the indictments that Trump faces, coming to Fulton County and facing Fani Willis in a courtroom ought to scare him," Rep. Tanya Miller (D) told MSNBC's Joy Reid on Tuesday.
The former president and 18 others were indicted in the state on a host of charges including racketeering over their efforts to pressure officials into overturning the results of the 2020 election, among other allegations.
Trump has responded with ugly and racist personal attacks on Willis.
But Miller said that won't work here.
"I think he is about to mess around and find out, Joy, exactly who Fani Taifa Willis is," she said, calling Willis one of the "most straight-shooting, straight-arrow prosecutors" that she's ever come across.
"She is fearless. She is fierce. And when she stands up in front of the citizens of Fulton County and tells them what she intends do, you better believe she is going to follow through on it," she said.
She said Willis won't be intimidated by Trump.
"In fact, all he will do if he attempts to do that is embolden her to be stronger and more steadfast," she said.
See more of that conversation below: