Celtics

The finish was brutal, but the Celtics had a decent shot to win it at the line in OT.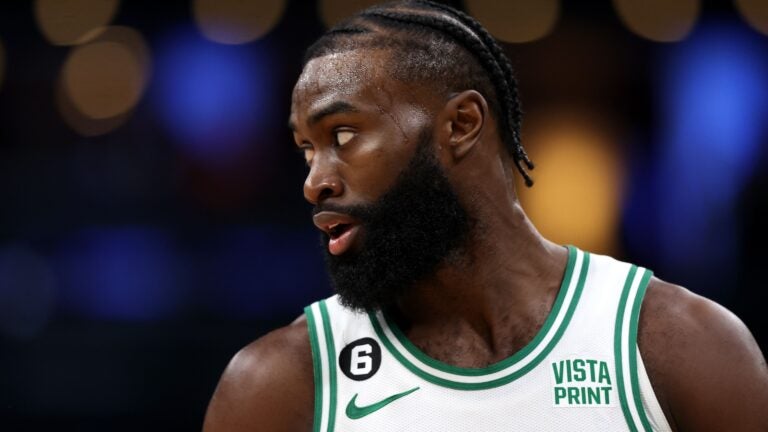 Randle scores 37, Knicks rally to beat Celtics 120-117 in OT


Celtics' Jayson Tatum named a starter for 2023 NBA All-Star game

Julius Randle leaned his head slightly forward and smiled until Jaylen Brown saw the look on his face. After the game, Brown said he isn't sure what Randle had to say, but could tell Randle was happy to get the win.
The Knicks should be happy that the Celtics blew numerous chances late in the game during a 120-117 overtime Boston loss at TD Garden.
None of the mistakes glared more than Brown's pair of missed free throws with 7.6 seconds remaining on the clock in overtime. Boston trailed by 1, and if he hit both, the Celtics would have been up by one.
Instead, both fell short and clanged off the front of the rim in a manner that Brown felt summed up his performance.
"Just gotta be better to be honest," Brown said. "Tonight was just a rough game, and I'm a better basketball player than I played today. Those two missed free-throws kind of embodied the whole game. Didn't really get going, didn't give my team enough energy to win, and that's what happens when you don't come out and give your best."
Sensing Brown's frustration, Celtics coach Joe Mazzulla offered a message of support for the veteran guard.
"I love you Jaylen, and I believe in you," Mazzula said.
The Celtics have now lost three in a row heading into Saturday night's matchup with the Lakers. With LeBron James and company coming to town, there isn't much time to dwell on the loss.
"I think for your own sanity, you just let it go and come out and keep playing basketball," Brown said. "And come out and be a better version of yourself. I love this game. I love the highs and the lows it comes with. You don't shy away from it. You take it, wear it, and do better on the next one."
The Celtics were able to claw their way back from a 10-point deficit with just under six minutes to go and force overtime.
And that was after a hot start where Jayson Tatum hit his first five shots en route to an early lead.
What went wrong in between was a mix of poor spacing, too many open 3-point opportunities for New York, and inadequate rim protection, according to Mazzula.
"I thought we had the relative right balance," Mazzulla said. "I didn't think it was our defense, I thought our offense put us in tough spots in transition in the third quarter and in the fourth quarter. We had 22 points off of turnovers. you can't guard turnovers and you can't guard missed layups at the rim.
"And so we had multiple possessions at the end of the third and in the beginning of the fourth where we had missed layups. A wrong read at the rim as detrimental as a turnover. So, they were able to get out and get in transition."
Despite it all, the Celtics had a chance to close out the game with Brown at the free-throw line.
The shots just didn't fall.
"Everybody needs a pickup, but we have the utmost confidence in him," Tatum said. "I can't bet on NBA games, but if I could I would bet everything I've got if he was in that situation again he would knock them both down. It's just short-term memory. Move on and get ready for Saturday."
Sign up for Celtics updates🏀
Get breaking news and analysis delivered to your inbox during basketball season.