Sebastian Mariscal strutted smiling onto the school bus that would take the 5-year-old from South L.A. to Brentwood for his first day of school. Then a moment later, he ran out crying into his father's arms as the reality of the separation took hold.
So began one family's experience as a new school year opened Monday in Los Angeles Unified — a day of anticipation, hope, joy and anxiety for students of all ages — and for those who work with them.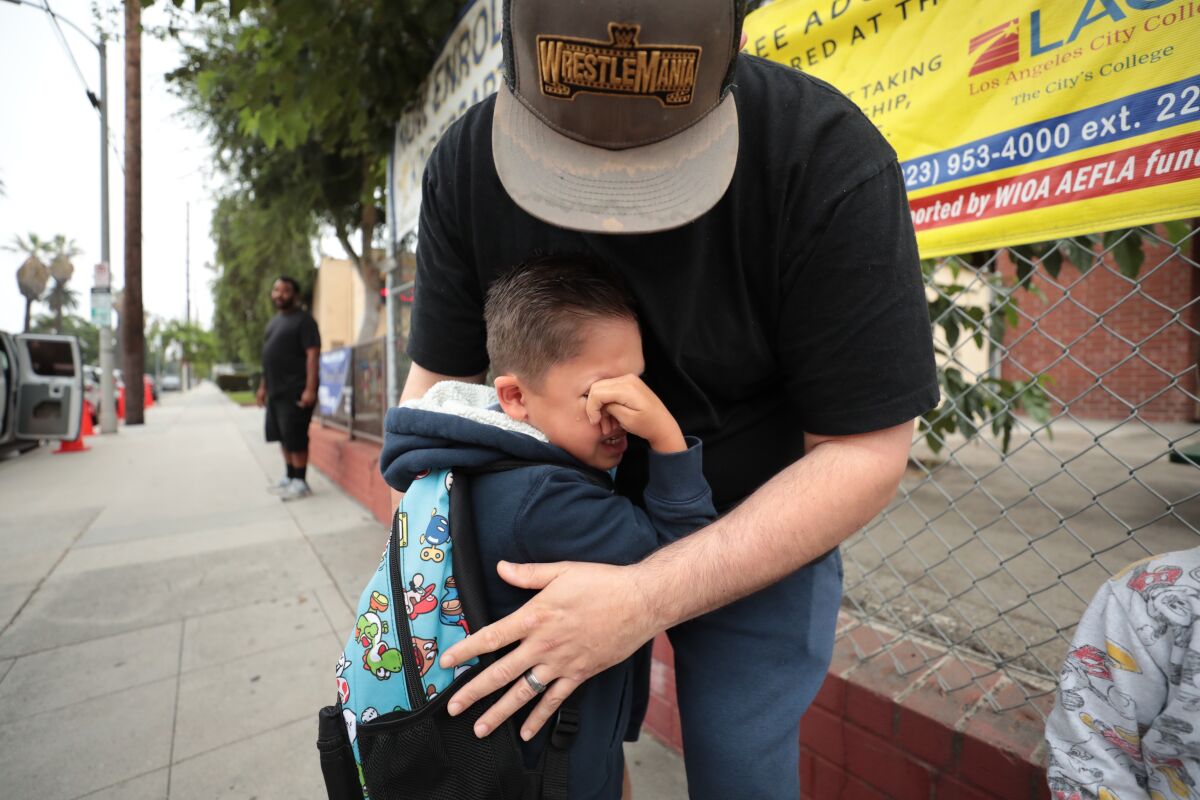 L.A. Unified is among 46 county school systems to start a new school year this week; 16 others had already begun, and 20 more will go back in the coming weeks, county education officials said.
There is a particular focus on the youngest students in Los Angeles where the school system is fully rolling out transitional kindergarten for 4-year-olds. Many school systems across California appear to be more slowly phasing in transitional kindergarten, a new grade that could boost academic achievement, help with social development and bolster budgets.
As schoolyard gates opened across the nation's second-largest school district, parents snapped photos of smiling young children, said goodbye with long hugs — and a few tears — and some expressed first-day jitters. At one elementary school, staff rolled out a red carpet for arriving students.
Back-to-school 2023-24 in L.A. Unified brings pledges from Supt. Alberto Carvalho for a total academic recovery from the COVID-19 pandemic within two years, bus transportation for more students, upgraded school cafeterias featuring healthier "farm to table" food — and new technology that will allow parents to keep track of grades, tests results and attendance. He also promised fewer but effective standardized tests that would give teachers more time for instruction.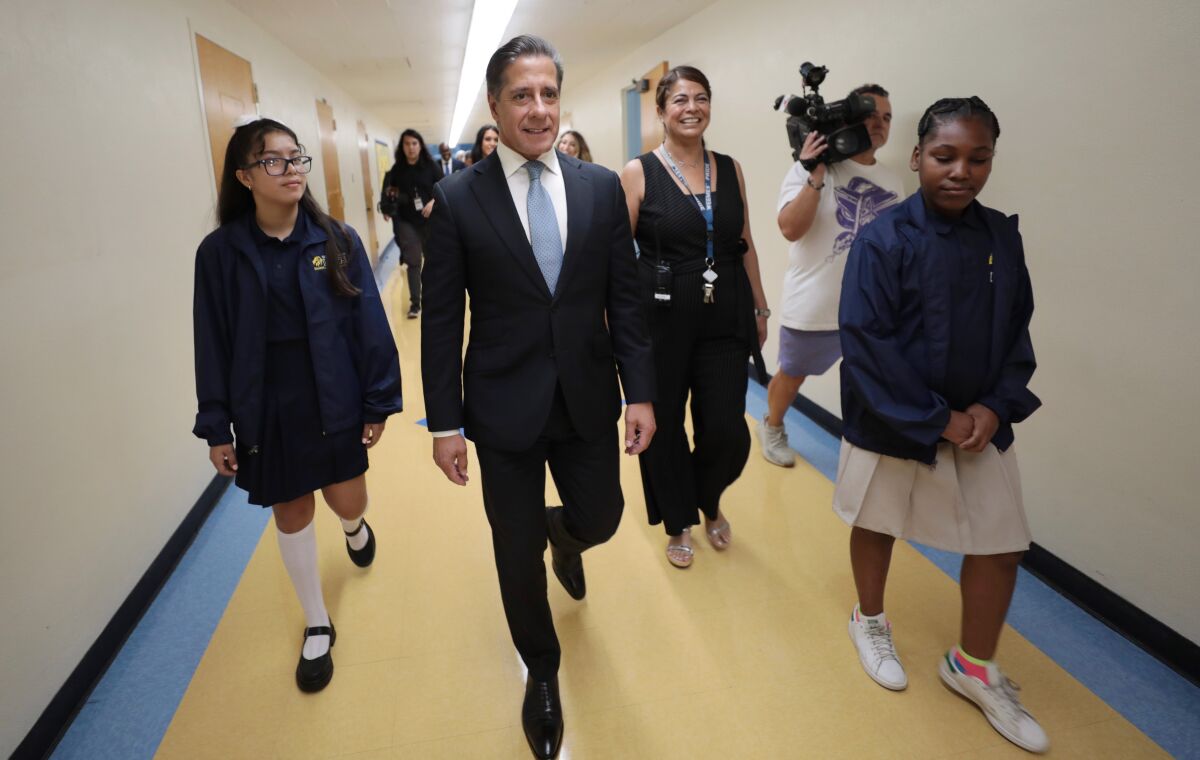 And in a reversal of pandemic policies, parents no longer have to keep their children out of school if they have a cold or minor symptoms of illness, a move to combat high rates of absence that officials fault for harming mental health and holding back learning.
Racing to enroll 4-year-olds
L.A. Unified and San Diego Unified are among the school systems that will accept any children who are 4 by Sept. 1 — two years ahead of a state deadline for all districts to do so. But all districts at least must offer transitional kindergarten this year to any student who turns 5 before April 3, 2024.
The hope in L.A. Unified is that 4-year-olds who enroll for transitional kindergarten, commonly called TK, will stick around for 13 additional years of schooling — bypassing other options such as private school or independent charter schools.
L.A. Unified enrolled 13,800 transitional kindergartners last year and aimed to increase that number by an additional 10,000 to 11,000 this year, with TK classes for the first time at all 488 elementary schools. The district has been competing for the youngsters with established preschool programs as well as some families' preference to keep their child at home longer. California does not mandate TK or kindergarten.
"Bring your children," Carvalho said at an end-of-school-day news conference. "We are ready."
Do not pay for private providers, he urged.
Each TK student is worth at least $14,000 in funding for L.A. Unified, according to recent tabulations from the state Department of Education — the hoped-for total of 25,000 students would add some $350 million this year.
And, officials insist, the students will be better off too, getting a jump on important learning and social development that could help close achievement gaps that have made it hard for students from low-income, Black and Latino families to keep up with those from families with more resources.
Anticipating separation anxiety among children — and parents — Germain Academy for Academic Achievement in Chatsworth offered a "Boo-Hoo Breakfast" for parents, who lined up for bagels and coffee in the auditorium.
"I'm tired already," one parent said.
First day jitters
At 135th Street Elementary School in Gardena, staff set up a special first-day gathering point for transitional kindergarten children and parents. Parents comforted children as they waited in line by their teacher, holding hands and giving long hugs.
Erika Heraz watched her son, who will be away from family for the first time. He was nervous, looking for reassurance and ran back toward her. Heraz crouched down for one last hug.
"You're gonna be OK," she said, wiping away his tears with her jacket.
"I don't want to go to school," one student wailed and another echoed, touching off a cascade of crying among half the students as the classroom doors closed.
Teacher Lourdes Serrano sprung into action, asking the office to send a staffer to help her calm distraught children. She peeked out the door to make sure all parents were gone before guiding the children to breakfast. Her aide already had to leave the room to take a student to the bathroom.
"Most of their anxiety is because they're not social," Serrano said. "They're always at home with mom."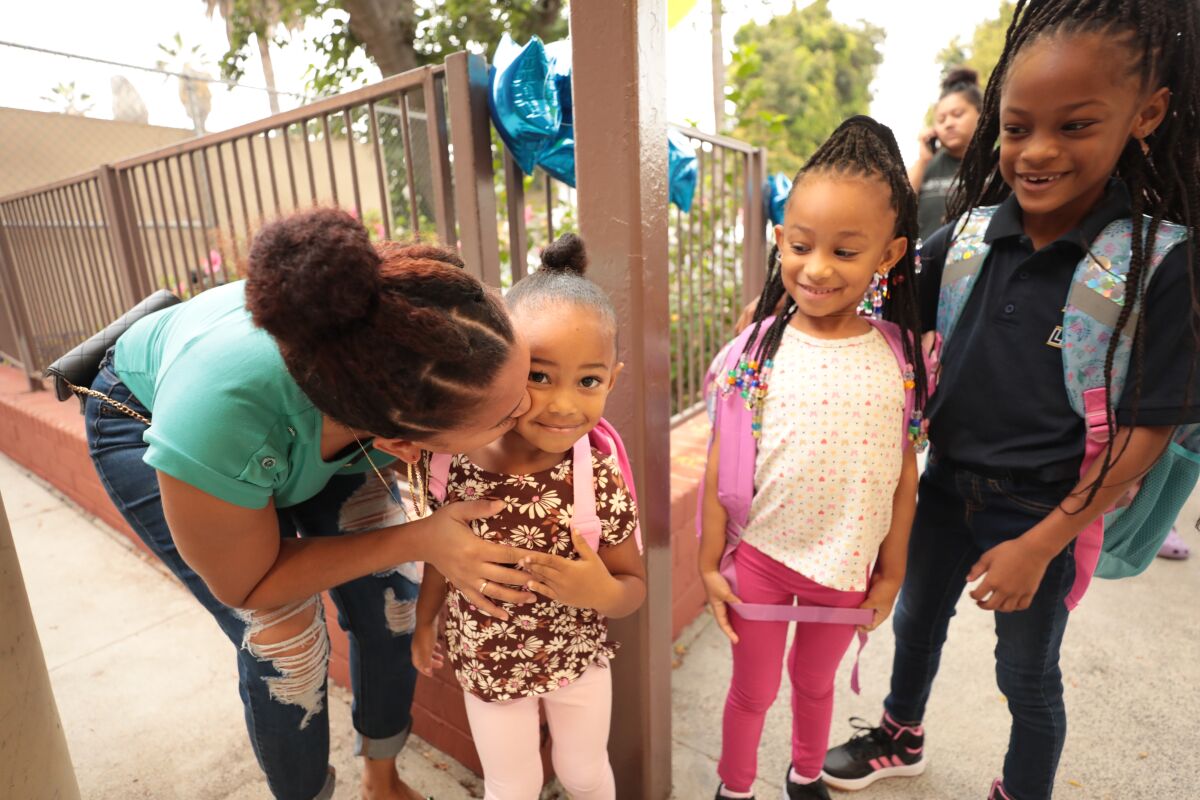 Outside Weemes Elementary in South Los Angeles, Alicia Monterrosa waited early Monday for the gates to open with her fourth-grade daughter Ada Acevedo.
Ada was nervous, worried she wouldn't make new friends. Last year went mostly fine, but Ada is an only child and, her mother said, after spending first grade in remote learning because of the pandemic, her daughter often feels insecure in social situations. Weemes teachers have helped Ada, Monterrosa said.
"The teachers are really good," said Monterrosa, who attended the same school as a child. "They focus on every student. They take the time to make sure that they're on track."
Despite her worries, Ada still was happy to have school starting.
"I get to make new friends and have fun learning something new," she said. She hears that her teacher this year has "Fun Fridays."
Sniffles are suddenly OK
Parents with students of all ages have an important change of direction to absorb: Put the pandemic behind you and send students to school even if they have sniffles or a minor cough, Carvalho said.
He emphasized this message before a group of 50 parents at Los Angeles Academy Middle School in South Park, as a toddler in a mother's lap unleashed a hacking cough.
"We have so much that's new and helpful to your children," Carvalho said, but "I want to be very honest, I cannot teach the absent child. Last year, over a year ago, 50% of our kids were chronically absent. We improved that, but it's still a crisis."
"My request of you," he continued, "is bring your kids to school. We are shifting this year. If your child has a mild cold, just the sniffles, but has no fever, is not vomiting, bring him to school… We have a brand new partnership with L.A.'s Children's Hospital with telemedicine [and] school nurses.
Parent Lilia Perez tried to process this message across her own experience. Last year, her daughter got COVID twice — possibly at school — and could not return until she tested negative, missing five weeks. On another occasion, she brought her daughter to school with a non-COVID cold and was told it was OK to leave her child.
Carvalho is not necessarily going against medical advice. Two local leaders of a national pediatric association quickly endorsed his approach.
Reimagining the school bus
The day began before dawn at a district bus yard. Carvalho has recently highlighted efforts to switch over to electric buses while also making better use of the district's enormous fleet to offer rides for more than the current 14% of students. He thinks more students can benefit at minimal extra cost to the district.
Most of the district's every-day busing transports either students with disabilities or students in magnet schools. Most others would have to live more than five miles away from their home school to qualify — a rare situation. Carvalho wants to lower the distance to two miles and also offer busing in special situations to help ensure safe passage to school.
One such situation could be Diego Rivera Learning Complex in Green Meadows. Hundreds of students walk to school past or through a park where there is drug dealing and other gang activity. Students have been assaulted — with necklaces pulled off, for example, a situation that has gotten worse since a school police officer was removed from campus, said Dennis Fulgoni, principal of the campus' Public Service Community School.
He told Carvalho that the school needed help from the district for times when students were not within the sanctuary of the campus. A bus ride could help, he said in a later interview.
Fare for school foodies
The district is promising better tasting and healthier meals. This year's highlights include shifting more cooking away from packaged central kitchen products to recipes prepared at campus kitchens.
The school system serves about 540,000 meals per day and for some students is the main source of sustenance, providing breakfast and lunch — and dinner in some situations. About 80% of students qualify for a free or reduced-price lunch, although all school food is now free in California under recent changes to state law.
About 170 L.A. Unified school kitchens still lack functional cooking facilities, but more than 500 do have them.
"This year we tied up with the Culinary Institute of America to train our staff because, we got to go back to cooking some meals fresh at our schools," said Manish Singh, director of the Food Services Division.
The overall menu is more inventive, although in previous years it has been challenging to get many students beyond pizza and chicken wings. Food service training specialist Bryan Flores was handing out popcorn shrimp po' boy sandwiches with fresh chopped jalapenos on the side during a Friday taste test at a donated event space in the downtown arts district.
Montara Avenue Elementary fifth-grader Nicolai Gomez gave a double thumbs up to the banh mi, a Vietnamese sandwich.
This article was reported with support from The Times' early childhood education initiative, focusing on the learning and development of California children, from birth to age 5. For more information about the initiative and its philanthropic funders, go to latimes.com/earlyed.