Rivals national recruiting analyst Nick Harris, Mark Passwaters of AggieYell.com, Cole Patterson of Orangebloods.com and national recruiting director Adam Gorney tackle three topics and determine whether each is FACT or FICTION.
MORE FACT OR FICTION: The wrong DEs got their fifth stars | Heisman finalists show that college football is in a downturn
1. Texas A&M can still sign a top 10 class in 2023.
Harris' take: FACT. Wednesday's commitment from El Campo (Texas) running back Rueben Owens II gave the 2023 Texas A&M class the shot in its arm that was so needed at this point in a cycle in which the Aggies have struggled to find sustainable momentum. Moving forward, there are still major targets on the board that can get the Aggies back in the top 10 as Anthony Hill, Jaden Platt and Marcel Reed are all gettable prospects down the stretch. Regardless, I think Jimbo Fisher and his staff close with a top 10 class in 2023.
Passwaters' take: FACT. It'll take some work, but it's doable. The Aggies are talking with Hill again, and getting the five-star linebacker back would be massive. They're also working on flipping several players committed to other programs, and have a big list of targets coming in the final weekend before the Early Signing Period. If they can add the likes of Platt, Reed, Tony Mitchell and Caden Jones, they're right back in the mix.
SHARE YOUR THOUGHTS WITH TEXAS A&M FANS AT AGGIEYELL.COM
*****
2. Johntay Cook's biggest opportunity to earn a fifth star will be this weekend against Denton Guyer in the playoffs.
Harris' take: FICTION. A lot of eyes will be on what DeSoto (Texas) four-star wide receiver Johntay Cook can do on Saturday against one of the best secondaries in the country, but a lot shouldn't be expected given that the sole focus of that talented defense will be Cook himself. Instead, I think the Under Armour All-American Game and the practices that precede that main event will tell the story better as to whether he is worthy of a fifth star. With national talent around him and in front of him in Orlando, what he does there will be the deciding factor.
Patterson's take: FACT. Cook deserves serious five-star consideration for his electric ability and overall polished game out wide. Sitting at No. 30 overall, Cook is within striking distance of earning his coveted fifth star. There is no bigger stage for Cook than this weekend in the Texas playoffs against Peyton Bowen and Ryan Yaites. A statement-like performance against the five-star safety and LSU cornerback commit would go a long way in Cook landing inside five-star range at the final rankings update. All eyes will be on how the Texas pledge performs on the big stage with Denton Guyer looking to limit his impact on the semifinal matchup.
SHARE YOUR THOUGHTS WITH TEXAS FANS AT ORANGEBLOODS.COM
*****
3. Tulane will sign the most talent of any Group of Five class in the country.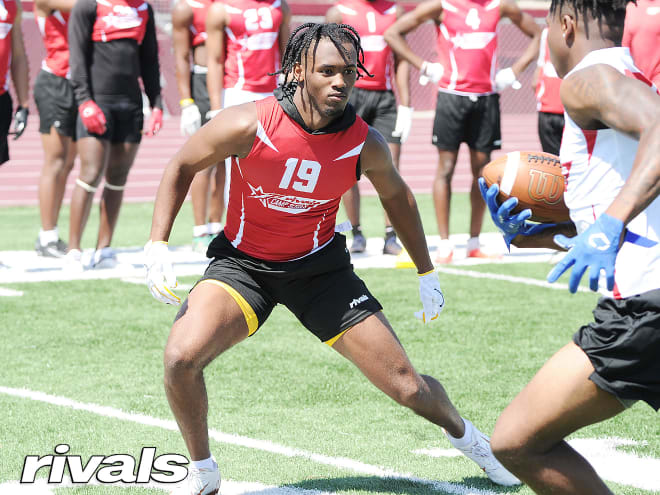 Harris' take: FACT. I don't see Tulane landing the top Group of Five class in the country in the team rankings because of the limited amount of spots in the Green Wave class. However, when it comes to talent it will be tough to beat what could happen in Uptown New Orleans. Despite pressure to flip from multiple Power Five programs, Destrehan (La.) cornerback Jai Eugene Jr. remains committed and Tulane is also thick in the mix for Zachary (La.) four-star defensive end Ashley Williams down the stretch after his decommitment from Auburn. If the class can stick together and a couple of more pieces can be added there will be a huge influx of talent at Willie Fritz's disposal that won't be seen at any other Group of Five program in the country.
Gorney's take: FICTION. Tulane could close really well – and Williams is visiting this weekend – so things are trending well, but Memphis and UCF will be the most talented Group of Five classes. UCF already has three four-star commitments in its class, and even if John Walker flips to Florida (he visits the Gators this weekend), coach Gus Malzahn's class should be pretty strong. Memphis also has 14 three-star commits while Tulane has 14 total pledges.
SHARE YOUR THOUGHTS WITH TULANE FANS AT THEWAVEREPORT.COM
*****
CLASS OF 2023 RANKINGS: Rivals250 | Team | Position | State
CLASS OF 2024 RANKINGS: Rivals250 | Team | Position | State
CLASS OF 2025 RANKINGS: Rivals100
*****