Twitter boss Elon Musk is facing fierce backlash after the platform banned the accounts of multiple journalists who have covered him, despite Musk previously touting his dedication to "free speech."
Accounts belonging to Donie O'Sullivan of CNN, Drew Harwell of The Washington Post, Ryan Mac of The New York Times and independent journalists Aaron Rupar and Keith Olbermann were among many to be permanently suspended by Twitter on Thursday night.
Musk later suggested in a tweet that the accounts had violated the platform's recently updated terms of service regarding "doxxing," although it was unclear which rules had been broken.
The suspensions came one day after Twitter permanently banned the @ElonJet account, which remains online at other platforms like Facebook and former President Donald Trump's Truth Social, and uses publicly available data to share the location of Musk's private jet.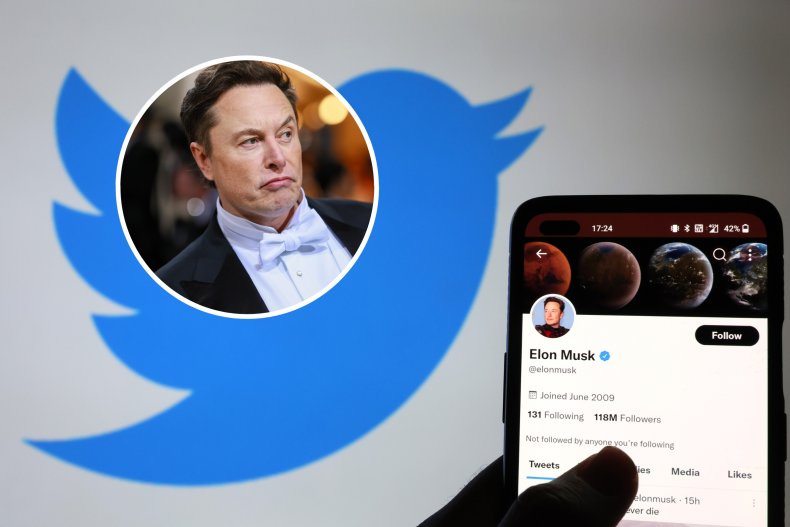 Musk had previously claimed explicitly that he would allow the account to remain online due to his "commitment to free speech." He said that he was taking "legal action" against the account's creator on Wednesday, 20-year-old college student Jack Sweeney.
The accounts banned on Thursday night belonged to journalists who had all covered Musk or the ElonJet story. Critics of the billionaire and others quickly denounced the suspensions while accusing Musk of hypocrisy for targeting accounts that he did not like personally while claiming to be a champion of free speech.
"Apparently it's 'Free speech for me. Not for thee,'" tweeted veteran journalist and author Dan Rather.
"Musk is accusing the now-banned journalists at CNN, The New York Times, and The Washington Post of posting what he says amounts to 'assassination coordinates' on him," CNN senior media reporter Oliver Darcy tweeted. "Of course, this is not what those journalists did."
"I'm trying to remember the time Jack Dorsey banned a bunch of important accounts because his personal feelings got hurt," tweeted Kat Abu of the left-leaning media watchdog group Media Matters for America.
"Musk's Twitter now appears to be rapidly suspending the accounts of journalists and others who tweet screenshots of tweets from other banned account," Washington Post technology writer Will Oremus tweeted. "It's a free-speech bonanza!"
"It's a comical lie that all the banned accounts doxxed him," tweeted podcast host Kyle Kulinski. "Totally shameless & nakedly political."
"What a giant free speech fraud @elonmusk is," Freedom of the Press Foundation tweeted.
"For those wondering why we don't post on here anymore, Twitter has turned into a cesspool since Elon Musk acquired it and we can't in good conscience support a platform that censors and bans journalists for simply doing their job," tweeted the account of Algerian soccer website DZfoot.
"For the sake of transparency, can you please show how the banned accounts did this and specify the rules going forward?" David Corn, Washington, D.C., bureau chief for Mother Jones, asked in response to a Musk tweet. "And, @elonmusk, can you release all the communications and documents related to these decisions."
Following the backlash, Musk shared a Twitter poll asking users when he should "unsuspend accounts who doxxed my exact location in real-time." The winning response was "now," gaining 43 percent of the more than 500,000 votes. The option "longer" got 38.1 percent of the vote, while "tomorrow" received 4.5 percent and "7 days from now" got 14.4 percent.
In a subsequent tweet, Musk argued that "if anyone posted real-time locations & addresses of NYT [The New York Times] reporters, FBI would be investigating, there'd be hearings on Capitol Hill & [President Joe] Biden would give speeches about end of democracy!"
Newsweek has reached out to Twitter for comment.