EDITOR'S PICKS

Sometimes, everyday products our editors use don't make it into our in-depth, long-form comparative pieces in which we vigorously test similar products head-to-head. That's where our Editors' Picks come in — where we highlight everyday products we personally stand by and use on a daily basis, and think you should too.
In January, we were introduced to a plethora of products, from a magical anti-bark dog trainer to rose-printed pajamas. Some were forgettable, while others left a lasting impression. Because we're committed to spotlighting the best products out there, we've decided to curate roundups of our favorite products we try each month.
Keep reading to check out the products we tested and couldn't get enough of in January, or look back at our 2022 favorites here.
I drink my beers pretty slow, so I've been using some sort of koozie or can insulator for years. I love this one from Puffin Drinkwear, since it perfectly fits the winter season and helps keep my drinks colder for longer. — Kai Burkhardt, associate editor
I have a very small kitchen, so I'm highly conscientious about maximizing my space. It wasn't until I came across the StoveShelf that I realized I had completely overlooked this area's storage potential! The shelf doesn't require any installation — it adheres to the top of your stove with magnets — and comes in three sizes and six finishes. Now, my spices and cups are more accessible than ever. — Chelsea Stone, senior editor
This Valentine's Day, I wanted to treat my boyfriend to a pair of do-it-all boots that you can wear everywhere, from your neighborhood bagel place to a classy bar. I fell in love with these boots from Nisolo, one of our favorite sustainable brands, not just because of this gorgeous brandy color but also because of how beautiful they look whether they're worn with jeans or dress pants. They're well-padded on the inside for all-day comfort, and I liked them so much that I already gave them to him. Whoops! — Rachel Lubitz, senior lifestyle editor
I've been dying to try Jones Road for a while, and this Shimmer Face Oil happened to come into my life at the perfect time. On dreary winter days when I feel less than sparkly personality-wise, this product is a boost of brightness. The Midas shade is a glowy bronze that reminds me of sunshine, and the texture is so smooth — the oil basically melts into your skin. In the past I've been wary of highlighters (I'm not interested in looking like I'm covered in glitter), but this one provides the perfect amount of sheen. — Chelsea Stone, senior editor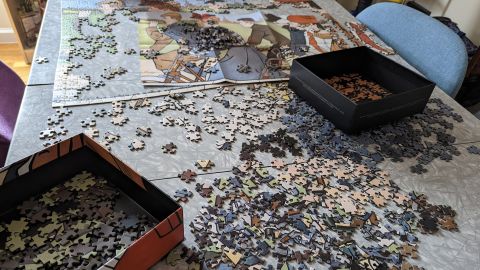 Puzzles have always been a challenge for me because I have zero patience, but it turns out, I just needed a cool image that made me excited to complete the puzzle. Blue Kazoo puzzles are sustainably sourced, have zero plastic and are meant to be shown off. We're currently deep into completing the Ride or Die 1,000-piece jigsaw puzzle and it's been a fun labor of love. If you're not bold enough for that many pieces, the brand also offers 250 pieces and a variety of gorgeous images. — Lindsey Smith, associate editor
These nail polish strips grew on me — mainly after receiving a bunch of compliments on them. I tested a special assortment that was included in the brand's monthly subscription box, but they come in tons of different colors a la carte. While it wasn't a perfect manicure, these were surprisingly easy to apply. I found the strips less fussy to stick on than press-on nails, and if I messed one up, I could just peel it off and start with a fresh strip. They've also lasted a whole week with minimal chipping, which I consider a win for an at-home manicure. I used the OPI Rapidry Top Coat to seal them and they were hard dry within 20 minutes. — Sophie Shaw, associate beauty editor
I don't know what kind of witchery was put inside this under-$25, anti-bark remote control, but it's quite literally better than any pricey dog trainer or pet corrector money could buy. After a few tries, it worked to stop my very cute, but very annoying pup from yelling at every animal imaginable on TV. It's designed with a built-in light and emits ultrasonic sound waves up to a range of 16-feet to help deter barks, digging, unsafe eating and more. I'm super surprised that it *actually* worked, but as you could probably imagine, I'm certainly not mad about it. — Stephanie Griffin, social lead
I'm always super impressed by how well EarFun's earbuds perform for the price, and the new EarFun Air Pro 3 are no exception. These affordable buds have been a joy to wear for hours on end, and they sound nearly as good as models that cost twice as much — something that could be attributed to the advanced new LE Audio technology packed inside. — Mike Andronico, senior tech writer
I've long relied on Sorel for my winter boot needs, but the brand's new collab with Free People Movement has really kicked things up a notch. These lace-up boots are equal parts practical and cute. I wore them on a very rainy day around the city, and my feet stayed completely dry and comfortable. But the best part is obviously the bright pink outsole that stood out (in a good way) while it kept me from slipping and sliding on the street. — Chelsea Stone, senior editor
I recently read an article all about the benefits of facial steamers, and naturally, I had to try the trend for myself. Plus, I'll take just about any excuse to add another skin care gadget to my embarrassingly large arsenal. Truthfully, there hasn't been a day that's gone by that I haven't used the Dr. Dennis Gross Pro Facial Steamer and I truly feel like it simultaneously cleanses my pores, hydrates my skin and efficiently exfoliates it, all without having to shell out hundreds for a professional facial. The steam is *everything*, especially during a cold winter and I also love that it allows for better penetration of my other skin care products post-treatment. — Stephanie Griffin, social lead
I've become an apartment barista in the past few months and having this reusable coffee cup is one of the joys I take in being able to make my own oat milk lattes at home. It's also a win for the planet as it is made from bamboo. It's easy to clean, and the lid screws on tight so it's safe and secure to use with no fear of staining my clothes when I close my eyes and take in the joy of the first-morning sip of coffee. (We've all been there.) — Natasha Hatendi, photo editor
My toxic trait? I'll spend my entire paycheck on Charlotte Tilbury products, and the latest in my makeup bag (which is now currently spilling over with said Charlotte Tilbury products) are the new architect highlighters in the "OG" Pillow Talk and Bronze Glow shades. They're a combination of a rich, pigmented pressed powder with a skin-gliding liquid highlighter and truly illuminate, lift and sculpt my face without creasing, caking or settling into any fine lines. — Stephanie Griffin, social lead
Botana makes hemp bedding that's a dream to sleep on, especially in summer, but I recently learned that the brand also makes incredibly chic candles made from non-toxic hemp wax. The two that I've tried (the Botana Moonlit Candle and Cloud Dancer Candle) both smell amazing, of course, but I'm even more impressed by the luxe vessels they come in; even once I've burned though, I'll definitely want to repurpose them somehow. — Chelsea Stone, senior editor
My sister bought me the lip treatment oil and mascara from Ami Cole after she saw me eyeing them and I'm so grateful she did. The lip oil is moisturizing and leaves behind a nice shine without any stickiness, while the mascara makes my lashes look longer without irritating my sensitive eyes. — Rachel Dennis, editorial coordinator
Hair health was at the very top of my 2023 resolutions list this year, but after listening to the TikTok girlies (as one does), I learned that I needed to tackle my scalp first. This month, I've religiously used the cult-favorite whipped papaya shampoo once a week to help balance my scalp's natural oil and lift-up any lingering impurities or buildup. It's also super hydrating, and combined with the brand's handheld head massager, my hair feels so fresh and lightweight after use, and I can even wait longer in between hair wash days than I was able to before! — Stephanie Griffin, social lead
This body oil turned me into a body oil person. Usually, I find them too heavy and greasy but this stuff is super lightweight and silky. It has a delicious scent that is slightly sweet, slightly tropical and it keeps my skin so soft. I love layering it on top of body cream to keep dry skin at bay. I'll scoop out a bit of the Ole Henriksen body cream first, dab it on my legs, arms and body and then pump out some of the body oil and massage it all in at one time. — Sophie Shaw, associate beauty editor
I've been seeing the absolute chicest kitchen counter setups all over social (just check my saved folder), and this beautifully-made, modern arch serving board is helping me achieve that in my own home. Each piece is carved by hand in Guatemala and this month, it's served as a stunning statement piece for my kitchen. However, I have no doubt that the next time I host it'll be used to build the charcuterie board of my dreams. *texts friends about Galentine's Day* — Stephanie Griffin, social lead
You've probably seen Saylor while browsing Nordstrom, but did you know the brand also offers a sustainable line that is actually cute and feminine. I fell in love with this lilac eyelet top that is just begging for spring to arrive — it's also perfect for Valentine's Day. — Lindsey Smith, associate editor
Is an explanation really needed to share with you why I think this 'Love Letters' sleep set (see the sleep shorts here) is actual perfection? Probably not, but I should note that it's also pretty much the comfiest pajamas I now own, thanks to the soft, breathable cotton fabric used in the brand's baby line. Checks out. — Stephanie Griffin, social lead
This serum surprised me and my combo-dehydrated skin type. It's not like other hyaluronic acid-based serums that I have tried before. It's packed with skin-loving ingredients like Reishi mushroom and palmetto green tea that help to control my oil by deeply hydrating my skin and I'll be honest, I have had less breakouts even when I am not consistent with it. My skin drinks it up but stays feeling plump and hydrated for longer and it layers really well under my winter or summer moisturizers. The real test was while I was in Mexico, I mostly used the Clear Stem Renewal serum and sunscreen because the humidity and this serum helped keep my skin glowing and hydrated all day and night. It also works great under makeup with no pilling. — Natasha Hatendi, photo editor
Featuring the brand's iconic, fluffy feather trimmings and a curve-hugging cut, this white, sultry silk midi dress is no doubt a head-turner and is as dramatically stunning as it is elegant. Throughout this month, I've dressed it down with a cozy cardigan and knee high boots, but because it can be worn all season long, I'm anticipating styling it with white strappy heels this spring. Oh, and with a potential engagement looming this year, I'll be keeping this piece stuffed safely in the back of my closet when not being worn, because you know, gotta stay prepared. — Stephanie Griffin, social lead
I was recently introduced to Pair Eyewear and it's become a new favorite brand because it makes buying eyeglasses fun. You pick out a base pair and then you can choose from a huge collection fun top frames. I ordered a Tortoise version of The Soto with Blue Light Filtering and the Black Sparkle top frame and they are so fun! Best of all, they're stylish and help keep headaches at bay. You can also get prescription-based and sunglasses as well as frames for kids. — Lindsey Smith, associate editor
I've never enjoyed cooking until I met Caraway. The one thing that was missing, though, was something that I could use to seamlessly steam my veggies or sides in. Enter: the brands Steamer Duo, the world's first-ever pair of non-toxic, non-stick steamers that fit perfectly inside my bright blue Caraway pot collection. Not only has this new product taken my at-home cooking to the next-level, but it's made my food much healthier, too. Full steam ahead! — Stephanie Griffin, social lead
As someone who is always on the hunt for new fragrances to add to my collection, this amazing perfume from Molton Brown is a new favorite of mine and a must-have for any vanilla lover! With a warm, sweet scent that is sexy and sophisticated, Milk Musk has great staying power, is perfect for day and night wear and looks beautiful on my perfume stand. — Rachel Dennis, editorial coordinator
I've been a fan of the cult-favorite and very aesthetic Canopy humidifier since the brand's first launch. However, when they released the Plus, I knew I had to upgrade! The bigger version of the humidifier releases double the hydration (up to 1000ft) compared to the original and has a 36 hour run-time, so it literally lasts all-night long, and longer, without ever having to refill its tank. I love that the product works to provide healthy skin, better sleep and overall wellness all while I zzz and I truly notice a difference when I don't use it. — Stephanie Griffin, social lead
Soft enough to wear for lounging and supportive enough for a yoga class, this super comfy bralette has become one of my favorite loungewear pieces — and for $10, it's a no brainer to grab it in multiple colors. — Sophie Shaw, associate beauty editor
As a contact-wearer, I am a huge fan of the Twenty/Twenty Beauty line. Every product is designed with your eye health in mind and the brand proves quality doesn't go out the door after removing ingredients. I'm currently obsessed with the brand's Full Brows Tinted Gel. Unlike other brands I've tried, this one doesn't get hard or crunchy and glides on so easily. — Lindsey Smith, associate editor
Sleeping on silk is a luxury I didn't bother with for most of my life, so I wasn't sure what to expect when I had a chance to try Gingerlily London's silk pillowcase in Silver. Made from 100 % mulberry silk, I gotta say that it was a joy to lay my head on this smooth, soft pillowcase every night. Mulberry silk is the highest quality available, and in addition to helping to keep my naturally curly hair from frizzing uncontrollably while I sleep, it's also supposed to help keep wrinkles at bay (though I can't attest to that kind of miracle). So no, it may not turn back the clock on my aging, but I can say that it was, ahem, a dream to sleep on. — Tobey Grumet, reviews editor
I take extra care of my skin in the colder months, and I cannot live without this shower butter. Just the same way most of us swap out to a thicker face moisturizer in winter, I do the same with my shower products. It hydrates my dry skin and smells amazing. While it's meant to apply before your body wash, I sometimes use it on its own. But I love paring it with the Dove Moisture Boost Body Wash. — Lindsey Smith, associate editor
The Sony DualSense Edge finally gives serious PS5 gamers an answer to Microsoft's Xbox Elite Wireless Controller, and does a fantastic job of it at that. This high-end gamepad offers fully remappable controls and swappable components, which have allowed me to jump and shoot my way through Overwatch 2 with much more precision than before. I also just love how it looks, with a more stark two-tone design that sets it apart from the standard DualSense. — Mike Andronico, senior tech writer
I've tried dozens of moisturizers, and nothing comes close to this one. It is a holy grail and my skin looked and felt better after just a few uses. The texture is so cloud-like and absorbs quickly and isn't heavy or greasy. The jar is absolutely massive and will last forever. Plus,  readers can save 15% with the code UNDERSCORED. — Lindsey Smith, associate editor
Over the last three years, my WFH wardrobe has mainly consisted of sweats and PJs, and there was no better time than the new year to invest in pieces that'll step up my house style (finally). Enter: these cargo pants, which I tried on a whim this month and loved. They're made with a lightweight, locally sourced fabric and are super stretchy, thanks to the elasticized waist. Not only are they comfy, but they're cute too — even if no one actually gets to see me in them! — Stephanie Griffin, social lead
Whether you hike, surf, go camping, watch sporting events or just walk the dog in the cold, the innovated Dryrobe is a must-have. The waterproof and windproof jacket is designed to keep you shielded from the elements while you change out of wet clothes. We used it to hike with dogs and it was nice to have something so cozy when it was misty outside. — Lindsey Smith, associate editor