An appeal has been launched for information related to the discovery of a dying German shepherd found abandoned in a shocking state by a roadside in Birmingham, England.
The Royal Society for the Prevention of Cruelty to Animals (RSPCA) is asking for help from anyone who might know the owner of the dog, which appears to have been the victim of severe and sustained neglect.
Over the past 12 months, 92,244 dogs were reported as victims of cruelty, according to RSPCA figures released in August. That figure included 10,288 instances where dogs were reportedly beaten.
The total figure represents a 16 percent rise from the 79,513 annual cases reported prior to 2020, when the pandemic took hold.
While the wider picture in the U.K. is a source of concern, this recent instance of animal cruelty may rank among the most disturbing. The RSPCA officer at the scene described what she saw as one of the worst cases of animal cruelty she has ever witnessed on the job.
According to the animal welfare charity, the male German shepherd was found by a member of the public on March 5. The dog was screaming in agony and had a huge testicular tumor and a degloved jaw.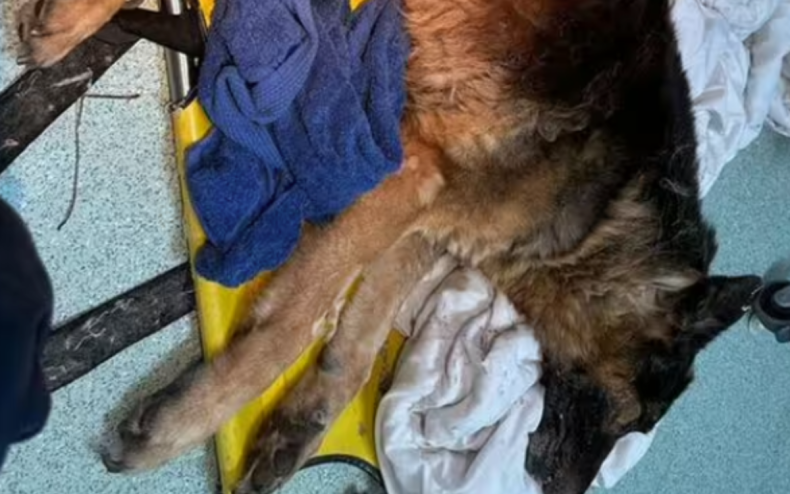 The canine had been dumped in a collapsed state on a pink blanket in a bush beside Park Lane, near the city's Handsworth Cemetery.
At the time of his discovery, the dog was unable to walk and could not close his mouth because of the injury to his jaw.
RSPCA Animal Rescue Officer Cara Gibbon told Newsweek: "This poor dog was in an atrocious state when he was found. As RSPCA officers, we see animals who suffered horrendous cruelty and neglect every single day, but this poor dog was in the worst condition I have ever seen."
She continued: "He was making such pitiful whimpering noises and screaming in pain. He was unable to stand, so we know he'd been deliberately abandoned. We also know he was dumped around 8 a.m. on Sunday morning, so we're really keen to hear from anyone who was in the area who may have seen this happening or anyone with dashcam footage that could help our investigation."
Because of the severity of his condition, the dog was ultimately put to sleep to end his suffering. In light of his treatment and condition before his death, Gibbon is appealing for help in finding those responsible.
"I was heartbroken to see someone had allowed a dog to suffer in this state and simply dumped him this way when he was most in need of help and care," she said. "This is the result of prolonged neglect over a long period of time, so I'm desperate to find out who was responsible for allowing him to get this way before dumping him without thought or consideration to his welfare."
Anyone who knows the dog's owner or has relevant information on the incident is being asked to contact the RSPCA appeals line number, 0300 123 8018. Information can be provided confidentially.
Newsweek has contacted the RSPCA by email for further comment on the case.
Unfortunately, this is far from an isolated incident. In the U.S., footage shared by an animal control worker of a dog who was reduced to skin and bone after being abandoned by his owner went viral online. In Houston, a trio of dogs was found dumped on the side of a busy highway. And a video showing a dog abandoned at a garbage dump in North Macedonia prompted similar shock and outrage.