Donald Trump and several of his allies have been charged in Georgia over allegations including racketeering and forgery in their attempts to overturn the 2020 election results in what is the fourth criminal indictment against the former president this year.
Fulton County District Attorney Fani Willis, who has spent two and a half years investigating alleged 2020 election interference, announced on Monday night that Trump and 18 others have been charged with a total of 41 counts, with the former president facing 13 charges.
Trump has long denied any wrongdoing in connection with Willis' probe and has frequently accused the investigation of being a politically motivated "witch hunt" against him. In a statement after the charges were announced, Trump said the "legal double-standard" set against him "must end."
"Under the Crooked Biden Cartel, there are no rules for Democrats, while Republicans face criminal charges for exercising their First Amendment rights," Trump said.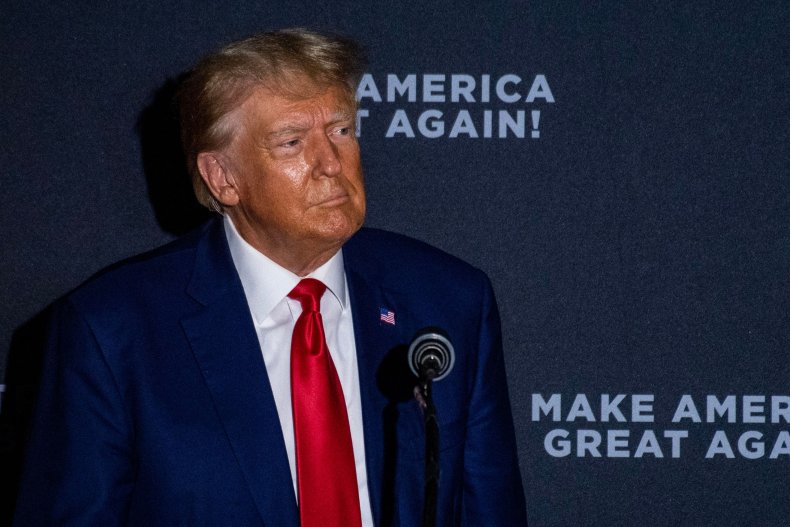 The new charges against Trump are the latest in a line of legal issues which have plagued the Republican for the past few months, including becoming the first U.S. president in history to be charged with a crime as part of Manhattan District Attorney Alvin Bragg's falsifying business records investigation.
Trump is also facing federal trials in connection to Special Counsel Jack Smith's classified documents case, the probe in attempts to overturn the 2020 election and the events leading up to the January 6 attack. Trump, the frontrunner in the 2024 GOP primary, has denied all the allegations against him in each case.
Below, Newsweek details the charges the former president faces as he attempts to re-enter the White House.
Trump's Indictments
Georgia Election Probe
Trump was indicted for the fourth time on Monday over accusations he and 18 others engaged in criminal activity in their attempts to overturn the 2020 election results.
Among the 18 who have been charged with Trump are former White House Chief of Staff Mark Meadows, his attorneys Rudy Giuliani, John Eastman and Kenneth Chesebro, and former Trump Department of Justice official Jeffrey Clark.
The charges against the defendants include violation of the state's Racketeer Influenced and Corrupt Organizations (RICO) Act, which is commonly used to prosecute organized crime gangs, as well as making false statements, forgery, and criminal attempt to commit influencing witnesses.
The indictment accuses Trump and his co-accused of having "knowingly and willfully joined a conspiracy to unlawfully change the outcome" of the last election.
Trump himself is facing more than a dozen charges, including violating the RICO act and soliciting a public official to violate their oath. The latter relates to his January 2021 phone call with Georgia's Secretary of State Brad Raffensperger, in which the former president asked him to "find" the 11,870 votes needed to beat Joe Biden.
In a statement denying the accusations, Trump's campaign team said: "Like Manhattan DA Alvin Bragg, Deranged Jack Smith, and New York AG Letitia James, Fulton County, GA's radical Democrat District Attorney Fani Willis is a rabid partisan who is campaigning and fundraising on a platform of prosecuting President Trump through these bogus indictments.
"Ripping a page from Crooked Joe Biden's playbook, Willis has strategically stalled her investigation to try and maximally interfere with the 2024 presidential race and damage the dominant Trump campaign. All of these corrupt Democrat attempts will fail."
New York 'Hush Money' Case
On April 4, Trump pleaded not guilty to 34 counts of falsifying business records concerning the $130,000 he arranged for his former attorney Michael Cohen to pay adult film star Stormy Daniels to keep an alleged affair the pair had a secret before the 2016 election.
When Cohen was reimbursed for the payment, it was listed by The Trump Organization as legal fees citing a retainer agreement. Prosecutors allege that there was no retainer, and the payments were part of a scheme to stop potentially damaging stories about the Republican from becoming public prior to the 2016 election.
"The defendant, Donald J. Trump, falsified New York business records in order to conceal an illegal conspiracy to undermine the integrity of the 2016 presidential election and other violations of election laws," Assistant District Attorney Christopher Conroy said in April.
Trump also denies having an affair with Daniels in 2006.
Classified Documents Case
Trump has pleaded not guilty to 40 federal charges in relation to allegations he retained top secret and sensitive materials when he left the White House and January 2021, and then willfully obstructed the federal attempt to retrieve the documents.
The original indictment against Trump revealed that the former president was accused of 31 counts of willful retention of classified documents in violation of the Espionage Act, as well as conspiracy to obstruct justice and making false statements to investigators as part of the probe.
In January 2022, Trump returned 15 boxes of records of documents to the U.S. National Archives and Records Administration, which contained classified materials. Trump was then subpoenaed to hand over all remaining classified materials, with the FBI visiting Mar-a-Lago last June to retrieve them.
Trump's legal team then assured that they had handed all remaining classified documents in Trump's possession. In August, the FBI conducted a search of Trump's Florida home and seized approximately more than 100 more classified materials, including some of which were marked as "top secret."
In late July, Trump was charged with three more counts as part of the classified documents investigation. The new charges include allegations he called on Mar-a-Lago employee Carlos De Oliveira to delete Mar-a-Lago security-camera footage which had been sought by federal prosecutors.
Trump was also charged with allegedly being in possession of a "secret" Pentagon paper. The paper is believed to be the same one which Trump was recorded during a July 2021 meeting in Bedminster, New Jersey, admitting he had not declassified before he left office. Trump pleaded not guilty to the three additional charges on August 4.
January 6 Investigation
Earlier in August, Trump was charged with four counts as part of Smith's probe into the events which led up to the Capitol riot.
The charges to which Trump has pleaded not guilty are conspiring to defraud the United States, conspiring to obstruct an official proceeding, obstructing a congressional proceeding and conspiracy against rights.
Prosecutors allege that Trump and six other co-conspirators plotted to keep the former president in power after the 2020 election even after being aware that the Republican had fairly lost to Joe Biden.
Trump is alleged to have been part of a plot to organize groups of fake electors to falsely declare he had beaten Trump in several key states at the last election.
Trump is also accused of attempting to pressure former Vice President Mike Pence to stop the certification of the election results on January 6, 2021. The former president is accused of doing this by either convincing Pence to accept the fake electors' false assessment that Trump had won in seven states or by trying to get Pence to send legitimate electoral votes to state legislatures for review, rather than counting them.
There are additional accusations that Trump and his co-conspirators pushed the Justice Department to endorse the false claims of election fraud, despite knowing they were not true.
The alleged plot also involved Jeffrey Clark, a former Justice Department official being installed as attorney general to support the false claim the election was rigged and send letters falsely claiming there were voting irregularities in certain states.