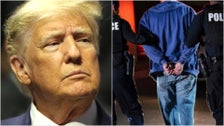 While the traditional cop escort in front of a crowd of cameras may not happen in Trump's case ― a quieter booking is more likely to be arranged with the Secret Service ― Trump is all but rehearsing the moment, according to the report.
"Behind closed doors at Mar-a-Lago, the former president has told friends and associates that he welcomes the idea of being paraded by the authorities before a throng of reporters and news cameras," reporters Michael C. Bender and Maggie Haberman wrote. "He has even mused openly about whether he should smile for the assembled media, and he has pondered how the public would react and is said to have described the potential spectacle as a fun experience."
The former president, an early favorite for the 2024 GOP nomination for president, predicted he would be arrested this week on charges of paying off porn actor Stormy Daniels to keep silent about their supposed affair before the 2016 election. The payment, made by Trump's then-lawyer Michael Cohen, was said to be labeled a "legal expense."
The president faces multiple criminal investigations, including in Georgia, where a grand jury has been probing whether he pressured officials to overturn the 2020 election results in that swing state. The U.S. Justice Department is investigating his role in the Jan. 6 insurrection and his hoarding of classified White House documents at his Florida resort.