Posted on November 26, 2022


  By Dane Miller, SuperWest Sports
Rivalry Week continues on Saturday, highlighted by 'The Battle for Oregon' and the Apple Cup.
USC hosts Notre Dame, too, in a pivotal game for its Playoff hopes.
I preview all six Saturday matchups here and the picks of our writers and broadcasters appear at the bottom.
No. 9 Oregon at No. 21 Oregon State
Saturday, November 26
12:30 pm PT, ABC
Needing a victory to have a shot at the Rose Bowl, Oregon faces one of the elite defenses in the Pac-12.
The Beavers' secondary has produced the nation's No. 8 passing efficiency defense, allowing just eight passing touchdowns all year while generating 12 interceptions.
So, moving the ball on the ground should be easier, right? False.
The Beavers field the Pac-12's No. 1 rushing defense, allowing only 111.7 yards per game.
The combination of defensive strength makes Oregon State the No. 3 scoring defense in the Conference and a formidable challenge.
To put up points against it, Bo Nix must be more mobile than he was against Utah. The Ducks were fortunate to escape with a victory and their offense is less dynamic with a hampered quarterback.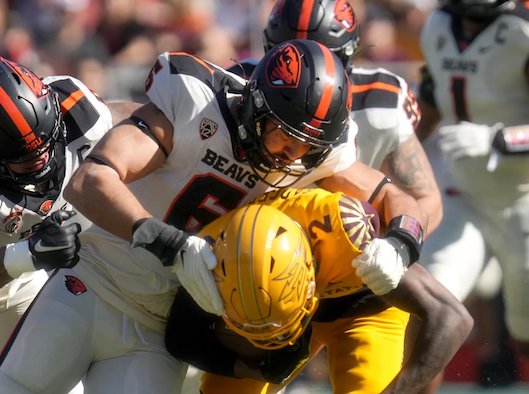 If Nix is still limited, Kenny Dillingham could use some creative playcalling to create space. Defenses struggle against mobile quarterbacks because it opens up the field by creating hesitancy in the linebackers and secondary while forcing a spy.
Similar results can be achieved with pre-snap movement, fake jet sweeps, and play-action designed to keep defenses confused about where the ball is going.
If there's any offensive coordinator that can draw up plays to compensate for a hampered quarterback, it's Kenny Dillingham.
Look for the Ducks to utilize everything in their bag to move the ball.
On the other side of the ball, Oregon must contain the Beavers' rushing attack while staying disciplined on their play-action. If UO isn't able to slow down Damien Martinez, chunk passing plays over the top could be devastating.
It's going to be a battle, and the game has the potential to be an All-Time Classic in the rivalry.
No. 14 Utah at Colorado
Saturday, November 26
1:00 pm PT, Pac-12 Network
The Pac-12 Championship Game remains a possibility for the Utes with a win over Colorado, an Oregon loss, and some other outcomes.
Beating the Buffs shouldn't be much trouble considering the state of their program. CU has allowed 40 points or more in nine games this year and failed to score more than 17 in eight.
The combination of a stalled offense and ineffective defense has produced one of the worst seasons in program history.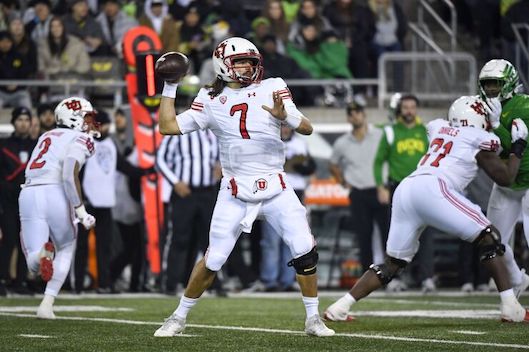 Even if Cam Rising is dealing with an injury that hinders his mobility, there are zero reasons this game should be close. The Buffs have struggled to stop the run all year and the Utah backs should have field days.
When on defense, the Utes have a skill advantage in every matchup. There are no players on Colorado's roster that should win one-on-one battles.
The result should be a handful of sacks, numerous tackles for loss, and at least two forced turnovers.
The Utah-CU matchup has always been an arranged "rivalry" that has never grown organically. In many ways, another blowout victory will only cement that perception.
No. 15 Notre Dame at No. 6 USC
Saturday, November 26
4:30 pm PT, ABC
Needing a statement victory for the Playoff Committee, USC arguably faces its most impactful game of the year.
Slighted by the No. 6 ranking behind a two-loss LSU team, the time is now for the Trojans to show why they should be in the Playoff.
Notre Dame lost earlier this season to Stanford and barely escaped against California. The Irish may have beaten an overrated Clemson team, but they haven't faced a USC-caliber opponent since playing Ohio State in Week One.
Notre Dame operates a run-skewed offense with a roughly 2-to-1 run/pass split. Yet, the yardage totals are almost equal, indicating the run game is relatively inefficient.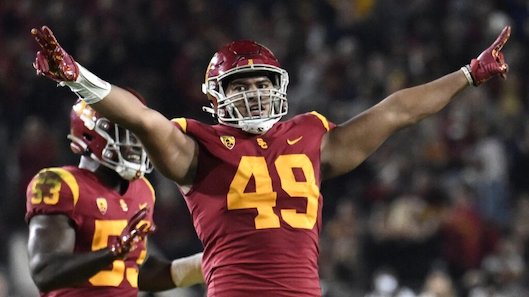 Containing the Irish ground game by limiting big plays is key, but forcing quarterback Drew Pyne into mistakes is arguably just as pivotal. The first-year starter has only thrown five interceptions but doesn't have enough mobility to concern Alex Grinch.
The result could be a night of heavy blitzing designed to force quick decisions and wreak havoc.
On offense, no opponent outside of Oregon State has slowed down Caleb Williams and the Trojans. And even that game was somewhat attributable to an off night from the Heisman candidate.
Facing an Irish defense that is arguably nothing more than above average, USC should be able to put up plenty of points.
The result should be a respectable Trojan victory that impacts the perspective of the Committee members.
Air Force at San Diego State
Saturday, November 26
6:00 pm PT, CBS Sports Network
In a matchup that arguably favors San Diego State, the Aztec defense takes on Air Force's option-run.
SDSU boasts the Mountain West's No. 2 rushing defense and could be a perfect match for defending the Falcons' scheme.
There are very few teams in the nation that organically line up well against the military academy systems, but Brady Hoke's team seems to be one of them.
The Aztec offense has historically operated a somewhat comparable run-based scheme, which its defense must practice against year over year.
The result is a defensive group that has a degree of familiarity with the attack that most other teams don't have.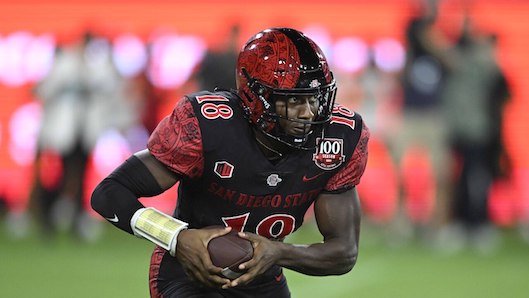 It doesn't negate the challenge Air Force presents, yet it does make SDSU more prepared.
Hoke's defense will still need to generate stops by creating tackles for loss or limiting the run plays to one or two-yard gains. If they don't, the Falcons will dominate the time of possession and put the Aztec offense into a precarious position.
Jalen Mayden can't turn the ball over under any circumstances, either, or Air Force will possess the ball even longer.
It's a fine balancing act, but it all starts on defense and San Diego State has what it takes.
No. 13 Washington at Washington State
Saturday, November 26
7:30 pm PT, ESPN
The Apple Cup returns to Martin Stadium where the Cougars haven't beaten Washington since 2012.
The battle pits Kalen DeBoer's offensive genius against Jake Dickert's defensive mastermind, a showdown that has Instant Classic potential.
Dickert's command of the WSU "D" has produced the No. 1 scoring defense in the Pac-12 while DeBoer's scheme made UW the No. 7 scoring offense in the nation.
Something has to give.
Michael Penix Jr. has played elite this season. The quarterback has a 26-to-6 touchdown-to-interception ratio and has one of the Conference's top receiving corps to throw to.
Only Oregon State and California have kept Washington below 30 points this year, while WSU has only eclipsed the 30 point mark four times.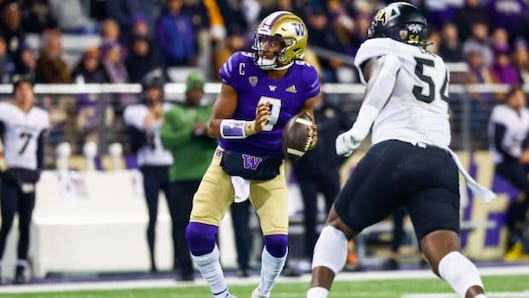 That's a worrying sign for the Cougars, who have lost all three of their games facing similar caliber offenses.
Limiting big gains on passing plays is probably a general principle of Dickert's game plan and a large portion of it might be focused on limiting yards after contact.
If the WSU defense continues to effectively tackle in open space by wrapping up and avoiding broken tackles, the Husky offense could be somewhat contained.
Similarly, preventing extensive yards after the catch will also be pivotal. Film study will be important to identify UW's routes and anticipate where the ball is going in order to swarm tackle and prevent extra yards.
If any coach can scheme up a gameplan and playcall effectively to slow down DeBoer's offense, it's Dickert.
But even if he does, Cam Ward and the Coug Raid can't stall out the way they have at times this year.
In a lot of ways, the game could come down to the effectiveness of the WSU offense and its ability to put up points.
BYU at Stanford
Saturday, November 26
8:00 pm PT, FS1
In what figures to be a closer matchup than some may expect, Stanford hosts BYU.
The issues on Kalani Sitake's defense have been problematic all season. Although, it's not a given that the Cardinal will be able to take advantage.
Without much of a ground game, the Tree's entire offense is reliant on Tanner McKee's passing.
The Cougars have the No. 73 passing defense in the country, yet could play better than their number when facing a one-dimensional offense.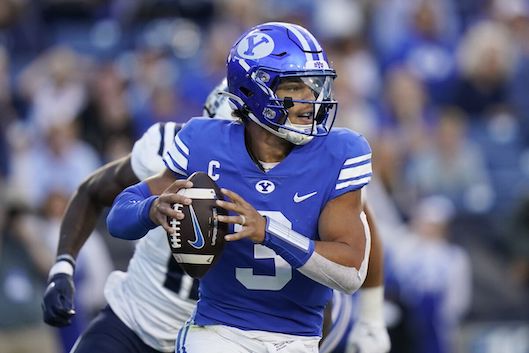 But the primary concern for David Shaw's team is slowing down Jaren Hall.
The quarterback is having an elite season with 3,078 yards passing and 29 touchdowns to just six interceptions. The Tree probably don't have the defensive firepower to slow him down and could realistically give up 35 points or more.
That could require McKee to go toe-to-toe and throw the ball all over the field.
Yet, if the Stanford defense turns the game into a low-scoring affair, the Cardinal have just enough to pull off the upset.
Game Picks from our Senior Writers and Broadcasters
---
—More from Dane Miller—

Latest posts by Dane Miller
(see all)