NFL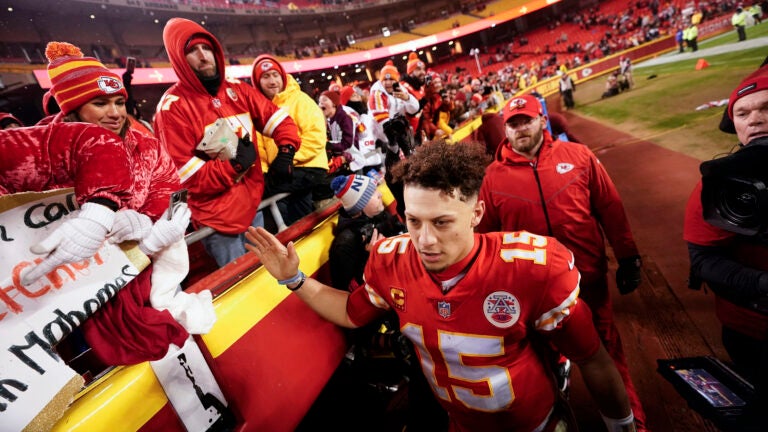 KANSAS CITY, Mo. (AP) — Patrick Mahomes sustained a right high ankle sprain in the Kansas City Chiefs' divisional playoff win over the Jaguars, a person familiar with the nature of the injury told The Associated Press on Sunday, but the All-Pro quarterback expects to play in next weekend's AFC championship game.
Mahomes was hurt late in the first quarter Saturday when a Jacksonville defender landed on him. X-rays taken during the game came back negative, and Mahomes returned after halftime to lead Kansas City to the 27-20 victory.
Mahomes underwent an MRI on Sunday and it showed no structural damage, a person familiar with the results told the AP, speaking on condition of anonymity because the team did not disclose the test results.
"I don't want to jump to things right now, but let's just see how it goes here the next couple days," Chiefs coach Andy Reid said Saturday night. "It's going to be sore, I know, but let's see where he's at. He's had this before and he was able to keep pushing through, actually against Jacksonville whenever — a couple of years ago, same type of deal.
"The main thing is that he's safe," Reid said, "or as safe as you can be on a football field. That's the important thing."
The Chiefs will play the winner of Sunday's game between Cincinnati and Buffalo. If it's the Bengals, their rematch of last year's AFC title game would be played at Arrowhead Stadium. If it's the Bills, the game would occur in Atlanta.
Mahomes said after the game Saturday night that his ankle "feels better than I thought it would feel now."
"Obviously, I have a lot of adrenaline going right now. We'll see how it feels but I'll hop right into treatment tonight and try to do whatever I can to be as close to 100% by next week," he said. "Luckily for us we played the early game on Saturday, so we get an extra almost half a day that I can let that ankle rest."
Still, high ankle sprains can be potentially serious injuries. Chiefs running back Clyde Edwards-Helaire sustained one in late November and landed on injured reserve, and only last week did he return to practice.
"Pain is pain," Mahomes said. "You're going to have to deal with it."
Mahomes missed most of the second quarter against the Jaguars but still threw for 195 yards and two scores. The second of them was a throw to Marquez Valdes-Scantling in the fourth quarter that ultimately provided the winning margin.
While Mahomes was out, backup Chad Henne also led the Chiefs on a 12-play, 98-yard touchdown drive.
"I've got to tell you, 15 is tough as nails, being able to come back in," Chiefs safety Justin Reid said. "Even staying in after the injury and handing the ball off while he's basically hobbling on one leg. The guy — that just shows you his love for the game and his character and his will to just be out there for his team and doing everything he can to help us win."
Sign up for Patriots updates🏈
Get breaking news and analysis delivered to your inbox during football season.