A Ukrainian media outlet on Thursday posted a video of what it described as a car carrying two Russian security officers and military personnel being blown up.
Ukrainska Pravda, the outlet that shared the clip, reported the Security Service of Ukraine (SBU) was involved in the incident, although it was not clear if the agency was directly behind the explosion. According to the report, the alleged car attack took place in the Russian-occupied town of Oleshky in Ukraine's southern Kherson region.x
As Ukraine's counteroffensive against Russian President Vladimir Putin's forces enters its fourth month, Kyiv has said its military has made recent advances in various regions. This includes regions in the south like Kherson, where Ukraine's military has reportedly been expanding its forces after recently recapturing other settlements such as Robotyne in the Zaporizhzhia Oblast.
During the Thursday incident, one of the Russian Federal Security Service (FSB) officers was reportedly killed immediately in the car explosion, while the second was hospitalized in serious condition. Three Russian soldiers who were escorting the car were also said to have been injured.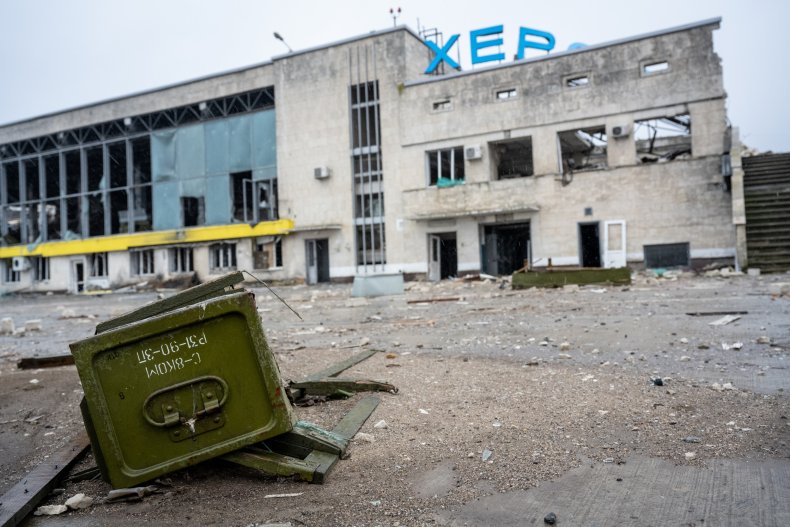 Ukrainska Pravda said the FSB officers who were targeted in the alleged attack worked in Skadovsk, a Russian-occupied port city on the Black Sea coast in Kherson.
"They used to visit Oleshky to carry out filtration activities and torture Ukrainian citizens," Ukrainska Pravda wrote.
In addition to uploading the video of the car explosion onto its website, Ukrainska Pravda posted the clip on its official X (formerly Twitter) account. Newsweek has not been able to independently verify the authenticity of the video, which may be disturbing to some viewers.
Maria Avdeeva, the research director at the European Expert Association in Ukraine, seemingly suggested partisan forces could have been behind the car bombing.
"Partisan groups over there not only instill fear in occupational forces but also provide hope that liberation will come," Avdeeva wrote on X in a post about the incident.
Newsweek reached out to the Security Service of Ukraine via email for comment.
The car explosion comes a little over a week after another high-profile incident saw Ukraine's military destroy a Russian radar system in the Kherson region. The system, which was reportedly worth around $200 million, was thought to have been taken out by a High Mobility Artillery Rocket Systems (HIMARS) strike.
The Kremlin annexed the Kherson region, along with Zaporizhzhia, Donetsk and Luhansk, to Russia in September 2022. However, the annexation of the four territories is not internationally recognized, and Ukrainian President Volodymyr Zelensky has vowed to reclaim full control of the regions.